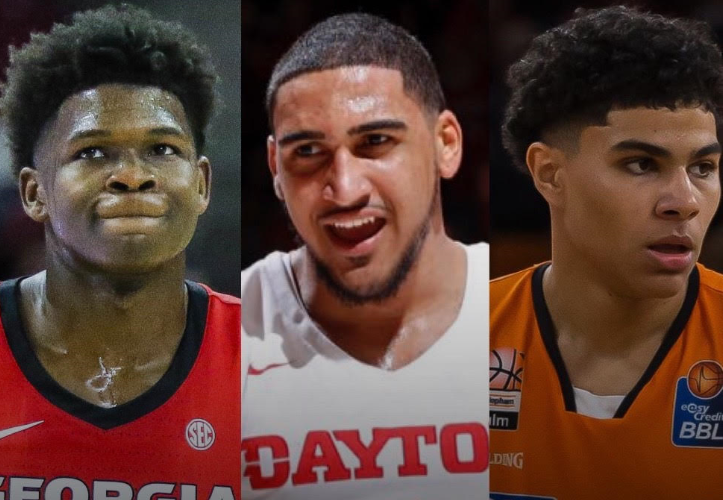 The 2019 season is recent history and LeBron and the Lakers are home in Los Angeles celebrating. Its now time to look ahead and to start getting excited about the upcoming season. Too soon? Not for real basketball fans. So here you go…….Your official 2020 Mock Draft. Is your team going to make a run for the 2020 NBA Finals?
Minnesota Timberwolves: Anthony Edwards, G, Georgia
The big strong young guard out of Georgia will look to add more depth and possibly a third star to a Timberwolves team who already has a young deadly duo with Karl Anthony Towns and D'Angelo Russell. However, outside of those two this Timberwolves team doesn't have too much depth especially with Malik Beasley and Juancho Hernangomez becoming free agents this off-season. Edwards could immediately start and be an off ball threat with Russell running the show.
Golden State Warriors: Lamelo Ball, G, Australia
The tall guard out of Australia and son of Lavar Ball would be an interesting fit with the Warriors at number 2. James Wiseman deserves a definite look here at 2 since the Warriors could use a center but let's not forget the Warriors like to run Draymond Green at the five. With that said, I believe they end up picking Lamelo Ball. Ball most likely wouldn't start along Stephen Curry and Klay Thompson but would add significant depth and would most likely play alongside Eric Pascall and Jordan Poole in the second unit. Another young stud in the second unit for the Warriors, why not?
Charlotte Hornets: James Wiseman, F, Memphis
Arguably the best prospect in the draft falls no further than number 3. There is nothing wrong with Cody Zeller but he is not their answer at Center. Wiseman brings versatility, athleticism, and high explosiveness to a decent young core already being built in Charlotte.
Chicago Bulls: Obi Toppin, F, Dayton
Obi Toppin, who didn't get any offers coming out of highschool is now in-line to be a possible top 5 NBA pick. The 6'9 power forward, who was all over SC top 10 plays for showing off his magical dunks at Dayton, could help out a Zach Lavine/Coby White duo and immediately join their starting five alongside Wendell Carter Jr. and Lauri Markkanen.
Cleveland Cavaliers: Deni Avdija, F, Israel
A team that desperately needs offense could get some help here with Avdija. The 19 year old from Israel could provide some more shooting for Cleveland and he could be another threat alongside Colin Sexton and Darius Garland. Avdija could even be moved down to the four or five if need be.
Atlanta Hawks: Isaac Okoro, F, Auburn '
The Hawks already have big scoring options with Trae Young, John Collins, and Kevin Huerter. However, the Hawks lacked defense all last season. Okoro is a big time defensive specialist who may be able to wreak havoc on the best players in the NBA in his rookie season.
Detroit Pistons: Onyeka Okongwu, C, USC
Since the Detroit Pistons gave away Andre Drummond at the deadline, they could certainly use another center. Although they have rising star Christian Wood already at center, they could use much more depth at the position. With Okongwu only being 6'9, he could probably also play power forward behind Blake Griffin or even alongside him.
New York Knicks: Killian Hayes, G, Germany
The Knicks could use a new and improved player at point guard. Hayes offers upside with pick and roll situations and creating his own shot. He could thrive off of running the pick and roll with Mitchell Robinson and help out R.J. Barrett.
Washington Wizards: Devin Vassall, G/F, Florida State
If (and that is if Bradley Beal leaves this offseason) Vassall could be a great replacement for him. Not only can Vasall play multiple positions on the floor, but he shot over 40% from three in his two year Florida State career. Obviously he still needs some development, but could be a great fit alongside John Wall and Rui Hachimura. He could even add very needed extra depth for the Wizards if Beal decided to stay.
Phoenix Suns: Aaron Nesmith, SF, Vanderbilt
The elite three point shooter from Vanderbilt could be a massive improvement to a Suns offense who could really use another shooter alongside Devin Booker. Speaking of Devin Booker, he needs some help in order for Phoenix to contend in the western conference. Could Nesmith be that guy?
San Antonio Spurs: Precious Achiuwa, PF/C, Memphis
One of the few positions lacking for the Spurs is a center. Gregg Popovich loves players that play extremely hard and Achiuwa is that guy. He plays with force and explosiveness on every play and has the potential to be the perfect fit for the Spurs. Who doesn't want a guy like this?
Sacramento Kings: Tyrese Haliburton, G, Iowa State
There is no doubt in my mind that Haliburton could potentially be a top 10 pick, but if he isn't he won't fall past the Kings. The Kings could use another guy to play alongside DE'AAron Fox, and Halliburton is the perfect option. Haliburton can play 1-3, and play on or off the ball. He can also create his own shot and finish under duress which is something any team can use.
New Orleans Pelicans: R.J. Hampton, G, Australia
The Pelicans are in a similar situation as the Wizards. Although Jrue Holiday is still one of the league's better guards, nobody knows how much longer he will be staying. Although some may argue this is early for Hampton, the Pelicans could most definitely use extra guard help whether Holiday stays or not.
Boston Celtics (Via Grizzlies): Patrick Williams, F, Florida State
Although the Celtics are currently one of the more complete teams in the NBA, Williams is a big defensive body that can play forward or center if asked. The Celtics already have some of the league's best defensive players, and this selection of Patrick Williams would only make their team better.
Orlando Magic: Kira Lewis, G, Alabama
The Magic could certainly use another guard who could add depth and even compete for the starting job. He could play alongside or instead of Markell Fultz. Lewis is amazing at getting to the hoop and although undersized can finish under many circumstances.
Portland Trail Blazers: Jaden Mcdaniels, F, Washington
We know the Trailblazers have Damian Lillard and C.J Mccollum, but after this playoff run it has become evident they need extra depth at the forward position. Mcdaniels had a solid career at Washington though there isn't a whole lot known about him. We will get a better idea about Mcdaniels at the combine but for now he could be a missing piece for the Blazers.
Minnesota Timberwolves: Tyrese Maxey, G, Kentucky
Arguably the best Kentucky Wildcat this season was Tyrese Maxey. He had his explosive moments and could contribute a lot with even more guard depth assuming the Timberwolves select Anthony Edwards with their first overall selection.
Dallas Mavericks: Cole Anthony, G, North Carolina
Although it's clear that Anthony struggles with shot selection, there is no denying he has so much talent. Anthony could be a gamble here but could quickly turn into a steal. Anthony's biggest skill is being able to create his own shot. Anthony can play off the ball and alongside Luka Doncic.
Brooklyn Nets: Saddiq Bey, G/F, Villanova
Bey is a prospect that can really shoot the three and play many positions. Sadiqq probably wouldn't start on what is turning into a stacked Nets team but would add more depth for this team that is looking to win a championship sooner rather than later.
Miami Heat: Leandro Balmero, G/F, Spain
The Heat could use another passer and three point shooter. Although the Heat had an extremely impressive playoff run, it is evident that they need to add more depth to their team.
Philadelphia 76ers: Tyrell Terry, G, Stanford
The 76ers could use some depth especially at point guard with Ben Simmons injury concerns. Terry played well at Stanford and would be a nice balance with Simmons considering Terry is a good three point shooter and Simmons isn't.
Denver Nuggets: Jahmi'us Ramsey, G, Texas Tech
The Nuggets could use a three point shooter and Ramsey fits the bill. The Nuggets don't need immediate help as the young gunner Ramsey could sit, learn, and help them down the line.
Utah Jazz: Grant Riller, G, Charleston
Riller, who is a decent sized point guard could provide immediate help to a Jazz team looking to contend. Riller shot over 50% from the field in his career and could have a nice career alongside Donovan Mitchell.
Milwaukee Bucks (Via Denver): Jalen Smith, C, Maryland
It's clear Milwaukee could use another big body, especially at center. Milwaukee could ultimately also go guard here, although I think sitting Smith for a little while could really help the Bucks later because they won't need him immediately.
Oklahoma City Thunder: Theo Maledon, G, France
Though OKC already has Chris Paul and Shai Gilgeous-Alexander, Maledon could sit right behind Chris Paul and develop into an elite point guard.
Boston Celtics: Nico Manion, G, Arizona
Another guy that could study under a leader like Kemba Walker. Manion can do it all. He's a great shooter, and can create for himself and others.
New York Knicks: Zeke Nnaji, F, Arizona
The Knicks could use more depth at their bigger positions and Nnaji could compete for a starting role. However, I wouldn't be surprised if he gets picked before this.
Los Angeles Lakers: Cassius Winston, G, Michigan State
Cassius Stanley could use some development but there is no denying that he is one of the best passers in the whole draft. Could you imagine him studying under a guy like Rondo? And with that headband, he could sure give Caruso a run for the money.
Toronto Raptors: Isaiah Stewart, C, Washington
With Marc Gasol and Serge Ibaka possibly leaving the Raptors, they will definitely need a big. Stewart could make an immediate impact with his strength, size, and explosiveness.
Boston Celtics: Xavier Tilleman: PF, Michigan State
Just more depth for the Celtics. Tilleman is a strong athletic player who could study the game for a little. This selection makes sense.

Check out our new podcast episode!
Got Hoops Podcast
A new up and coming basketball podcast by 4 dedicated NBA and basketball fans. It's for fans, by the fans.
Got Hoops Podcast (Ep. 15): Nuggets in the Conference Finals? Monty for COTY? CRAZY PLAY-IN GAMES!
This episode talks about the craziness that's about to occur in the playoffs, what a wonderful time to be alive.
Search Results placeholder
Must See
There's been a lot of changes in the coaching departments at some of the...

Don't let Kevin Durant's incredible performance distract you from Mike Budenholzer's terrible coaching display....

The Washington Wizards had an unlikely road to the playoffs. There was a point...