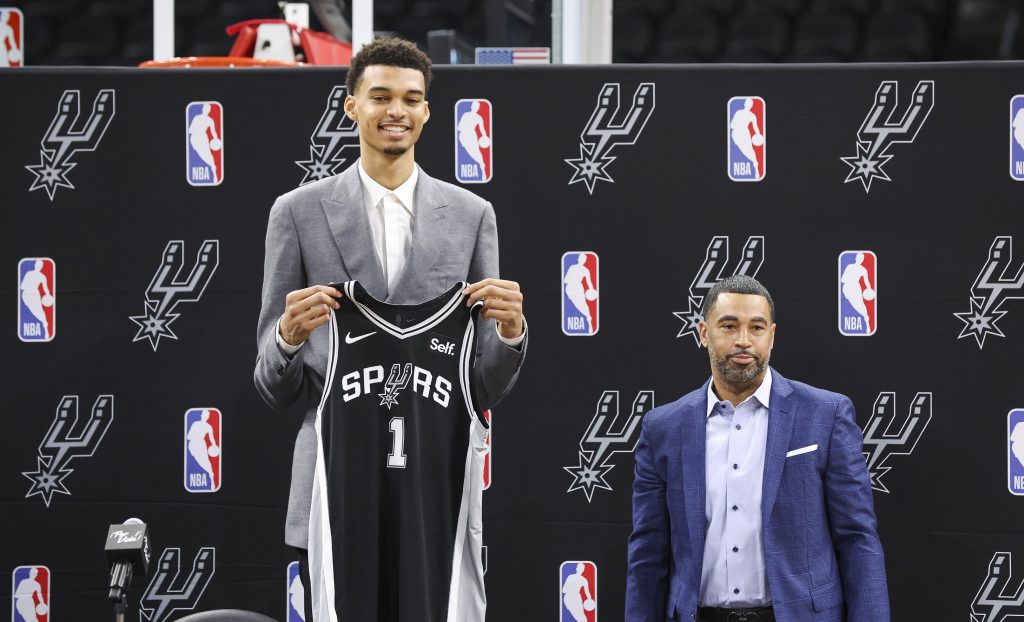 The draft is over! Despite the lack of big trades the draft was interesting and changed the future for many franchises. The offseason is now in full swing and before we move on with free agency and summer league let's reflect real quick on what happened in the 2023 NBA Draft.
Winners and Losers is such a hard label to put on a team or player this soon after the draft because we have no idea who or what they will become but I am not afraid to be wrong so I gave it my best shot!
Winners: San Antonio Spurs/Victor Wembanyama
I know this one is obvious but June 22nd, 2023 is one of the biggest days in their franchise's history. The Spurs are set for the future with a franchise cornerstone and a future MVP. Victor Wembanyama lands in a great situation in San Antonio where he can grow and develop.
Coached by arguably the greatest coach of all time and surrounded by a good supporting cast (Devin Vassell, Keldon Johnson, and Jeremy Sochan), Wembanyama is in a good position to develop while also being able to compete in the next couple of years. Additionally, the Spurs have cap space they can use to build a better team as soon as next year.
Losers: Fans
Hornets fans did not seem happy on Thursday but that isn't even what I am referring to. The draft was fun and interesting, but there were not nearly big-name trades or trades that keep fans buzzing. With rumors of Damian Lillard, Zion Williamson, Jaylen Brown, and Brandon Ingram being on the move, it was disappointing for fans to see the biggest trade being Dallas's cap movements.
In the past week Chris Paul, Jordan Poole, Marcus Smart, Bradley Beal, and Kristaps Porzingis have been traded but specifically, as a watching viewing experience the big trades were underwhelming. Also, fans weren't quite entertained by the draft coverage but that is a different story.
Winners: Washington Wizards
I don't think I've ever thought this after draft day even when they have drafted well their organization lacks the development tools (hopefully that changes) to get players better. Michael Winger just became the team's lead executive and is already off to a great start.
Winger returned flexibility and a plethora of swaps and second-round picks for Bradley Beal and his horrible contract, he dealt Porzingis (who was leaving) for a veteran point guard he can flip later, then finally traded a 38-year-old point guard for Jordan Poole, three-second rounders, and a protected first-round pick.
Winger navigated the breakup of a tough roster financially and gained valuable assets going forward. Not only did the Wizards blow it up but they also had a very good draft.
Some are making a big deal about them trading up from 8 to 7 for someone they probably could have got at 8, and although that is fair criticism it only cost them two second-round picks (they just got 7). Coulibaly will have a great opportunity to get minutes and opportunities in Washington and is young enough that he won't accidentally win them too many games.
Losers: Damian Lillard
Damian Lillard wants to contend for a championship and stay in Portland, it seems as if one of those will have to go. Portland made (the right) choice of selecting Scoot Henderson #3 instead of trading it for a veteran that can help next season.
This puts Dame in an awkward situation as Lillard, Henderson, Sharpe, and Simons all play a similar position. Keeping Lillard in Portland makes no sense for either side but if reports are accurate Lillard wants to play there and they will only trade him if he askes for a trade.
Winners: Houston Rockets
What a draft for Houston! At picks 4 and 20 the Rockets were able to get the 3rd and 6th best players on my board. Houston didn't overthink their selection at #4 taking the incredible Amen Thompson and lucked out with Cam Whitmore at #20 after his free fall down the board.
The Rockets have an exciting young core including their new draft picks, Jalen Green, Jabari Smith, Alperen Sengun, Tari Eason, and many more young projects. I think the only way Houston can screw up this offseason is if they sign Harden to a massive deal that stunts their young guard's growth.
Losers: Cam Whitmore
Although it was a great day for Houston it was a disappointing one for Houston. As soon as Monday of this week, Whitmore was the consensus #5 pick in mock drafts and instead, he fell down to 20. Now the situation may end up being better and it could be better for his career but over the next four seasons,
Whitmore will be making 17 million dollars less if all options get picked up. The reason for his fall is still not known for sure, failed medicals, bad interviews, and poor workouts have all been rumored. If his body is okay the Rockets got a steal and Cam Whitmore gets to be part of a fun young core.
Winners: Upperclassmen
The draft is full of young freshmen and breakout sophomores but this year there was an influx of college upperclassmen selected. In the first round alone 8 upperclassmen were selected (Hawkins, Jaquez, Murray, Prosper, Sasser, Sheppard, Strawther, and Brown).
This is not normal and it will be interesting to watch next season how these players do and if this results in more emphasis being placed on experience and win-now players. I only ranked 4 of the 8 upperclassmen in my top 30 so I am excited to see if I can learn a lesson from this.
Winners: Utah Jazz
Outside of San Antonio and Houston, the Utah Jazz had the best draft. At picks 9, 16, and 28 the Jazz selected #11,12,14 on my board. Taylor Hendricks makes the Utah frontcourt scarier defensively with Markkanen, Kessler, and now Hendricks. At 16 the Jazz did fantastic selecting Keyonte George the phenomenal scorer out of Baylor.
Scoring is George's calling card, but in his freshmen year, he showed flashes of playmaking and defense that could indicate a bright future. Finally, at 28 the Jazz got arguably the best shooter and one of the best overall scorers in the draft with Brice Sensabaugh. The Jazz already were building something but now it seems the future is even brighter in Utah.
Losers: Trayce Jackson-Davis
I understand the hesitancy with Trayce Jackson-Davis but I don't think many expected him to fall all the way to the 57th pick. TJD has a bad weak hand and can't shoot farther than 8 feet away but he has too many positives as an athlete, defender, scorer, and passer.
The Warriors got a steal selecting TJD that late and I believe in him to stick around in the league. Mike Dunleavy (warriors GM) has already stated he anticipates TJD making the 15-man roster and not needing to play on a two way contract.
Winners: Dallas Mavericks
I understand that ideally, the Mavericks add more ready players but Luka is only 24, and if they keep trading for 7th men they will never get over the hump. The Mavericks shed Davis Bertans and his 17 million dollar salary to move back 2 spots and get a position of need. The Mavericks weren't done there acquiring Richaun Holmes into their trade exception and the 24th pick which they used on Olivier-Maxence Prosper.
All in all the Mavericks traded the 10th pick and Davis Bertans for Richaun Holmes, the 12th pick, and the 24th pick (plus sheded 5 million in salary). The Mavericks prioritized defense and added depth, there is a ceiling on how much these players will help in year one but I think in the long run they were great moves.
TBD: Sacramento Kings
Trading the 24th pick and Richaun Holmes for literally nothing at first confused me before I saw this meant the Kings now have about 35 million in cap space if they renounce some players. I give this a TBD because if the Kings can get someone like Kyle Kuzma it is a success but if they overpay for someone or whiff in free agency this is a waste of a first-round pick.
Additionally, the Kings picked Colby Jones and Jalen Slawson in the 2nd round which should improve their wing depth. An interesting offseason awaits Sacramento.
Winners: Los Angeles Lakers
All week the rumors were the Lakers wanted to deal the 17th pick but instead they get a great fit with Jalen Hood-Schifino. In all likely hood, D'Angelo Russell is on his way out and although Austin Reaves took a massive leap up last season he is not the offense-stabilizing point guard that they need.
JHS has questions about his shot and finishing but at the very least he can be a ball mover and hard-nosed defender. I think JHS can soak in year one minutes and between him, Schroder, and one more free agent, the Lakers should be set at point guard.
Additionally, the Lakers did a great job adding depth and potential with Maxwell Lewis at #40. Lewis has a high ceiling and although he won't contribute this year (and maybe ever with LeBron) he is more than worth the swing at #40. The Lakers also did a good job signing my #49 prospect D'Moi Hodge after he went undrafted.