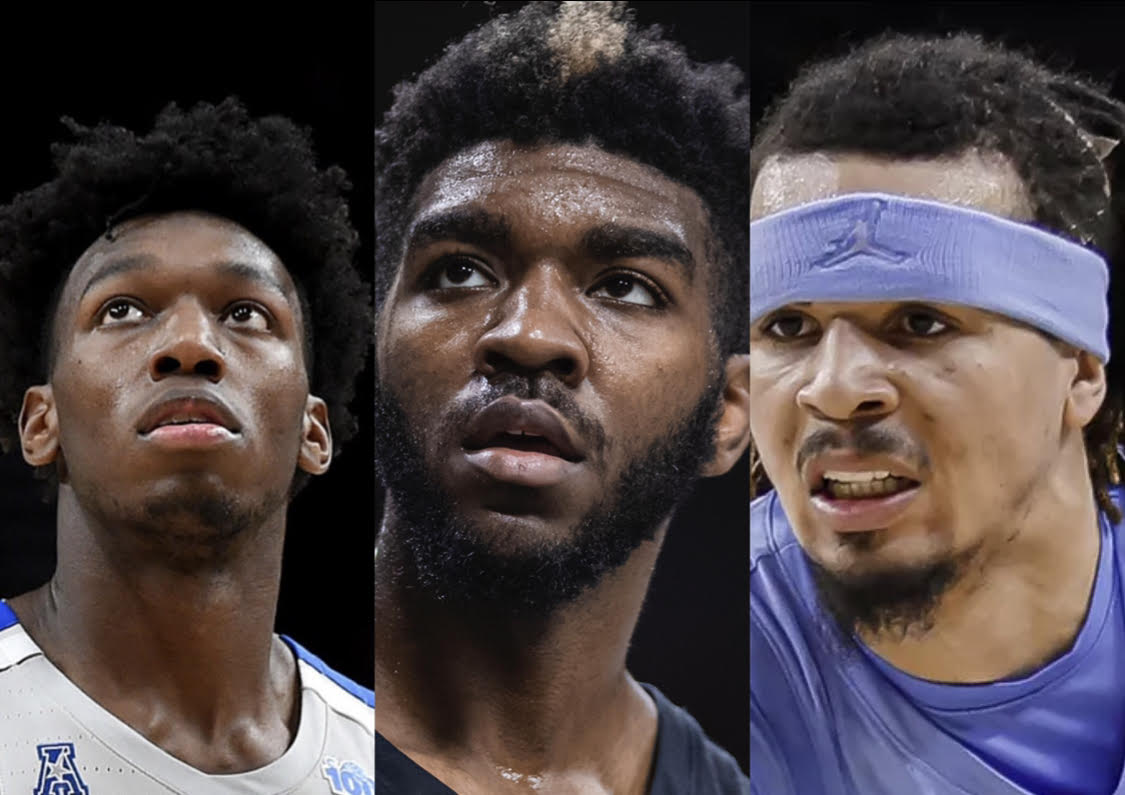 The 2020 NBA Draft has come to a close. Even though we didn't see much trading occurring in the lottery, we saw plenty of surprises. Some teams shocked us with their savvy drafting, and some teams continued to impress us with just how unimpressive they are at drafting. Let's see who the biggest winners and losers are of this years draft.
Winner: Golden State – #2, James Wiseman
The Warriors went with the safe option, which is why I consider them a winner. During his short tenure with Memphis, Wiseman averaged a double-double with 19.7/10.3. I'm sure the Warriors would have loved to see more of him prior to him going pro, but there's no doubt he will be exactly what they need him to be.
The Warriors avoided another year of relying on Kevon Looney as their big man. Wiseman will play that role exceptionally well in Golden State. He provides some respectable defense that will likely improve as he ages, and he can stretch the floor for Steph Curry who attracts a ton of attention on the offensive end.
His post-draft interview was impressive to say the least. He spoke like a true veteran about teammate Klay Thompson, who went down in a practice yesterday with a lower leg injury, and showed that he has the temperament and maturity to handle the NBA spotlight.
Loser (Maybe?): Chicago Bulls – #4, Patrick Williams
This one is a puzzling pick. Patrick Williams is by no means a bad player. As a matter of fact, he is probably one of the best defenders in this draft class. And there's no doubt the Bulls need defenders.
But you would have thought the Bulls would go after someone with a higher upside.
Williams' stats don't exactly jump off the page. As the sixth man at FSU, Williams averaged 9.2/4.0/1.0 off the bench, and notched a block and a steal per game. He is as athletic as they come, and has respectable enough shooting to make him an exciting prospect.
Although maybe not the number one option for the Seminoles, he was also a freshman on a loaded roster. He is adept at disrupting passing lanes, he has a 7 ft wingspan, and his play in transition will prove beneficial to any team running a pace & space system.
I don't think anyone expecting Williams to go this high, and many expected the Bulls to take a chance on a high risk, high reward prospect. Williams is a safe bet that will have a spot in the league for years to come.
Winner: Atlanta Hawks – #6, Onyeka Okungwu
The Hawks picked exactly who they should have.
Onyeka Okungwu was by far USC's best player. Not only is he proficient on the offensive side of things, he averaged nearly 3 blocks per game. Interestingly, the Hawks already have borderline All Star John Collins. But Okungwu is in the perfect situation to grow and mature as a player in a low-pressure environment.
Defensively, the Hawks begin to add to their depth, with Clint Capela at center, Collins at power forward, and Okungwu off the bench at power forward.
Don't be surprised to see them running a lineup with Okungwu at the small forward position either.
Loser: New Orleans Pelicans – #13, Kira Lewis Jr.
Although they will fall under the "loser" portion of this column, it's not the worst pick in the world.
But letting Aaron Nesmith fall to #14 is a shame. So this part will double as a winner/loser pick. The Celtics drafted a pick later and acquired the flamethrower that is Aaron Nesmith.
Nesmith shot an absolutely terrifying 52% from deep in his sophomore season. His defensive potential is exciting as well, averaging over a steal per game and nearly a block per game as a small forward. Nesmith was on pace to have one of the best shooting seasons in college basketball history.
This isn't to say Kira Lewis Jr. is bad, but is he as good as Aaron Nesmith? Time will tell. I suppose the intention was to find a point guard to replace the hole of Jrue Holiday and learn under Lonzo (and potentially start over Lonzo if he continues to struggle), but the Pelicans had other prospects available that could've potentially had a stronger impact long-term.
Winner: Orlando Magic – #15, Cole Anthony
Cole Anthony has been touted as an exciting prospect since he was in high school. He was the shining light of a disappointing North Carolina team.
While his shooting splits aren't exactly jaw-dropping, he was the primary scorer for a weak North Carolina team. He also snagged a fair amount of boards for a point guard, and racked up a respectable 4 assists per game.
What's exciting about Anthony is his athleticism. He is explosive and has above-average speed. He'll be able to finish at the rim with relative ease, and he is confident in creating his own shot.
It's surprising he fell all the way to #15, and there's no doubt in my mind that he will be a day on contributor to Orlando.
Loser: Oklahoma City – #17, Aleksej Pokusevski
Let me begin by saying I don't hate this pick.
But I don't love it either.,
Poku falls in the category of unicorn. He is highly skilled for a 7-footer, and possesses all the tools you want from a center to stretch the floor in the modern NBA.
Unfortunately, he's 195 lbs.
He is as much of a project as they come, and the Thunder will likely work on bulking him up throughout the rebuilding process to be able to put him up against NBA-level defenses. I wouldn't be surprised to see him spend some time in the G-League.
It isn't the worst pick in the world, but a player like Precious Achiuwa fits the timeline of the Thunder's rebuild and would be able to learn under Steven Adams in a low-pressure environment until the Thunder are ready to compete again.
Winner: Philadelphia 76ers – #21, Tyrese Maxey
Absolute steal of the draft.
Maxey will have no problem coming in on day one and offering a strong presence at the point for Philly. He possesses scary athleticism, and is a crafty finisher with a strong floater package.
This was the right call, and I could see Maxey being looked at as a player who could have gone in the lottery. He is a three-level scorer when his shot is falling, and he is an exceptional on-ball defender.
Winner: Denver Nuggets – #24, RJ Hampton
Many were surprised to see RJ Hampton fall so far. I was one of those people.
He played in the NBL with LaMelo Ball prior to declaring for the draft. He possesses great size, speed, and talent will make a him a potential threat for years to come. One concern some have voiced with Hampton is his durability.
He missed four weeks of his NBL season with a hip injury. He also suffered an injury with the FIBA U-17 team. The Nuggets seem to have a competent player development team, and if he is healthy and in the right role, I can see Hampton providing some needed depth to the Nuggets as they continue to contend for a title.
Final Thoughts
This draft is not nearly as weak as people seem to think it is. It's just not top heavy like prior drafts. I think this draft was full of strong rotational players, with some potential for later lottery picks and late first round picks to break out as their careers progress.
As always, a lot of success in the NBA is determined by the situation you're drafted into. The players we expect big things from may fizzle out as a result of poor player development or bad coaching. The players we expect nothing from are going to become household names in a few years. That's what I love about this draft, is that there are so many players flying under the radar that are going to blossom into impressive NBA players for years to come.

Must See
I swear I was writing a fun Kyrie to the Laker trade when the...

With the news that Kyrie Irving is being traded to Dallas, fans are already...

No matter what opinion you have of Aaron Rodgers off the field, on the...