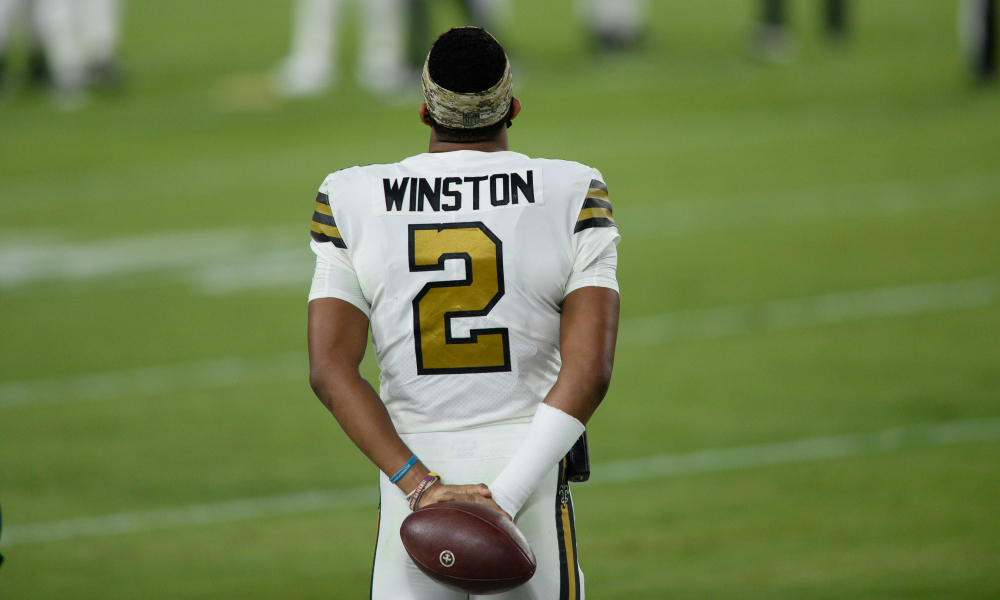 Yes, you read that right. No, I am not drunk. The same man who has thrown most INTs since 2017, the same man who mimics a crab in his workouts, the same man who was a backup to a TE for three games, will be the Most Valuable Player in the NFL.
The first reason and the most convincing argument, talent. Jameis Winston was the number one pick in the 2015 draft, and one does not become the number one pick without being a generational talent. In college, Winston was a smart, instinctive, tough quarterback who led FCU to a national championship and himself to a Heisman trophy in 2013; the NCAA does not hand out Heisman trophies to just anyone (just ask Reggie Bush). Why could his college success not translate into success at the next level? Turnovers. This was a recurring issue as in college he had been easily baited into dangerous throws, tried to do too much and both these led to turnovers.
I know you must be tired of hearing the "if he cuts down on the turnovers, he'd be a top 5 QB", but it is true. In 2019, Winston threw 30 interceptions, which spoiled an exciting season where he topped 5,100 passing yards, leading the NFL in this category. If Winston can eliminate even half of these turnovers, abetted by his new LASIK eye surgery where he should hopefully be able to see the correct color jersey, he could compete with the likes of Lamar Jackson, Patrick Mahomes, and Aaron Rodgers for the MVP trophy.
The next reason is education, the ability to harness the talent that led to his name being called first in the 2015 draft. The former Buccaneers QB signed a bargain deal with the New Orleans Saints to learn from one of the greatest QBs of all time, Drew Brees, rather than compete for a starting job (and earn more money) for another team. This decision highlights one undeniable fact: Winston, instead of earning a far greater paycheck, is actively trying to better his game.
Winston himself got emotional when describing the experience in an interview where he teared up with a goosebumps moment: "He doesn't even know how much he means to me and my family. … I really love Drew Brees". This last year that Jameis spent was far more valuable than the extra $10-15 million he might have earned from playing from another team and this is for several reasons: he had a year to learn the offense in preparation, he learned behind one of the best head coaches in the league and a first-ballot Hall of Fame quarterback.
I think the last reason which cannot count on a football standpoint, his likeability. Winston, albeit crazy at times, specifically talking about eating W's, is a player who fans want to succeed. The greatest example was the gut-wrenchingly honest speech at a youth camp where he cultivated an audience by describing his ongoing struggles "I went from being the No. 1 draft pick to being — everybody laughing at me," Winston said. "But guess what? I'm about that business. I'm outworking everybody at my position." Although words are just words, the former Heisman Trophy winner has a chance to back up these words with his arm in August.
To sum up, although betting on Jameis Winston seems like throwing away money but you can call this instinct or institution, regardless I have got a feeling that Jameis Winston is going to have a damn good season, and at +6600 odds what is the harm in laying down five bucks?

Check out our new podcast episode!
Got Hoops Podcast
A new up and coming basketball podcast by 4 dedicated NBA and basketball fans. It's for fans, by the fans.
Got Hoops Podcast (Ep. 17): Replace CP3 w/ 2017 MVP Westbrook? Trades? NBA DRAFT!
A lot of interesting topics in this week's podcast, starting off with the argument if the Suns would be in Finals if CP3 was replaced by 2017 MVP Westbrook and other takes.
Search Results placeholder
Must See
With days 1 and 2 of Free Agency in the books, it is common...

Time to give out some report card grades for each selection in the draft...

In the offseason, especially the last segment, there are often victims of the hype...