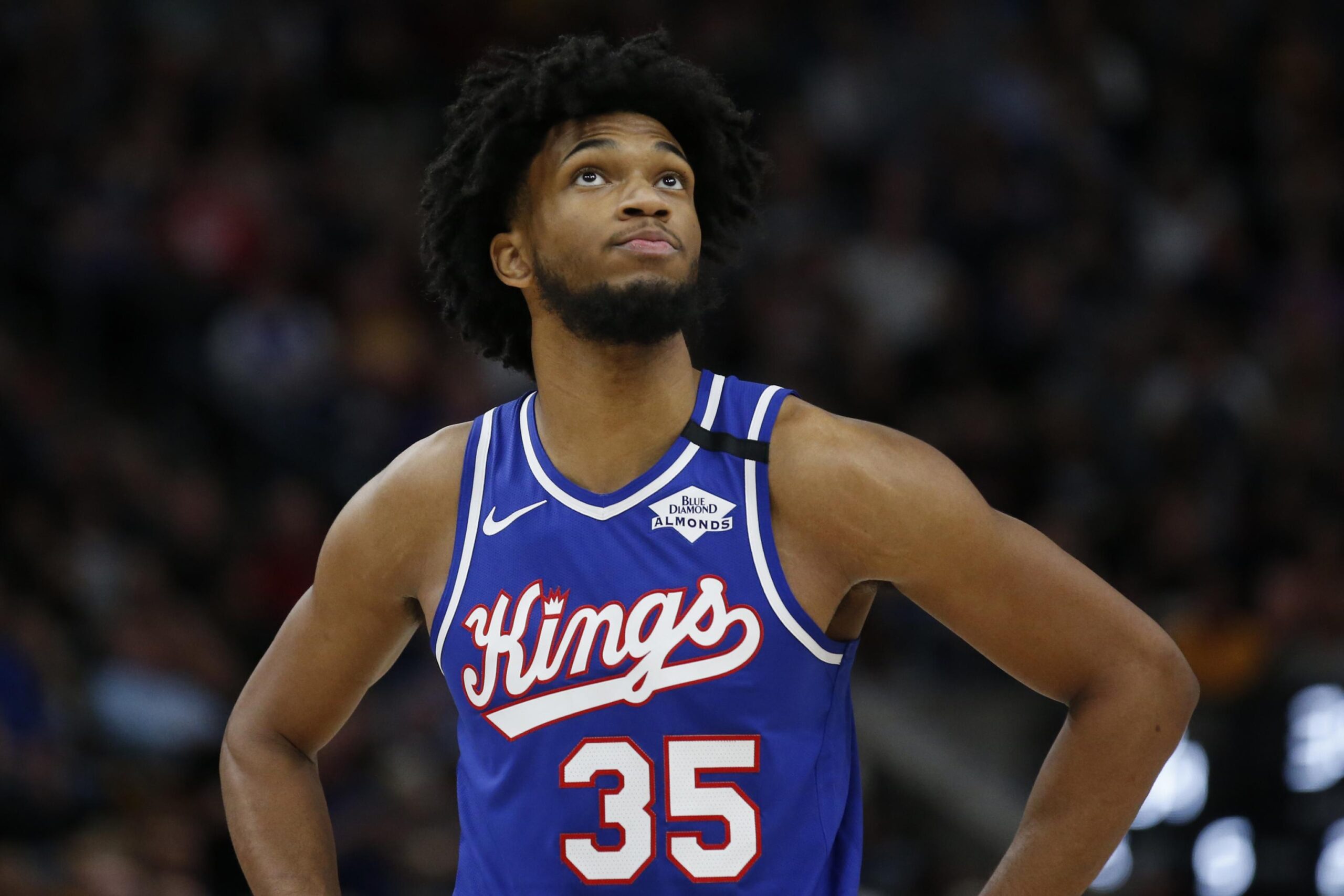 Marvin Bagley III is currently a part of the Sacramento Kings roster, but he hasn't seen the floor in a very long time. Bagley has a lot of drama surrounding him and the team, but a lot of it is going under the radar. Many fans think that Bagley should be traded or let go by Sacramento to have a fresh start. This article will dive into the teams that Marvin Bagley would shine on and become the player many thought he would be.
Hold up! What's going on?
Even though Marvin Bagley is somewhat of a high-profile athlete (at least, before all of this), some NBA fans may not know what's going on.
Marvin Bagley was a five-star high school recruit. Many had him ranked No. 1 in his class. The future star power forward then committed to Duke University and played one season for the school. Bagley averaged a double-double with 21 points and 11 rebounds, along with 1.5 assists per game. Coming into the draft, Bagley was projected as a top 3 pick. The Sacramento Kings picked Bagley 2nd. In his first three seasons, Bagley did not meet expectations at all. Between injuries and just bad basketball, Bagley's career was off to a very underwhelming start. In his first three seasons, he only averaged 14.5 points and around 7 rebounds per game.
Last season, on January 2nd, Bagley's father, Marvin Bagley Jr., tweeted at the Kings, "PLEASE trade Marvin Bagley III ASAP!" Followed with "Love, Coach Bagley." The tweet was soon deleted but, these days, nothing on the internet can be truly deleted. The tweet spread all over the sports world. That was what started the speculation that Bagley would be in a new uniform soon, but that has not happened yet. Instead, at the beginning of this season, the Kings removed Bagley from the lineup entirely. His agent, Jeff Schwartz, even spoke out about the new change calling it "baffling," and he believes "It's clear they [the Kings] have no plans for him in the future." Schwartz also calls out the Kings' front office, saying they are "contradictory" by not trading Bagley but, instead, keeping him only to give him zero minutes.
Now, with Marvin Bagley's future up in the air and the rumor mill being dead silent, let's take a look at some possible destinations for Bagley where he can flourish and blossom into the player that he once was thought to be.
1. The Houston Rockets
The first team that would benefit from having Bagley is the Houston Rockets. The Rockets have entered rebuild mode, getting rid of All-stars James Harden and Russell Westbrook. This team has a young core with a lot of potential. With Kevin Porter Jr. finally getting his chance to shine after the drama with the Cleveland Cavaliers and 2nd overall pick, Jalen Green, the Rockets are looking hungry to prove the haters wrong. That drive is something the team has in common with Bagley. With Christian Wood recently playing at the center position, this Rockets team would benefit from a better starting power forward.
2. The Oklahoma City Thunder
The second team that would be a good fit for Marvin Bagley is the Oklahoma City Thunder. This is another team that is in rebuild mode. The Thunder may even still be rebuilding in three or four years. That is thanks to the abundance of draft picks the team has acquired over the last few seasons. With the team looking to rebuild around their star guard Shai Gilgeous-Alexander, adding Bagley to the lineup is not a bad idea at all. Because this team isn't looking to go to the finals for at least two more years, Bagley would have time to develop and recover. This would give him a second chance to get back to the player he once was at Duke. With no real starters besides Shai and Luguentz Dort, Bagley would fit right in with this young and hungry team.
3. The Minnesota Timberwolves
The last team that would be a good fit for Marvin Bagley is possibly the best option out there. The Minnesota Timberwolves. Just like the teams mentioned above, this team is on the younger side but, the Timberwolves have some already fantastic players. D'Angelo Russell and Karl-Anthony Towns are already all-star caliber players. On top of that, they have a great third option in their first overall pick from last year, Anthony Edwards. Some could argue that he is their second option, with Russell as their third. If Bagley were to become a part of this roster, he might not be the first option but would provide a significant presence in the post with Towns.
The Future
With Bagley's future entirely up in the air, no one knows what is going to happen. One thing is for sure; there needs to be some changes made in Sacramento. Bagley was once considered to be the future of the NBA, and if he is going to get back to that type of player, these teams would be the ones to help him get there.