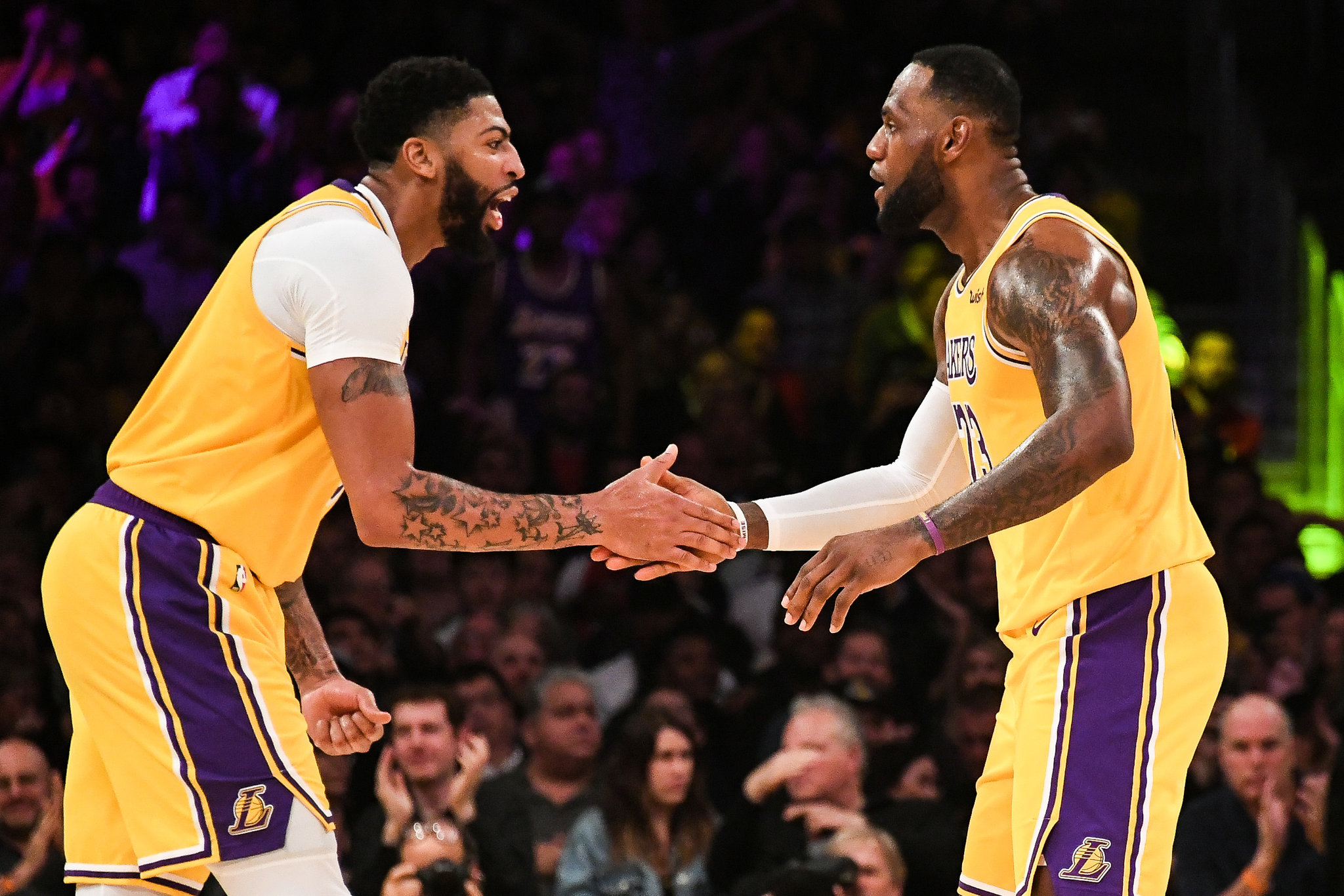 We're officially less than a month away from the start of a new NBA season. With free agency and trades starting to fully take shape, let's take a look at who is poised to take a playoff spot, and potentially secure homecourt advantage. Here are our Western Conference playoff predictions.
Los Angeles Lakers – #1
The Lakers somehow managed to beef up their already championship roster. They added Montrezl Harrell and Dennis Shroder, the two best sixth-men in the league. They'll be able to run Harrell at Power Forward when AD is on the bench and at Center when they're on the floor together. He'll provide a much needed boost in scoring from players not named LeBron or Anthony Davis.
Dennis Schroder, who was arguably robbed of the 6MOY award, can run your bench unit. A solid floor general, Schroder can get you clutch buckets and run with your starters and won't be a liability on defense. Their savvy moves make them an easy #1 in our Western Conference playoff predictions.
Denver Nuggets – #2
The Nuggets have been a perennial Top 4 seed in the West for awhile now. They have two bonafide stars in Nikola Jokic and Jamal Murray. They have exciting young talent in Michael Porter Jr. and the potential of Bol Bol becoming a serviceable player. Denver brought back Paul Millsap on a team-friendly deal, and the only major loss they suffered was Jerami Grant, who signed with Pistons.
Despite the loss of Grant, there's no doubt that coach Mike Malone is fully capable of taking this team deep into the playoffs and they will be a threat for quite some time to knock off a higher seed.
Dallas Mavericks – #3
The Mavericks at the 3 seed may be a bit of a hot take, but I truly think this season is the year that Luka is unleashed upon the NBA. Don't be surprised to see him average a triple double and potentially be top 3 in MVP voting. They added Josh Richardson in place of Seth Curry, who will provide some stronger defense and fit nicely into their rotation.
They kept most of their core, bringing back Tim Hardaway Jr., Jalen Brunson, and Dorian Finney Smith, and Porzingis should be healthy come the start of the season. The Mavericks were already making waves, and I expect them to surprise some of the top teams in the league.
Los Angeles Clippers – #4
The Clippers have got to prove themselves this season. They were the biggest disappointment of the postseason last year. You can blame it on Doc Rivers, Paul George, Motrezl Harrell, whatever you want. But they should have beaten the Nuggets, and they didn't.
They made the smart coaching change and promoted Ty Lue to head coach, who I believe can be a better leader than Doc Rivers. The Clippers also lured free agent Serge Ibaka to Los Angeles. Serge will be a much better defensive player than Harrell, and can stretch the floor far better.
They brought in Luke Kennard, who had a solid year in Detroit, and retained most of last years roster. I expect Lou Williams to be moved for a solid rotational player, and I think they're a better team than last year; however, I think other teams got better, which is why I have them at #4.
Portland Trail Blazers – #5
Barring any major injuries, the Blazers should have a safe playoff spot.
They proved in the bubble that they are a threat when healthy. The year before last, they were safely in the playoffs, and with Nurkic back and Dame healthy, there's no doubt they'll secure a playoff spot, especially with OKC tanking and the Rockets imploding.
Although they really didn't make any major moves this offseason, they have largely the same team, and CJ McCollum and Damian Lillard are a deadly backcourt when firing on all cylinders.
Utah Jazz – #6
The Jazz are basically the same team they were last year. They haven't really made any big moves, and they retained pretty much their entire 10-man rotation. On paper, they should be a good team. Donovan Mitchell is locked and loaded to have a career year, and Gobert will consistently be a DPOY candidate.
Their success is largely contingent on Mike Conley returning to form (he looked great in the bubble). Jordan Clarkson is a guaranteed bucket off the bench, and Bojan Bogdanovic will be back and healthy. I wouldn't be surprised for them to fight for home-court advantage, but with how competitive the west is, it's entirely possibly they end up in the 5-7 seed.
Phoenix Suns – #7
The Suns are poised to make the playoffs for the first time in Devin Bookers career. They added CP3, Jae Crowder, and a couple new rotational players in Abdel Nader and Cameron Payne. Cameron Johnson is growing into a solid NBA player, and they retained an important piece in Dario Saric.
The three-man tandem of CP3/Devin Booker/DeAndre Ayton will be deadly, especially with CP3 being able to facilitate the pick-and-roll with Ayton. Their spacing allows Cameron Johnson's strengths to be maximized, and Jae Crowder is a proven starting Power Forward. I fully expect a playoff season from them.
New Orleans Pelicans – #8
The Pelicans were without Zion Williamson for most of last season, but if he comes back healthy and in shape, they are a threat for the playoffs. They acquired a solid enough point guard in Eric Bledsoe, allowing Lonzo to come off the bench, and Steven Adams is a massive upgrade at their Center position.
Brandon Ingram is a certified All Star, and their supporting cast is good enough to claw their way to the 8th seed. Stan Van Gundy is a proven playoff coach, and he should be able to mold this pliable young team into a playoff contender.
Do you agree with our Western Conference playoff predictions? Let us know your thoughts!

Must See
I swear I was writing a fun Kyrie to the Laker trade when the...

With the news that Kyrie Irving is being traded to Dallas, fans are already...

No matter what opinion you have of Aaron Rodgers off the field, on the...