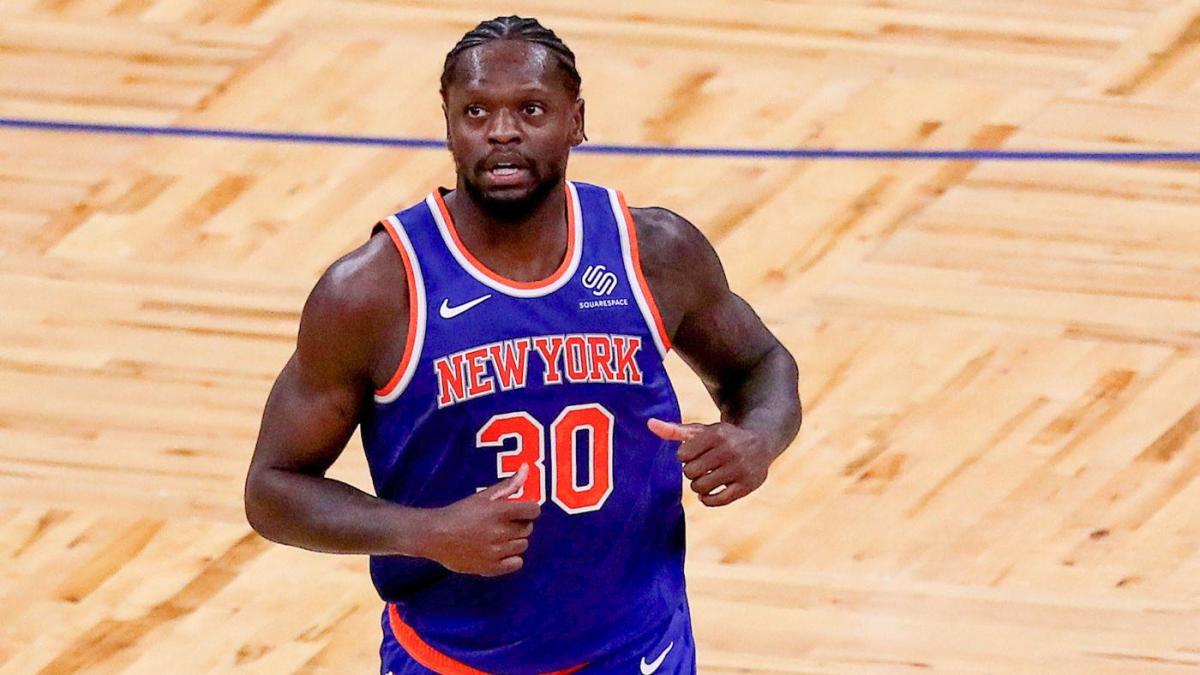 There's a lot of underrated defenders in this league that don't get the recognition they should. Let's get into some players that are playing defense at a high level, but their recognition isn't as high as it should be.
Julius Randle
Julius Randle is having a crazy breakout season. Sure, when you first look at his stats you see the increase in points and his improved playmaking ability. We aren't talking about his defensive ability this season. He currently ranks 2nd in the league with 3.1 in defensive win-shares behind Rudy Gobert (3.7). Although his stats on the defensive end aren't necessarily eye-popping with steals and blocks, he plays really good on-ball defense for a power forward.
The Knicks have a top 4 defensive rating in the league and you can definitely say Randle has been one of the big contributors defensively for them. Randle is having a great season offensively, but surely needs more recognition on the defensive end.
Clint Capela
Clint Capela is having an underrated defensive season this year for the Hawks. A lot of people kind of ignored or didn't really put much attention when the Hawks acquired Capela last season, but it definitely was a slept on pick up. Capela is averaging an insane 14.2 RPG this season and also 3rd in the league in blocks averaging 2.3 per game. Capela's individual statistics are enough for him to get recognition defensively as he's been one of the best defenders and best rim protectors in the league.
He doesn't get much recognition with other DPOY candidates like Ben Simmons, Rudy Gobert, and Myles Turner in the mix, but he should.
Royce O'Neale
When you think of the defense of the Jazz, you immediately shift your focus to Rudy Gobert as he's the premiere defender on the team. But let's not forget the best perimeter defender for the Jazz in O'Neale who helps make the Jazz a top 3 defensive team in the league as well. O'Neale has shown tremendous defensive versatility in these past few seasons, being able to defend multiple positions.
He's shown the ability to play great defense on the perimeter and provide problems for opposing guards and forwards. He can guard 1-4 and make it tough for players offensively. He doesn't get the recognition he deserves with defensive star Gobert on his team, but he should.

Check out our new podcast episode!
Got Hoops Podcast
A new up and coming basketball podcast by 4 dedicated NBA and basketball fans. It's for fans, by the fans.
Got Hoops Podcast (Ep. 12): Luka on Fire! Bam or KAT? Nuggets Contenders?
In this specific episode we discuss a lot of topics regarding Luka, KD's DM Fiasco, Bam or KAT, Nuggets as Contenders, and many other topics you don't want to miss out!
Search Results placeholder
Must See
When I say his doubters, I am including myself. I wrote an article months...

According to NBA.com's MVP ladder from April 9th, the top 5 players in order...

Paul George has been on a groove recently with his stellar play as of...