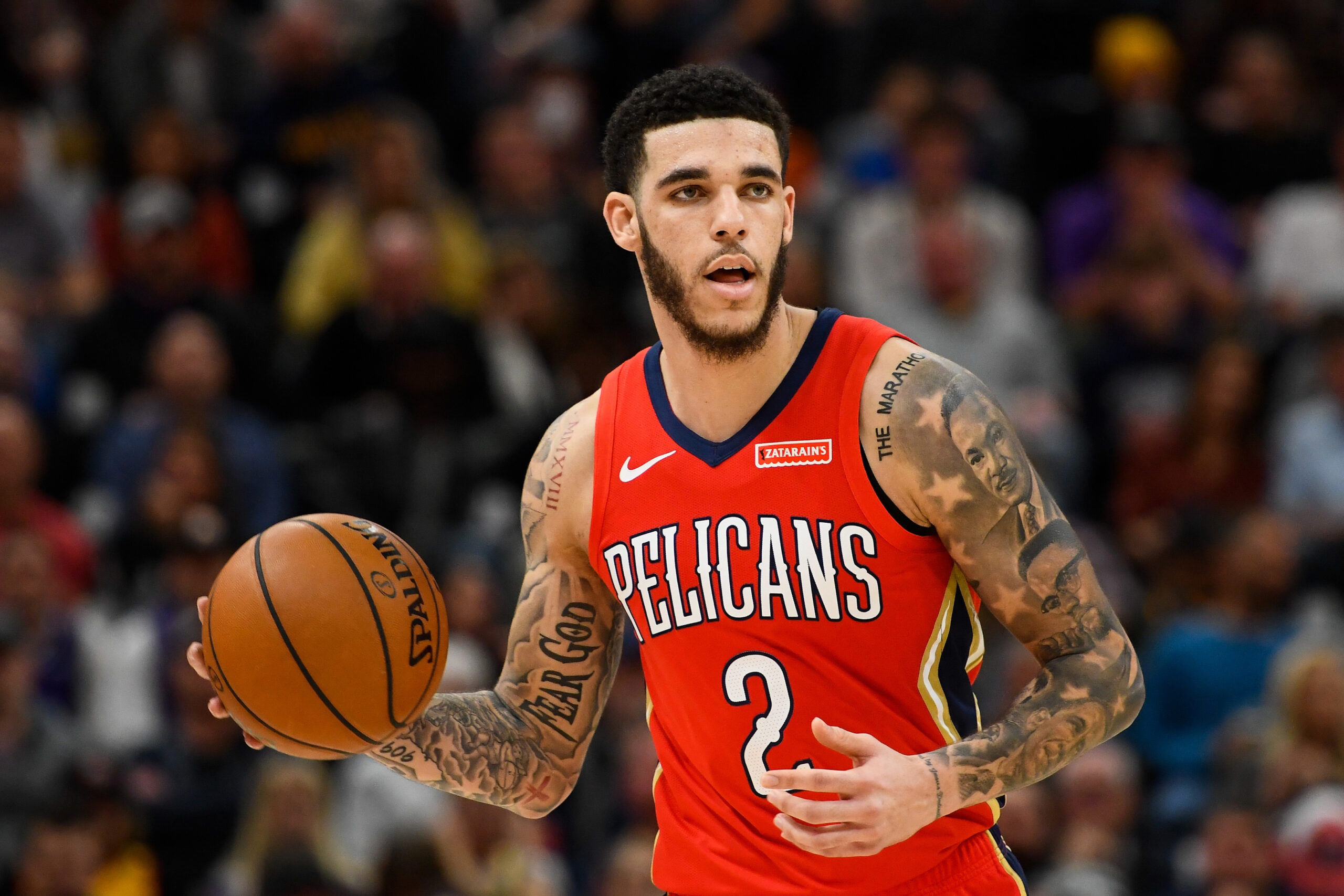 1. Lonzo Ball's 3 pointer
Lonzo Ball went from an underwhelming 3 point shooter in the beginning of his career to one of the best 3 point shooters in the league. He is shooting a crazy 39.2% from three while shooting 8 threes a game. Those are crazy efficient numbers from deep while shooting with a massive volume. A lot of respect goes out to Lonzo for putting his head down and changing the narrative people had about his shot. He put in the work in the gym and it's paying off big time for him now.
He's becoming one of the best 3 & D point guards in the league and a player that can make plays for others. Sure, he might not ever become that superstar many thought he could be when he got drafted, but he will still be a really good player in this league for a long time.
2. James Harden as a PG
James Harden has taken his passing to another level this season. After not being expected to drop 35 points per game or more for his team, he is finally being able to show the rest of the league his full mastery of the offense. Harden is currently leading the league in assists with 11.0 assists per game. He's had great seasons passing before, but this season has been more of him making plays for others than before. He's not looking to score as much, but pass more. The Nets are winning due to it and are the #1 seed in the Eastern Conference from it.
Harden should definitely be considered a top MVP candidate, if not the top MVP candidate with the way he's been playing this season. His playmaking has gotten to another level where all the concerns about him fitting with the Nets has diminished.
3. Julius Randle as a Star
When Randle signed with the Knicks a few seasons ago, many thought they were settling. They were expected to sign the big-name superstars like Kevin Durant or Kyrie Irving but instead got Julius Randle. Randle has proven that he deserved that contract and was more than just an average player. He's taken his game to another level this season and has become one of the most intriguing stars in the Eastern Conference. Randle's ability to score on the inside with his strength, hit the three, and make plays for others has elevated his game to another level.
I expect Randle to keep on growing and becoming better for the Knicks. He's been the biggest reason why the Knicks are a playoff team this late in the year.

Check out our new podcast episode!
Got Hoops Podcast
A new up and coming basketball podcast by 4 dedicated NBA and basketball fans. It's for fans, by the fans.
Got Hoops Podcast (Ep. 13): KD the Greatest Scorer? Rondo's Impact! Celtics on FIRE!
In this podcast episode, we discuss KD being the greatest scorer in the league right now, Curry potentially being a top 10 player when he retires, Celtics being on fire, Rondo's impact on the Clippers, and more!
Search Results placeholder
Must See
When I say his doubters, I am including myself. I wrote an article months...

According to NBA.com's MVP ladder from April 9th, the top 5 players in order...

Paul George has been on a groove recently with his stellar play as of...