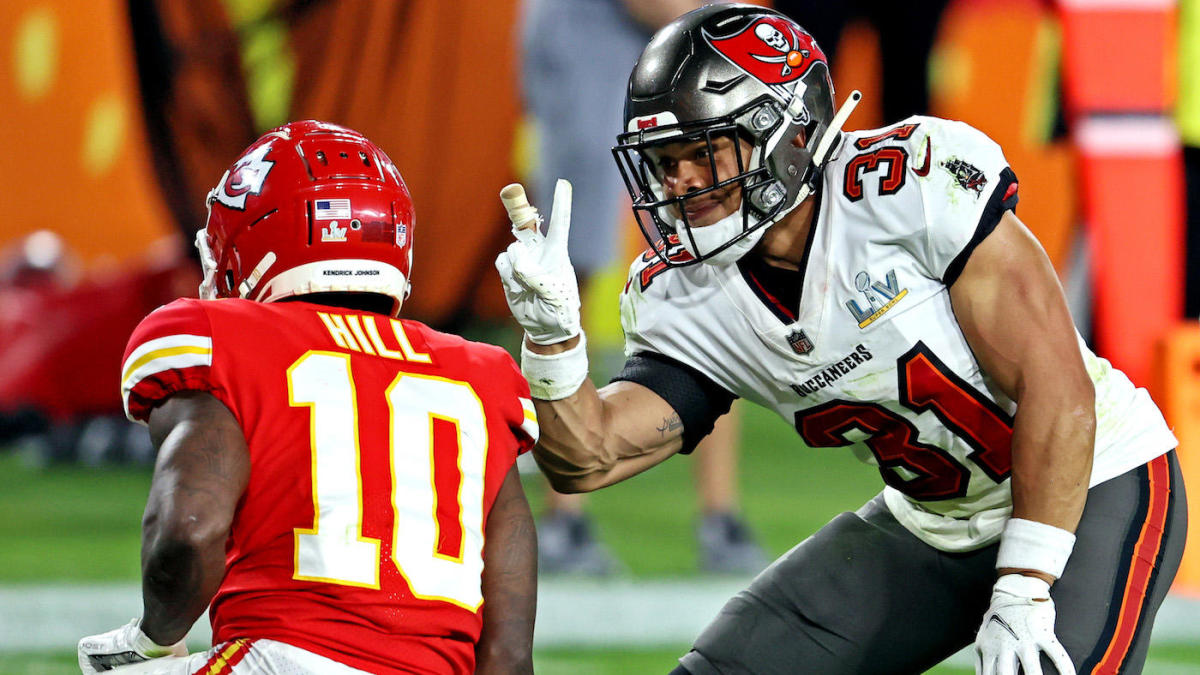 The offseason is a full go right now in the NFL and it's time we start discussing potential breakout players. When you think breakout players in the NFL, the focus always goes to the offensive side… but let's shift the focus onto the defense now.
Here are some players that will breakout next season…
Carl Lawson, New York Jets
When you look at Lawson's sack totals you might not think he's that much of a pass-rusher getting 20 sacks in 4 seasons. That's when you need to look beyond the sack numbers. Carl Lawson was 4th in the league last season in pressures (44) and also led the league in quarterback knockdowns with 26. Lawson has all the ability, athleticism, and explosion off the edge to be an All-Pro level pass-rusher.
I expect Lawson to take the next step this season on the Jets and be a scary duo with Quinnen Williams on the inside and Lawson off the edge.
Antoine Winfield Jr., Tampa Bay Buccaneers
Winfield was great for the Buccaneers in their SB run last season as a rookie. He established himself as one of the top up and coming young secondary players in the league and even was a candidate to be DROY. Winfield was a big help for the Buccaneers secondary and helped create a great safety duo with Jordan Whitehead. Antoine ended up having 3 sacks, 1 interception and recovering a fumble in his rookie season. I expect Winfield Jr. to have an improved season from his rookie year and showcase all of his abilities.
He has all the tools to be successful in this league, it will come down to him piecing it together and proving himself once again. If Winfield can keep on creating big plays like he did in the playoffs and regular season for the Bucs, watch out.
Logan Wilson, Cincinnati Bengals
You might have not heard of Logan Wilson yet, but I promise you will soon. In his first year in the league for the Bengals, Wilson racked up 33 tackles, 2 interceptions and one sack while getting around 50% of the snaps all season. Wilson has shown the ability to make big plays with his interceptions and sack in his rookie year and will definitely have to be stellar for an underwhelming Bengals defense as of late.
With the Bengals not resigning Josh Bynes, expect Logan Wilson to be a starter now and to breakout in his sophomore season with the Bengals.

Check out our new podcast episode!
Got Hoops Podcast
A new up and coming basketball podcast by 4 dedicated NBA and basketball fans. It's for fans, by the fans.
Got Hoops Podcast (Ep. 17): Replace CP3 w/ 2017 MVP Westbrook? Trades? NBA DRAFT!
A lot of interesting topics in this week's podcast, starting off with the argument if the Suns would be in Finals if CP3 was replaced by 2017 MVP Westbrook and other takes.
Search Results placeholder
Must See
With days 1 and 2 of Free Agency in the books, it is common...

Time to give out some report card grades for each selection in the draft...

In the offseason, especially the last segment, there are often victims of the hype...