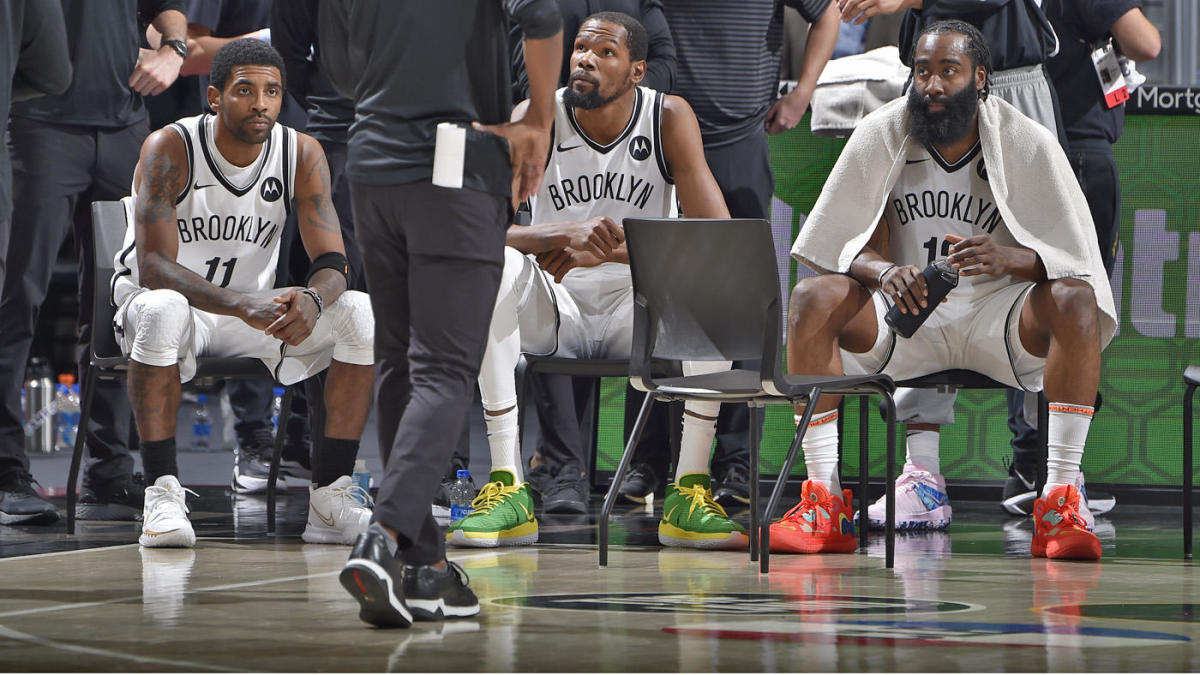 The Eastern Conference has been very unpredictable this season. We've seen teams in the playoff picture that we would never have predicted, and we've seen teams who have underperformed a lot. However, there have been some consistent teams that have stayed at the top of the standings. Let's have a look at the top 3 candidates to be the Eastern Conference Champions this year.
1. The Brooklyn Nets
The Nets are the obvious choice. They have the best team in the East on paper and it's not even close. With the recent signings of Blake Griffin and LaMarcus Aldridge, their dominance is becoming more and more clear. As if the Big 3 wasn't enough! Brooklyn has won 9 of their last 11 games and they haven't even had Kevin Durant. Granted, they have had Kyrie Irving and James Harden holding things down.
When it comes to the playoffs, this team will have no problem. Kyrie Irving and Kevin Durant have both had successful playoff runs with different teams. Their leadership and experience can lead this powerful Nets team to a Finals appearance and maybe even get a championship ring.
2. The Philadelphia 76ers
Philadelphia currently sits at the number 1 in the East. Despite having their MVP-Caliber player out (Joel Embiid), the Sixers have managed to hold the fort down. Tobias Harris has continued to impress and Ben Simmons has been very consistent. The Nets have been trailing them all season, but they've been able to stand their ground in the Eastern Conference.
The 76ers playoff success recently hasn't been much of anything. They got swept by Boston last year and lost in the Eastern Conference semifinals the year before that. But, this year they look legit. Joel Embiid has been playing the best basketball of his career and the Sixers have a lot more pieces that have helped them win so many games. Philadelphia is dangerous this year, but they'll have to get through some tough teams in order to reach The Finals.
3. The Milwaukee Bucks
Milwaukee is a team that has been in the playoff mix for a few years now. They have reigning MVP Giannis Antetokounmpo and a lot of really reliable players to help him out. Milwaukee is a deep team and right now they are 3rd in the East. Their starting lineup is usually: Holiday, DiVincenzo, Middleton, Antetokounmpo, and Lopez. This lineup seems like a team that can beat anyone. That includes the Brooklyn Nets.
Despite having a back-to-back MVP, the Bucks have struggled in the postseason. With Giannis, they haven't reached The Finals. They have come close, but even when they have been predicted to go all the way, they fall short. Consistency is key for the Bucks, and if they are consistent, they can make a deep playoff run.

Check out our new podcast episode!
Got Hoops Podcast
A new up and coming basketball podcast by 4 dedicated NBA and basketball fans. It's for fans, by the fans.
Got Hoops Podcast (Ep. 13): KD the Greatest Scorer? Rondo's Impact! Celtics on FIRE!
In this podcast episode, we discuss KD being the greatest scorer in the league right now, Curry potentially being a top 10 player when he retires, Celtics being on fire, Rondo's impact on the Clippers, and more!
Search Results placeholder
Must See
When I say his doubters, I am including myself. I wrote an article months...

According to NBA.com's MVP ladder from April 9th, the top 5 players in order...

Paul George has been on a groove recently with his stellar play as of...