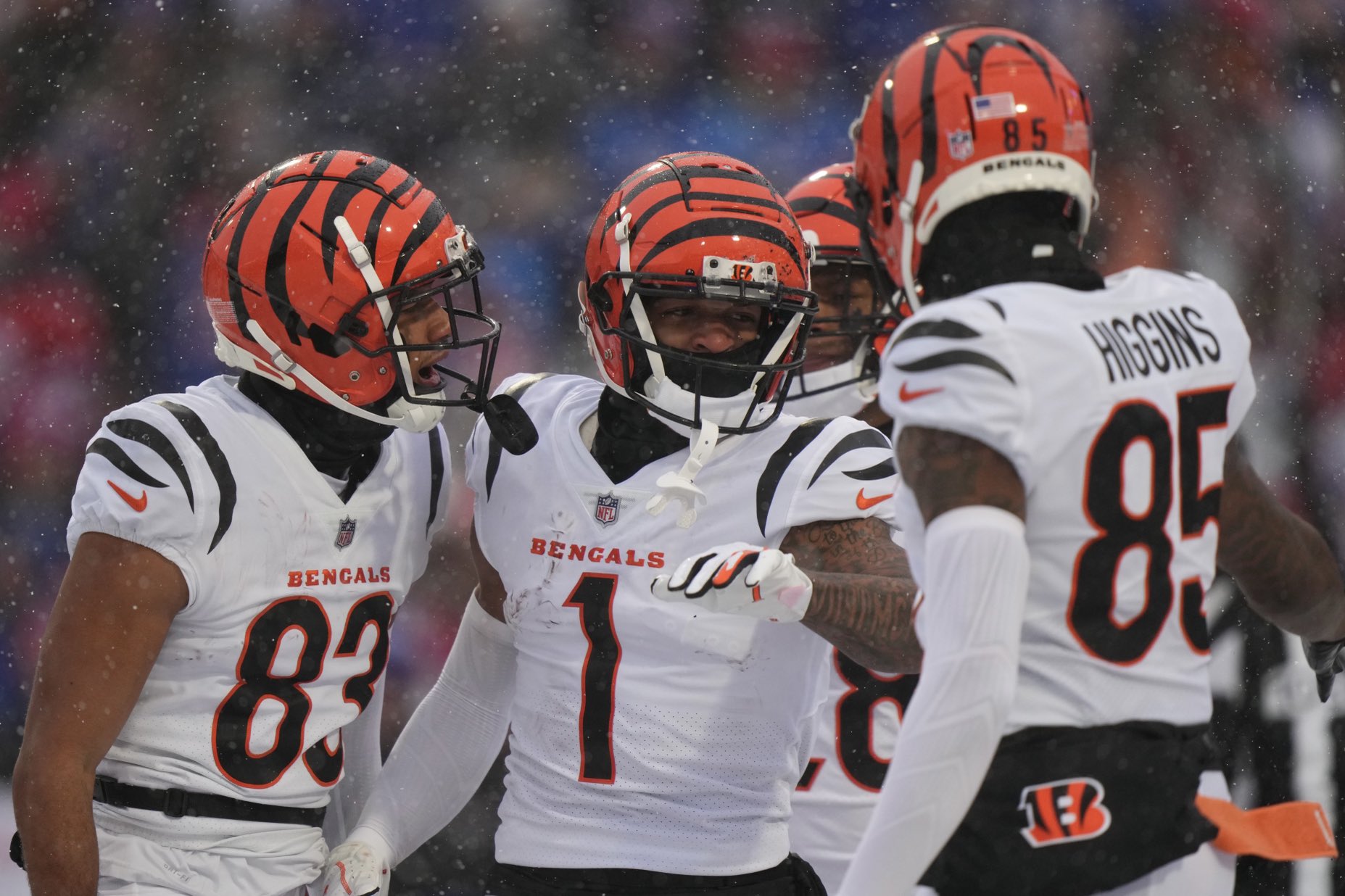 The wide receiver position will always be valuable to an offense. The elite of the elite receivers have proved to be important in the past few Super Bowls. The Eagles have one of the best WR trios that was essential in making the Super Bowl and then the Bengals and Rams the year prior as well. Drafting receivers or making huge trades for top-tier receivers have formed some of these top trios.
Let's get into the top 10…
1. Cincinnati Bengals: Ja'Marr Chase, Tee Higgins, Tyler Boyd
I don't think this is much of a debate, honestly. There's not a more complete trio in the league. Chase can take the ball 75 yards any play with the ball in his hands with Tee Higgins being the huge target on the other side. Got those two covered? Well watch out for Tyler Boyd who can cause issues out of the slot with elite route-running.
2. Miami Dolphins: Tyreek Hill, Jaylen Waddle, Chosen Anderson
Just pure speed on opposite sides, arguably the best WR duo in the league. Honestly, you can put whoever at the 3rd receiver spot and they'd still be a top 3-5 WR trio in the league. Hill is arguably the best WR in the league now and Waddle is no slouch either. Chosen Anderson has proven to be a threat at times when given the opportunity, with a 1,000 receiving yard campaign as recent as 2020.
3. Philadelphia Eagles: A.J. Brown, DeVonta Smith, Quez Watkins
The Eagles WR duo of Brown and Smith were dangerous all year and consistent weapons for newly paid QB Jalen Hurts. They were very important in their run to the Super Bowl and proved they're one of the best WR duos in the league. Watkins out of the slot can make some plays here and there so that's just an addition to an already talented WR room.
4. Seattle Seahawks: DK Metcalf, Tyler Lockett, Jaxon Smith-Njigba
Probably wouldn't have had Seahawks this high without their draft pick of Smith-Njigba. Metcalf and Lockett are both good receivers that have proven to have their own elite skillsets. Metcalf has proven to be a big body weapon on the sideline while Lockett has consistently one of the better slot/deep-threat receivers in the league. Adding Smith-Njigba who can play out of the slot makes this one of the more complete WR trios in the league.
5. Tampa Bay Buccaneers: Mike Evans, Chris Godwin, Russell Gage
Mike Evans and Chris Godwin have consistently been one of the best WR duos in the league the past few years. They were widely regarded as a top 1-2 receiver duo in the league a few years back before some trades occurred. They're still a top 5 WR trio with Russell Gage who's proven to be a not-bad 3rd receiver when called upon.
6. Arizona Cardinals: Deandre Hopkins, Marquise Brown, Rondale Moore
I initially had the Cardinals below the Raiders, but after giving some thought, when healthy… this trio would be super dangerous. We really didn't get to see the three receivers play much together. but we already know what Hopkins can do when healthy, and Brown/Moore showed flashes this past year when they were on the field. Don't be surprised if they move up to a top 3-4 spot if Hopkins doesn't get traded before the season.
7. Las Vegas Raiders: Davante Adams, Hunter Renfrow, Jakobi Meyers
I like the addition of Jakobi Meyers to the WR room with Davante Adams and Hunter Renfrow. Meyers won't wow you with crazy athletic intangibles, but he finds a way to get open and make plays and could prove to be valuable across Adams. Hunter Renfrow is one of the more underrated slot receivers in the league if healthy and of course Adams, arguably the best WR in the league when healthy.
8. Los Angeles Chargers: Keenan Allen, Mike Williams, Quentin Johnston
Health. My goodness, I can stress that enough with the top two receivers. It always seems like one of the two is banged up at some time during the season. When healthy though… Allen and Williams have been scary for opposing defenses and been huge weapons for QB Justin Herbert. I like the draft pick of Quentin Johnston, just in case they decide to replace one of Allen or Williams next offseason and also getting another weapon for their star QB.
9. Buffalo Bills: Stefon Diggs, Gabe Davis, Trent Sherfield Jr.
Gabe Davis didn't necessarily fulfill the expectations that were placed on him prior to last season's beginning, but he wasn't necessarily bad. Davis proved to make plays consistently and be a solid WR2 in the Bills passing offense. Stefon Diggs is one of the best receivers in the league so Davis was able to eat while the defense paid attention Diggs' way. Sherfield was an acquisition from division rival Dolphins who has shown flashes here and there.
10. Dallas Cowboys: Ceedee Lamb, Brandin Cooks, Michael Gallup
Love the trade for Brandin Cooks. One of the better deep threats in the league and always produces no matter who throws the ball. He's 8th in the league in receiving yards since 2014, which is crazy impressive considering the QBs that have thrown him the ball in totality. Adding him as the WR2 should be helpful for the Cowboys. Gallup when healthy, has been another weapon for the Cowboys. Excited to see how this trio of receivers will look next season for sure.
Honorable mentions: 49ers (Samuel, Aiyuk, Jennings), Steelers (Johnson, Pickens, Robinson II), Saints (Olave, Thomas, Shaheed), Bears (Moore, Mooney, Claypool)