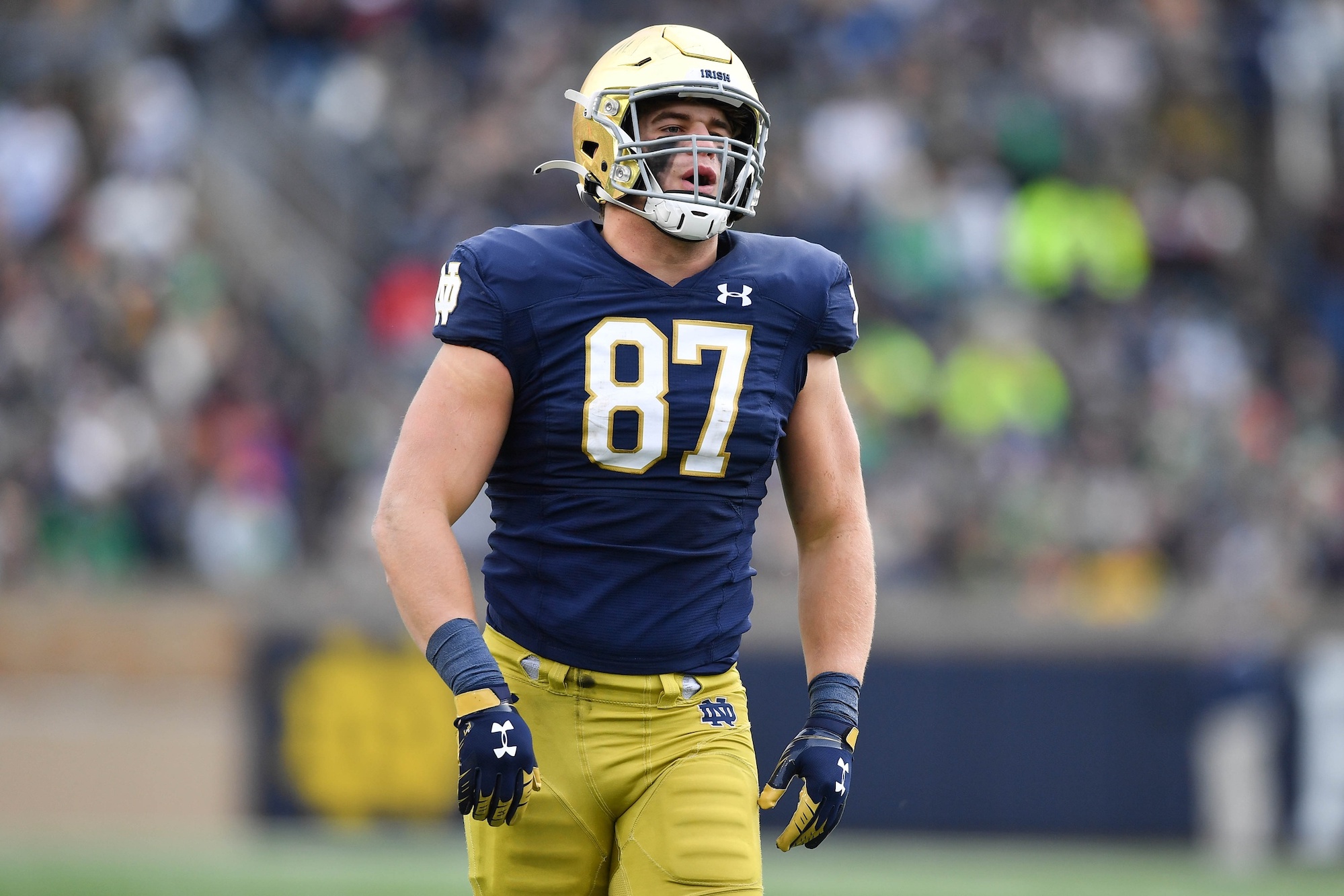 It's been a few days since the NFL draft and its time we start looking on some picks that were made by teams. Some of these so called steals might end up being terrible picks, but… this is why we do early reactions. To laugh at them later. Nonetheless, let's get into some of the biggest apparent steals of the 2023 NFL draft so far.
Michael Mayer, TE, Raiders (2nd round, #35)
Arguably the most complete tight end in the whole draft, Mayer ends up going at the top of the 2nd round. Mayer doesn't do anything too spectacular, but is just consistently decent in all aspects. Need him to make a block on a run play? Sure he got that. Need him to make a man miss and get a first down? Yeah, he can do that too. He's not the most athletic, but just does what you want from a franchise tight-end.
He reminds me of a Hunter Henry, not going to be a perennial 1,000 yard receiving tight-end, but will give you a solid 600-800 yards and be an option always. The Raiders drafted him to be a Darren Waller replacement and I think he will be a good one. Getting him at #35 is insane value, I had him as a top 10-15 talent and the best tight end in the draft.
Brian Branch, SS, Lions (2nd round, #45)
Brian Branch was considered the best safety prospect in the draft and getting him at #45 was a huge steal by the Lions. Lions have been consistently making a lot of solid draft choices and getting Branch will definitely pay dividends like their other picks have. Pairing Branch with C.J. Gardner-Johnson is going to be a lot of fun and should bring some consistency to a secondary that's lacked it recently.
Branch will bring great football intelligence and range in the backfield of the Lions defense. He's going to put himself in position at all times to make a big play. Don't be surprised if this ends up being one of the biggest steals of the draft.
Josh Downs, WR, Colts (3rd round, #79)
Not the biggest receiver at 5'9 or the fastest with a 4.48 40, but boy, does he make plays. Downs beats his opponents with sudden quickness, quick bursts of speed, and elusiveness to find ways to get open. His ability to get open one way or the other is a trait of a starting slot receiver. And what do you know… the Colts need a slot receiver. Some considered Downs to be the #1 receiver in the draft with his refined ability. He's got all the intangibles as a receiver to be an impactful player immediately.
Reggie Wayne even had high praise for the rookie, saying he was the best WR prospect in the draft:
DJ Turner II, CB, Bengals (2nd round, #60)
The fastest player in the whole draft (4.26 40-yard dash), Turner is more than just speed. His ability to mirror receivers and be very fluid in his hip movements show flashes of being a potential lockdown corner one day. Although he does need to get into the weight room and put on more mass, being only 178 pounds, his explosiveness is something that can't be taught and should stick. Even if Turner gets moved off of a double move or out-muscled, his recovery speed lets him still make a play or be in a position to make one.
Turner should be able to come in compete for an outside corner role immediately with Chidobe Awuzie coming off an injury. This pick allows the Bengals to look to the future with a high-end athletic prospect that can end up paying huge dividends.