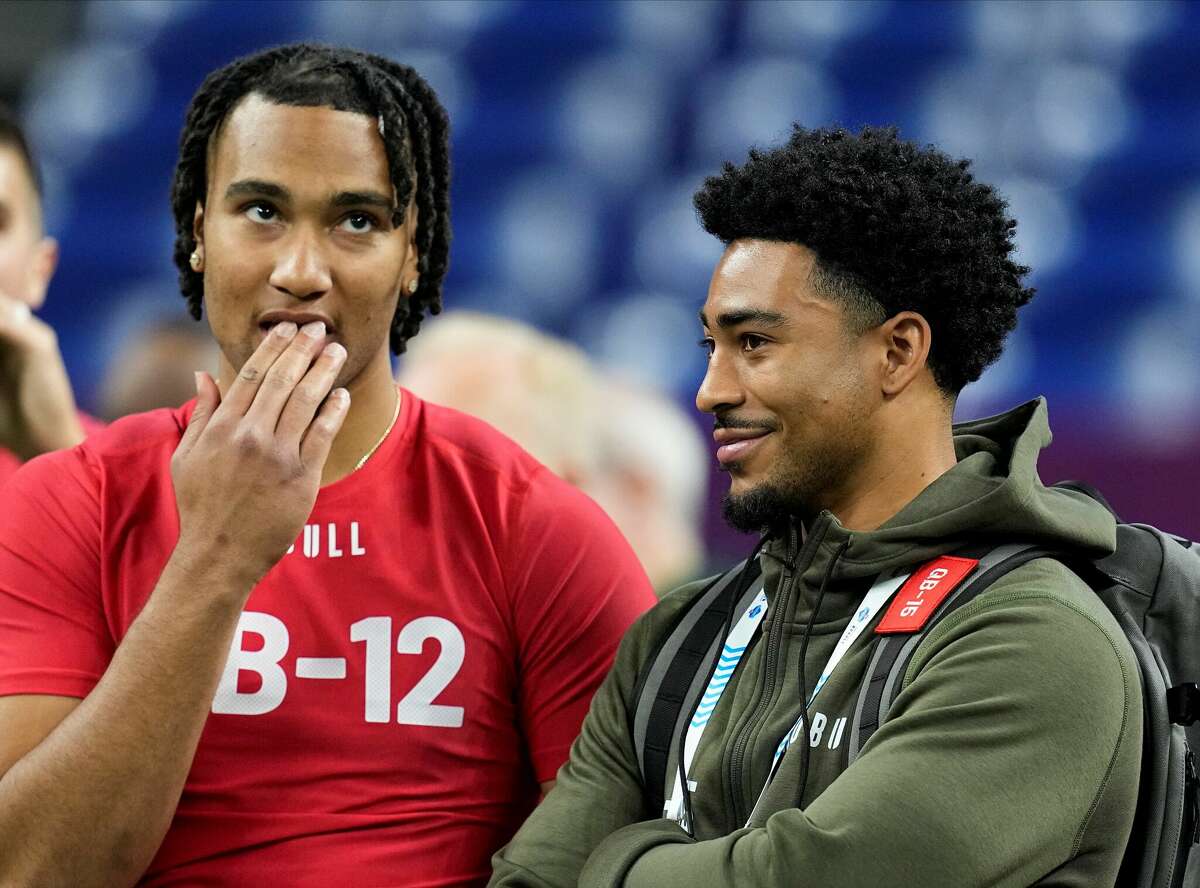 We are nearly a week away from the NFL Draft and boy, I'm excited. A lot of talent that will be coming from this draft class, especially at the QB and defensive line positions. This is one of my favorite drafts as there aren't many weaknesses in this draft's class. If you haven't already seen my 1.0 edition of the 2023 NFL Mock Draft, it's here.
Let's get into my mock draft predictions with about a week left..
1. Carolina Panthers (via CHI): Bryce Young, QB, Alabama
The Panthers will be selecting Bryce Young, it's basically already set in stone:
They don't seem concerned at all by Bryce Young's frame and look to be defending their future QB already. Bryce Young's poise, toughness, and touch make him the #1 prospect in this year's draft, even with the lack of size he provides at the QB position at 5'10.
2. Houston Texans: CJ Stroud, QB, Ohio State
There's been talk that the Texans could forego drafting a QB, but I don't see that happening at all. Sounds like all smoke and I fully expect them to take CJ Stroud with the #2 pick. Stroud has a decent frame, is arguably the most accurate passer in the draft, and mature to come in and be the face of the franchise for the Texans immediately.
3. Arizona Cardinals: Will Anderson Jr., DE, Alabama
This pick could potentially be traded, but if not, I see the Cardinals taking the best prospect in the draft, Will Anderson Jr. with the 3rd pick. He's got great quickness off the edge and power to will himself into the backfield and be a nightmare for opposing offenses. He will come in and try to fill the void left by J.J. Watt.
4. Indianapolis Colts: Will Levis, QB, Kentucky
I initially had the Colts going with Anthony Richardson here, but I think they go with Will Levis in the end. They've been looking for a franchise QB since Andrew Luck and Levis has all the tools to be so. He's got elite arm talent, just needs to be more consistent and get a better feel inside the pocket.
5. Seattle Seahawks: Jalen Carter, DT, Georgia
Arguably one of the most talented players in the draft, if not the most talented. He's got all the potential to be a game wrecker for the next decade for a team. His motivation for the game and off the field concerns are what will be important to watch out for. I think the Seahawks take the gamble and hope it pays off big for them.
6. Detroit Lions: Tyree Wilson, DE, Texas Tech
The Lions already got Aidan Hutchinson last season so why not pair him with Tyree Wilson? Provide one of the scariest young pass-rushing duos in the league. Imagine having to gameplan for Hutchinson's power and finesse while worrying about Wilson's massive frame and athleticism around the other side. Sheesh.
7. Las Vegas Raiders: Anthony Richardson, QB, Florida
The Raiders sure did get Jimmy Garoppolo, but I don't think they got rid of Derek Carr thinking Garoppolo is going to be some huge upgrade or anything. They probably see him playing a role of a bridge quarterback until Anthony Richardson or whichever young QB they take. Richardson's potential has caused a lot of intrigue and for good reason. He's got one of the greatest RAS ever for a QB:
8. Atlanta Falcons: Christian Gonzalez, CB, Oregon
Although the division doesn't have the most talent from the quarterback perspective, the Falcons do have a huge need at corner and getting Gonzalez would help a lot. Gonzalez has the traits to be a shut-down corner at the next level. Very fluid in and out of breaks when shadowing a receiver and elite explosiveness that can help make plays for the Falcons defense.
9. Chicago Bears: Paris Johnson Jr., OT, Ohio State
The Bears need to do all they can to get help for their young quarterback. They already got him a receiver in DJ Moore, next step… get offensive linemen to protect him. The Bears' biggest weakness by far is their offensive-line and getting an instant starter in Johnson Jr. who can slot in as the new LT will be important in keeping Fields clean.
10. Philadelphia Eagles: Peter Skoronski, OT/OG, Northwestern
This is more preparing for the future in protecting their newly paid quarterback Jalen Hurts. Skoronski could come in and compete at either guard position for the Eagles immediately. If the Eagles do plan ever to move on from veteran Lane Johnson, Skoronski can also compete there eventually as well. This is making sure Hurts stays clean and protected, their young huge asset.
11. Tennesee Titans: Jaxon Smith-Njigba, WR, Ohio State
12. Houston Texans: Jordan Addison, WR, USC
13. New York Jets: Broderick Jones, OT, Georgia
14. New England Patriots: Quentin Johnston, WR, TCU
15. Green Bay Packers: Dalton Kincaid, TE, Utah
16. Washington Commanders: Devon Witherspoon, CB,Illinois
17. Pittsburgh Steelers: Myles Murphy, DE, Clemson
18. Detroit Lions: Joey Porter Jr., CB, Penn State
19. Tampa Bay Buccaneers: Bijan Robinson, RB, Texas
20. Seattle Seahawks: Deonte Banks, CB, Maryland
21. Los Angeles Chargers: Darnell Wright, OT, Tennessee
22. Baltimore Ravens: Cam Smith, CB, South Carolina
23. Minnesota Vikings: Brian Branch, SS, Alabama
24. Jacksonville Jaguars: Lukas Van Ness, DT, Iowa
25. New York Giants: Kelee Ringo, CB, Georgia
26. Dallas Cowboys: Bryan Bresee, DT, Clemson
27. Buffalo Bills: O'Cyrus Torrence, OG, Florida
28. Cincinnati Bengals: Michael Mayer, TE, Notre Dame
29. New Orleans Saints: Nolan Smith, DE, Georgia
30. Philadelphia Eagles: Jahmyr Gibbs, RB, Alabama
31. Kansas City Chiefs: Anton Harrison, OT, Oklahoma