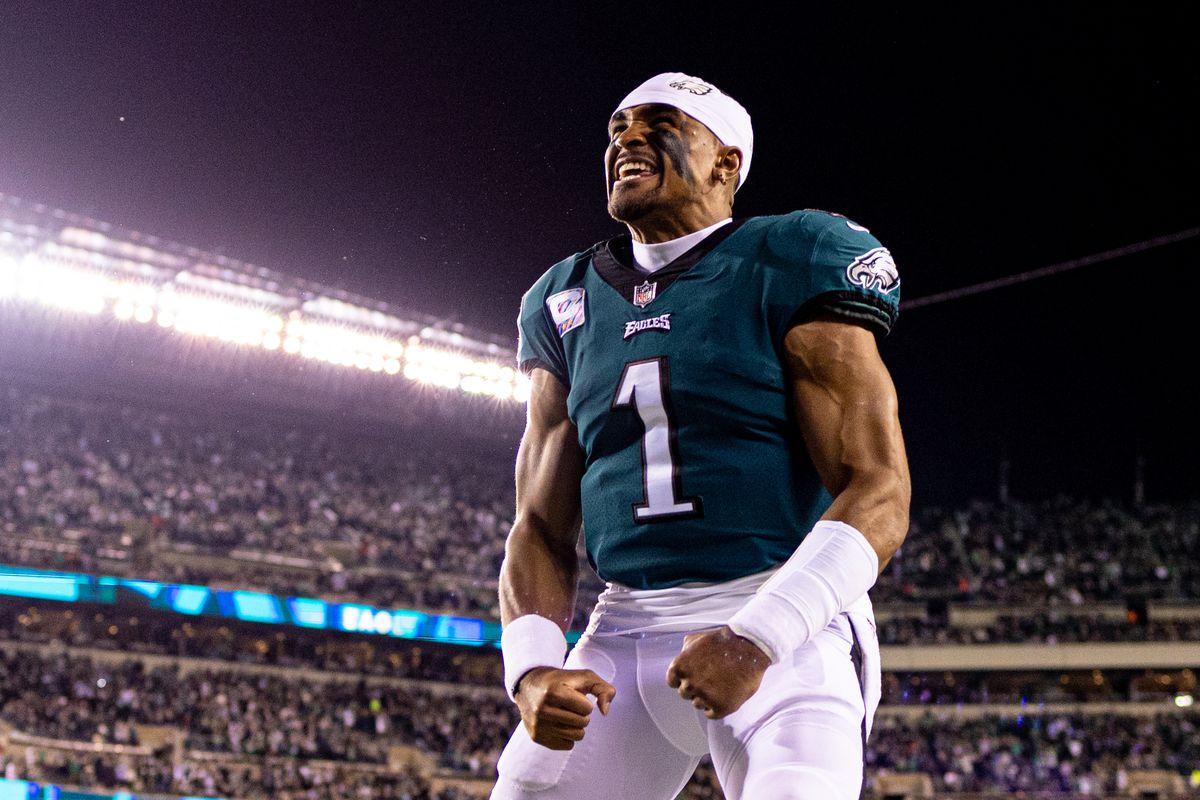 There have been a lot of surprises this season from the quarterback position… in a good way. Seeing Jalen Hurts develop into more of a passer and lead the Eagles to the best record in the league through 10 weeks and seeing Geno Smith look like a top 6-10 QB after being given a chance to start? The NFL season has been nothing short of exciting.
Let's get into the top 10 quarterbacks through 10 weeks..
10. Tom Brady, Tampa Bay Buccaneers
Tom Brady has been decent for a subpar Buccaneers offense this season. He currently is 15 pass attempts away from breaking the all-time record for most consecutive pass attempts without an interception, going to be quite interesting to see if he can break it.
9. Justin Herbert, Los Angeles Chargers
To be fair to Herbert, his receivers and team haven't been the most helpful to him and it's hurt his play. He's been kind of average the past 3 weeks, throwing 3 touchdowns and 3 interceptions as well, going to need to see some improvement in the coming weeks to keep the Chargers in the playoff race.
8. Kirk Cousins, Minnesota Vikings
Cousins is doing what Cousins needs to do to keep the Vikings afloat and near the top of the playoff race in the NFC. He's been going playing pretty well as of recent, throwing 10 TDs and 3 interceptions in the past 6 games.
7. Tua Tagovailoa, Miami Dolphins
With the addition of Tyreek Hill, Tagovailoa has played exceptionally this season. When healthy, Tagovailoa has looked like a top 5 QB, distributing the ball all around and making plays deep. Has also been great with turnovers this season, only having 3 interceptions to 15 touchdown passes.
6. Geno Smith, Seattle Seahawks
The way Geno Smith has rejuvenated (is that the right word?) his career is going to be one for the history books. There has never been a quarterback that's gone from a career backup to such an insane start to a season. Smith has looked nothing short of spectacular for the Seahawks and is the biggest reason why they're 6-4 and 1st in NFC West right now.
5. Lamar Jackson, Baltimore Ravens
Lamar Jackson has played well to start the season this year and has been again the biggest reason the Ravens offense has been able to accrue points. If the passing game doesn't work, Lamar does Lamar things with his legs. It semeed to work well against the New Orleans Saints this past week. The Ravens will need to continue to rely on Lamar to make it far this season.
4. Jalen Hurts, Philadelphia Eagles
Sheesh, what a season by Hurts so far. The Eagles are undefeated (while typing this out right now) and Hurts has been stellar for the Philadelphia offense. Adding AJ Brown and pairing him with Devonta Smith and Dallas Goedert has provided Hurts the needed weapons to have an MVP campaign this season.
3. Josh Allen, Buffalo Bills
I would've probably had Allen #1 if you had asked me a month ago, but that still doesn't take away how insane he's played this year. The Bills are atop the AFC East (which may be the most competitive division in all of football) and Allen has been a top MVP candidate. His ability to muscle through adversity and make plays with his legs and arm are the reason why he's so good. He's thrown a questionable amount of red-zone interceptions as of recent that's hurt him, but overall, still a top 3 QB this season.
2. Joe Burrow, Cincinnati Bengals
After throwing 4 interceptions in Week 1, Joe Burrow has been basically… perfect. He's had 16 passing touchdowns and 4 rushing touchdowns ever since and only 2 interceptions. The Bengals are slowly putting it together offensively and the o-line are starting to gel and protect Burrow. If they can get Chase back in the next few weeks, Burrow and the Bengals should be sneaky contenders to watch out for again.
1. Patrick Mahomes, Kansas City Chiefs
Many assumed that Mahomes would falter a bit without Tyreek Hill, but he hasn't skipped a beat at all. Throwing 21 touchdowns and only 6 interceptions through 9 games, Mahomes has been a beast this season. He's been consistently stellar all year and carrying the Chiefs offense once again.