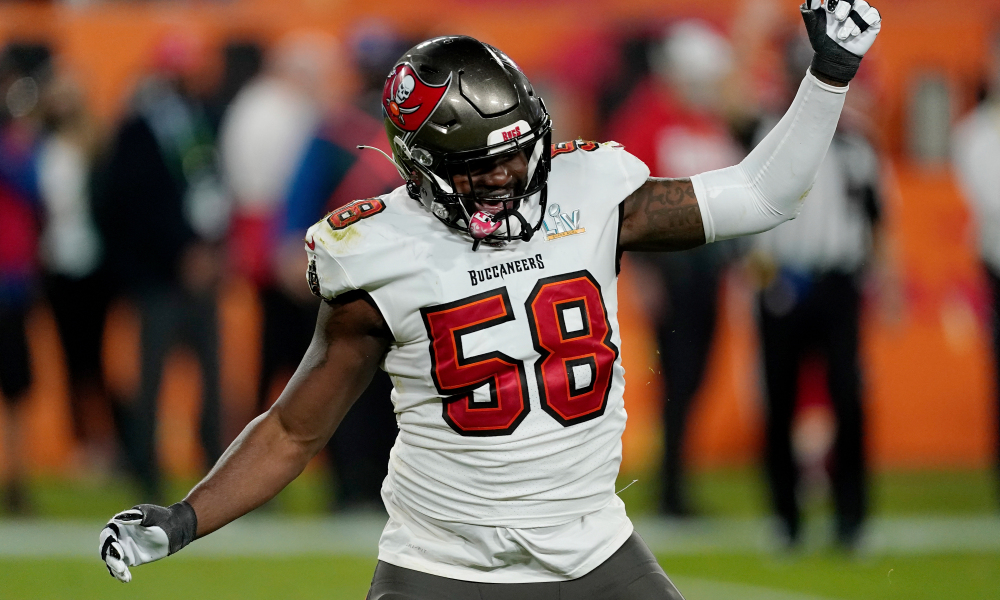 NFL Free Agency is coming up this next week and it's time we start talking about it. There was 10 players that received the franchise-tag removing them from being a potential free agent as of now. I will be only listing players that are eligible to be signed, let's get into the list…
1. Trent Williams, LT
Trent Williams is one of the best left tackles in the game and is still performing at a high level at age 33. He's gonna be sought after by many teams, I expect him to sign a 3-year lucrative deal with a contender.
2. Shaq Barrett, DE
Shaq Barrett has become one of the most premiere defensive ends in the league as of recent. In his last 2 seasons with the Buccaneers, he's had a combined 27.5 sacks. I expect a team throw a boatload of money at Barrett if it's not the Bucs.
3. Kenny Golladay, WR
Golladay is a proven top-level wide receiver in the league that gets slept on by many. He's a smooth receiver that creates separation by elite route running. He's going to be sought after by many teams.
4. Joe Thuney, OG
Joe Thuney is one of the best guards in the game and is a former All-Pro guard in this league. He's only 28 years old and I fully expect a team to throw big money at him on a long-term deal.
5. Aaron Jones, RB
I was kind of surprised Aaron Jones made it out without getting franchise tagged, but here we are. Aaron Jones is a very efficient runningback that has had 30 touchdowns in the past 2 seasons. A team looking for a playmaker out of the backfield will give him a huge contract.
6. Bud Dupree, DE
Dupree has been productive for the Steelers defense for the past few seasons. He's been one of the bigger playmakers for the steel curtain and another player I was surprised didn't get tagged.
7. Carl Lawson, DE
One of the more underrated players on this list and one of the most underrated defensive players in the league, Lawson is an elite rusher off the edge. He's not the best run defensive player, but he can be very valuable as a pass rusher and a team will pay big money for it.
8. Will Fuller, WR
Fuller is one of the best deep threats in the league right now with his elusiveness and deep speed. A team looking to add some speed to their receiver core will pay Fuller a huge contract. Speedsters can change a whole offense, would love to see Fuller play on a good team.
9. Trey Hendrickson, DE
Teams looking for pass-rush in free agency will have no problem doing so. Hendrickson is another talent that had a breakout season and will look to capitalize off of it. He had 13.5 sacks this past season and looked like an up-and-coming rusher for the Saints. Definitely going to be interesting to see where he lands, if it's not back with New Orleans.
10. Hunter Henry, TE
A lot of people have been sleeping on Hunter Henry and I can't figure out why. Henry is one of the best tight ends in the league today and I believe has the potential to be even better. He missed 2 games last season and put up over 600 yards, I want to see him on a team with a good young quarterback (maybe Bengals).

Check out our new podcast episode!
Got Hoops Podcast
A new up and coming basketball podcast by 4 dedicated NBA and basketball fans. It's for fans, by the fans.
Got Hoops Podcast (Ep. 13): KD the Greatest Scorer? Rondo's Impact! Celtics on FIRE!
In this podcast episode, we discuss KD being the greatest scorer in the league right now, Curry potentially being a top 10 player when he retires, Celtics being on fire, Rondo's impact on the Clippers, and more!
Search Results placeholder
Must See
When I say his doubters, I am including myself. I wrote an article months...

According to NBA.com's MVP ladder from April 9th, the top 5 players in order...

Paul George has been on a groove recently with his stellar play as of...