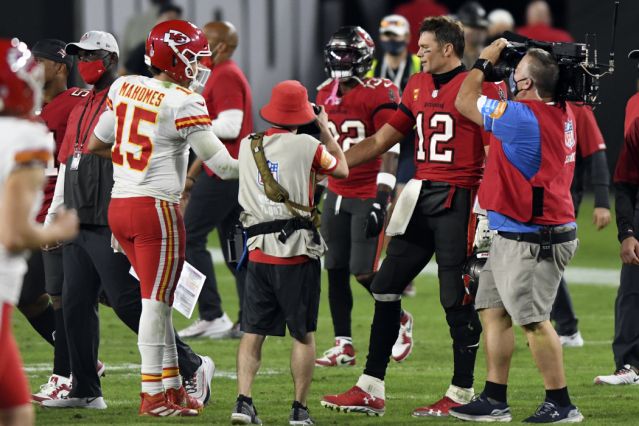 The greatest quarterback of all-time is set to face his greatest rival and the one that could end up taking his place as the best to ever do it.
Tom Brady vs Patrick Mahomes isn't just a matchup, but more about the legacy for each quarterback.
Tom Brady in his 20th season has 6 rings, the most by any quarterback of all-time and has the most touchdowns thrown in NFL history. Brady is going to his 10th Super Bowl. He basically lives in the postseason as Brady has played in 14 conference championship games (2x more than Joe Montana) and he is also #1 in playoff wins with 17.
Brady has done everything that he could ever dream of achieving and more so. This season he proved he could win without Bill Belichick. What more is there to prove then shutting the debate on he is the greatest of all-time in Super Bowl 55.
No one would thought that there would be someone that could atop Brady as the pantheon of being the greatest of all-time, but there is and that his is opponent in this Super Bowl.
Patrick Mahomes is on his way to becoming the G.O.A.T., Already at the age of 25, he has won MVP, a Super Bowl, and SB MVP. A 2nd win will even further put him in the rare company of some of the best to ever do it.
Only a dozen quarterbacks have won multiple Super Bowls and its a very exclusive company.
Tom Brady (6)
Joe Montana, Terry Bradshaw (4)
Troy Aikman (3)
Jim Plunkett, Peyton Manning, Eli Manning, John Elway, Ben Roethlisberger, Bob Griese, Roger Staubach, Bart Starr (2)
If we look even further and narrow down the group to who went to a Super Bowl 2x in their first three seasons as a starter the list becomes shorter, Russell Wilson, Kurt Warner, and Mahomes.
In his 1st year as a starter, Mahomes threw for 50 touchdowns and the 3rd to ever do it (after Brady and Manning), won an MVP, and reach the AFC title game only to lose to Tom Brady and the Patriots during overtime. In his 2nd year as a starter, he won a Super Bowl and was the Finals MVP.
Clutchness
Both of these players are clutch and they have shown it in the biggest stadium. Brady in the Super Bowl against the Falcons led his team to a 25-point comeback.
Last year in the playoffs Mahomes was just outstanding. He led a 24-point comeback with only 10 minutes left against the Texans in the divisional round and in the AFC championship game he made a 10-point comeback against the Titans. During the Super Bowl against the 49ers, he made a 10-point comeback. In last Sunday's game, Mahomes lead a 9-point comeback against the Bills.
Only Tom Brady and Joe Montana have 5 or more fourth-quarter comebacks in the playoffs. Mahomes is just so good he blows out the teams by half-time.
Tom Brady vs Patrick Mahomes isn't just another Super Bowl, but it's about legacies. One is looking to get his legacy started as potentially one of the greats and one is cementing his GOAT status more.

Must See
The NFL preseason is among us and it's time we start diving more deep...

I finished up my center position tiers, so I figured I would move on...

As we approach the 2022-23 NBA season, I wanted to give my tier rankings...