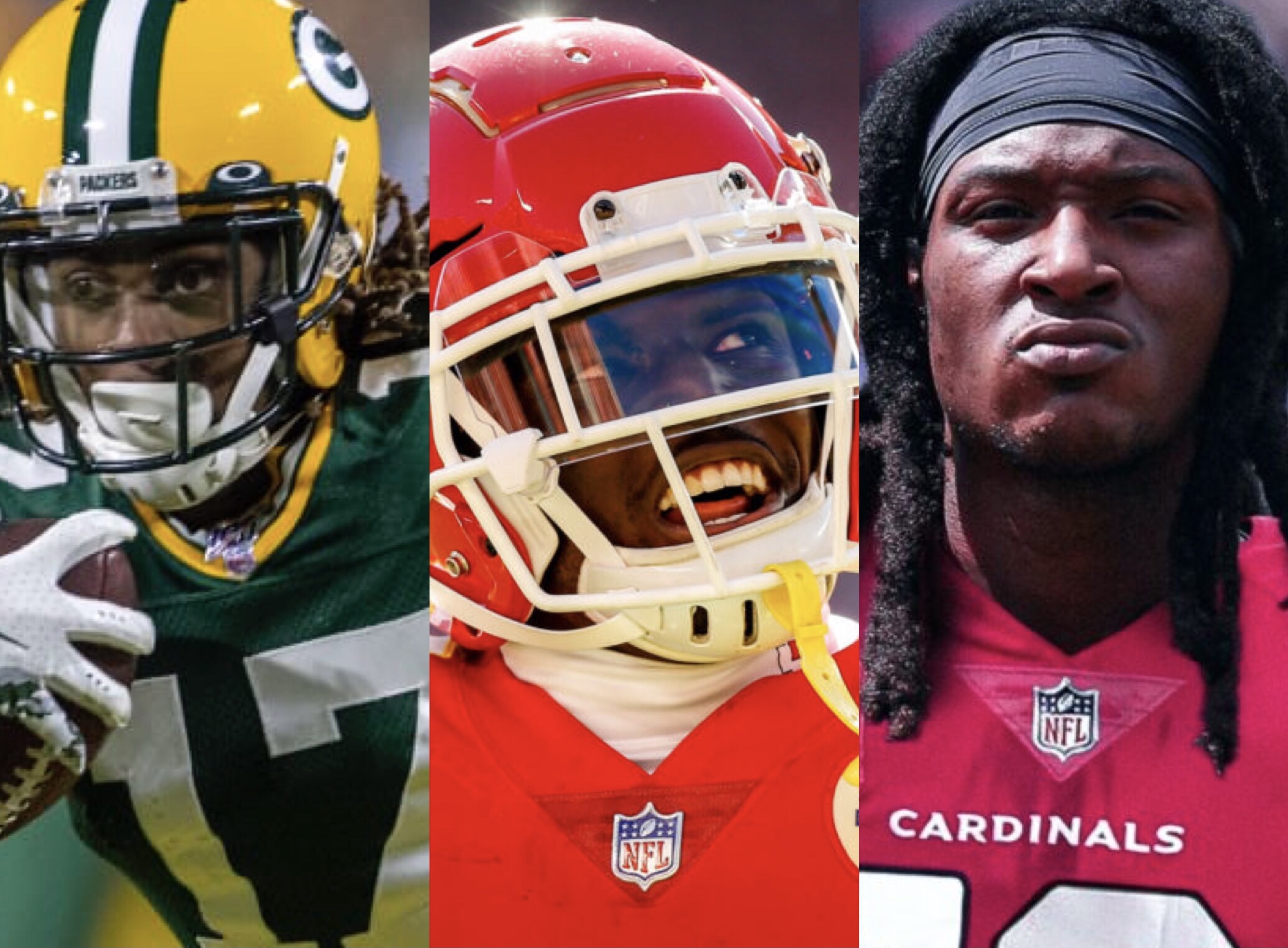 As we always talk about how important the quarterback position is for the success of an NFL team.
We don't give props to wide receivers as they are one of the biggest reasons why a quarterback has success throwing the ball.
The top 5 WR in the game today is always a debate, but to me the top 5 WRs are…
1. Stefon Diggs
The Bills star wide receiver Stefon Diggs has always been a great receiver, but this year he took his game to a whole different level. He led the league in catches and receiving yards.
Diggs was traded to the Bills this offseason and with his 1st season with the Bills, he helped them get to the Conference Championship game.
As for the Bills passing offense, Diggs was that #1 option for Josh Allen that he didn't have before and it showed. Allen had a spectacular season, he threw for 4,544 passing yards with 37 TD and only 10 interceptions, he also had a completion percentage of 69.2% and had 9 rushing TD.
2. Davante Adams
Davante Adams has been a very underrated wide receiver for a long time. He has been in the league for 7 years and many don't give this man his credit.
This season he had the best season of his career. He had 115 receptions and 1,374 receiving yards and 18 touchdowns. Adams also missed Weeks 3 and 4 due to injury.
What stands out in his game is his route running and his release to beat coverage, his hop-step technique has beaten the best cornerbacks in the league.
Adams also has helped Aaron Rodgers to have one of his best seasons. Rodgers is the favorite to win MVP due to his numbers, he had 48 touchdowns with only 5 interceptions and throwing for 4,299 yards.
The Packers were the #1 offense and #1 red zone offense due to Adams beating 1 on 1 coverage.
3. Tyreek Hill
Tyreek Hill is arguably the fastest wide receiver in the NFL. Hill has been a player that is capable of taking a short pass and turning it into a big play at any given moment of the game. As a defensive coordinator, you cannot leave this man on 1 on 1 coverage due to his speed and his ability to get behind on any defensive back.
This season, Hill had 87 receptions for 1,276 receiving yards and 15 touchdowns. He was the outside threat for Patrick Mahomes and the Chiefs.
Hill will be the key for the Chiefs to win the Super Bowl against the Buccaneers. The last time Hill faced the Buccaneers was Week 12 of this season, Hill had a monstrous game. He had 13 receptions for 269 yards and 3 touchdowns. He had 206 receiving yards by half-time.
4. DeAndre Hopkins
Many will question on why D-Hop is 4 on the list and thats only because his team didn't make the playoffs.
I don't need to talk about D-Hop because many already know how good he is and it doesn't matter who his quarterback is, he still goes out and makes plays happen.
Hopkins this offseason was traded by the Texans to the Cardinals for absolutely nothing. He arguably has the best hands that I've ever seen and man can make insane catches in tight coverage.
This season, it wasn't anything new for him. He had 115 receptions for 1,407 yards and 6 touchdowns.
5. Julio Jones
Julio Jones this season has been dealing with injuries and was a week to week. When he is healthy, he is still arguably one of the best wide-outs in the game.
Obviously, he didn't have the numbers and his team was bad, but when he was on the field he was a threat.
Jones is 31 years old and has been in the league for 10 years now and has always been an elite receiver since coming into the league.

Must See
We're near the end of the electric NFL free agency that we were blessed...

So it's been about a week since free agency has started and boy, has...

The 2023 NFL Draft is upon is within the next month and it's time...