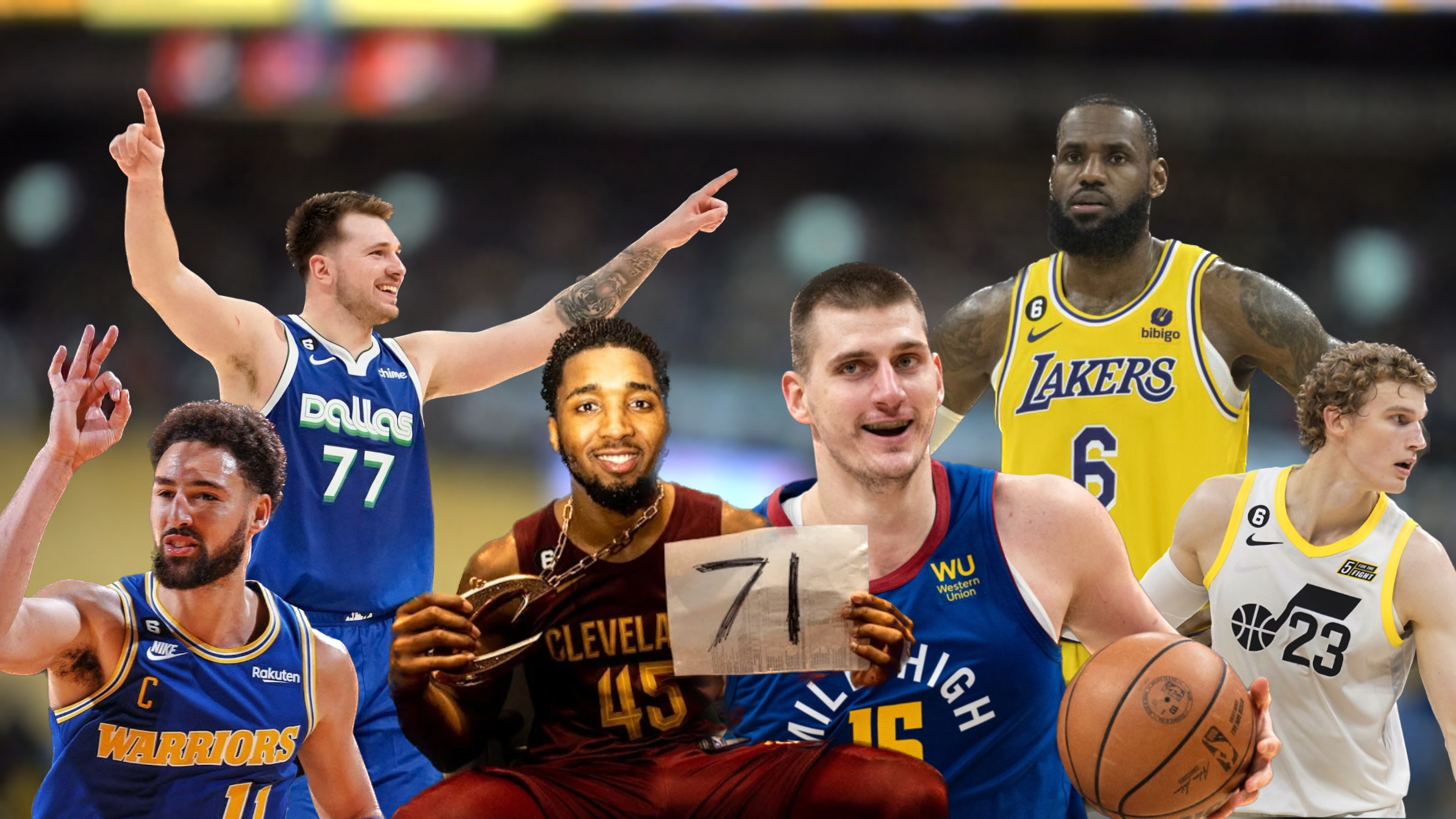 We are almost at the halfway mark of the 2022-2023 NBA season, and it has already been a wildly fun time, but the last three weeks have been filled with some of the best performances in recent history. Players like Nikola Jokic and Luka Doncic have put up stat-lines worthy of the MVP award, LeBron James proved that age is just a number, and players like Donovan Mitchell, Klay Thompson, and Lauri Markkanen put up numbers that many thought they would never see.
December 18th: Nikola Jokic
47 pts, 27 reb, 10 ast, 2 stl, 50 fg%
On December 18th, Nikola Jokic and the Denver Nuggets beat the Charlotte Hornets 119 – 115. Jokic put up historic numbers that night, finishing with an almost 50-point triple-double. But that was not what people were talking about. Jokic finished the game with 27 rebounds, the third most in a single game in Nuggets history. The last player to put up a stat line like this was Wilt Chamberlain.
December 25th: Nikola Jokic
41 pts, 15 reb, 15 ast, 64 fg%
Just a week later, on Christmas Day, Jokic put up another crazy game. He scored another 40+ point triple-double, but this time he had 15 rebounds and 15 assists. In addition to the insane triple-double, Jokic broke three Christmas Day game records. First, he scored the most points in a Christmas Day game in Nuggets franchise history. Second, he became the first player ever to record 40/15/15 in a Christmas Day game. Finally, he became the first player to ever have a triple-double on 60% shooting on Christmas Day. Jokic continues to make his case for his 3rd consecutive MVP season.
December 27th: Luka Doncic
Only two days after Jokic's historic game, Luka Doncic made his case for MVP in a very dramatic fashion. Donic and the Mavericks beat the Knicks in overtime. In this game, Doncic finished with 60 points, 21 rebounds, and 10 assists. That was the first time a player has ever put up numbers like that. To make this game even more impressive, only two of Doncic's 21 baskets were 3-pointers.
December 30th: LeBron James
On December 30th, LeBron James turned 38 years old. On December 30th, LeBron James also dropped 47 points with 10 rebounds and 9 assists. That is all I have to say. James is proving that, despite his age, he is still one of the best basketball players in the world.
January 2nd: Klay Thompson
Ever since Klay Thompson's knee injury, NBA analysts and fans have said that he is washed and will never play the way he used to again, even after helping the Warriors win a championship last season. But, on January 2nd Thompson silenced all the haters. In a classic display of Klay Thompson basketball, he dropped 54 points, making 10 3-pointers. It is always a good time when Klay plays at this level, but, he was outshined later that night in Cleveland.
January 2nd: Donovan Mitchell
On January 2nd, 2023, Donovan Mitchell scored 71 points. The most points in an NBA game since Devin Booker scored 70 back in 2017 and the closest anyone has gotten to Kobe Bryant's 81-point game. Mitchell also had 11 assists and grabbed eight rebounds. That is almost a 70-point triple-double! Donovan Mitchell is definitely not the last player I'd expect to score 70+, but he also isn't the first. He now holds the most points scored this season.
January 5th: Lauri Markkanen
Lauri Markkanen has been having an incredible season. His career in the NBA has been defined as under-whelming thus far, but, this season, he is proving that he belongs in the NBA. He has been helping this Jazz team surprise everyone in the NBA, as well as making his case for Most Improved Player of the Year. Just last night (January 5th), he put up 49 points. That is not only his career high but also the most in a regular season game by a Jazz player since Karl Malone in 1990. Markkanen is looking to get his first ever All-Star appearance this season and, as of now (yes, I know it is still early), is locked in for the Most Improved Player award for this season.