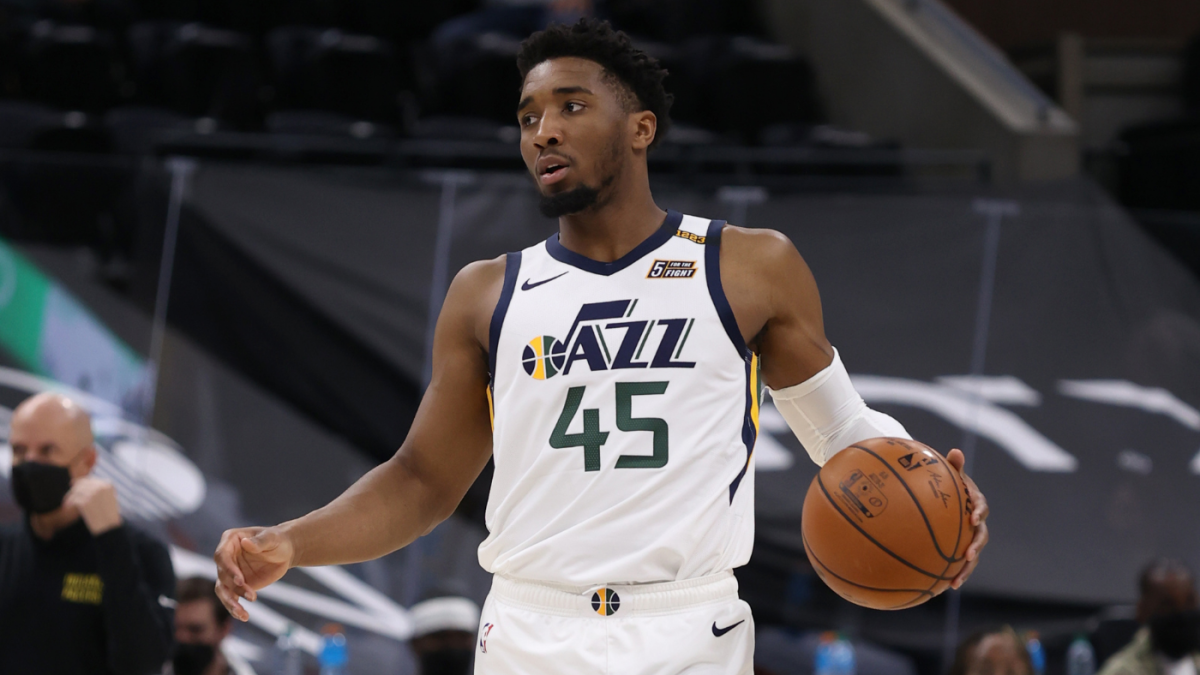 According to NBA.com's MVP ladder from April 9th, the top 5 players in order from 1-5 are Nikola Jokic, Damian Lillard, Joel Embiid, Giannis Antetokounmpo, and James Harden. What player do you think is missing from this list?
Well you can tell by the title of this article where this is going. Donovan Mitchell is nowhere to be found in that top five list nor is he in the "next five" which includes Luka Doncic, Kyrie Irving, Kawhi Leonard, LeBron James, and Devin Booker. I will mention that in the "five more" section on NBA.com is where you can find Donovan Mitchell's name but not before you see Steph Curry or Mitchell's Utah Jazz teammate Rudy Gobert.
Seeing this makes me wonder, why is Donovan Mitchell not seriously in the conversation? Let's take a deep dive and analyze why he may not be in the conversation but how those reasons may contradict the NBA's MVP races from the past few years.
The Utah Jazz guard is currently the leading scoring of a team that is currently 40 – 14 which is currently the best league in the NBA. Mitchell is currently averaging 26.6 points, 4.5 rebounds, and 5.3 assists per game. Whilst having 44/38/85 shooting splits.
Those aren't unheard of stats which could be a reason why Mitchell may not be getting his recognition. Someone like Devin Booker is averaging 26 points, 4 rebounds, 5 assists, and shooting 49/35/86 splits. This shows that Donovan Mitchell doesn't necessarily have stats that will make voters have to vote for him unlike Russell Westbrook did the first year he averaged a triple-double. This leads to the idea where some people believe while Mitchell may carry the offensive burden on this team most times, he may not even be the best player.
There are some out there who give the nod to Rudy Gobert for being the best player on the Utah Jazz. Gobert is known for being a defensive specialist but keep in mind also that this team for years has been known for their defensive presence so it is understandable why people would value Rudy Gobert as their best player thus causing people to undermine Donovan Mitchell.
With Donovan Mitchell not having world-class stats and how Rudy Gobert is the anchor of what this team does best, it is easy for Mitchell to be overlooked. With that being said, it is important to visit the past NBA MVPs and compare their situations to Mitchell's.
Dating back to 2011, there were only 3 separate occasions where the NBA MVP was not on a team that was a #1 seed going into the playoffs. The 3 separate instances are in 2017 Russell Westbrook won MVP after averaging a triple-double. In 2014, Kevin Durant won MVP but both #1 seeds that year were that good due to team effort and did not have players that stood out substantially from the rest.
Those two teams were an aging Spurs team and the Indiana Pacers whose highest scorer was Paul George averaging 21. Even then Paul George was 9th in MVP voting and Tim Duncan and Tony Parker were tied at 12th. Lastly, in 2012 LeBron James won MVP with the Miami Heat as a #2 seed but Derrick Rose of the Chicago Bulls who were a #1 seed only played 39 games. This year is also seen as the year voters "gave" LeBron MVP due to him being more deserving the previous year when Derrick Rose won.
Other than those instances, in the last 10 years, the MVP went to a player on a #1 seed. There are many nights where Donovan Mitchell is the only reliable offense on the team and he is always who they go to in the clutch. These are traits of an MVP and if the Jazz are able to keep their #1 and Donovan Mitchell is not in the top 5 conversation, that is a storyline that will be talked about for years to come depending on how the Jazz performs in the playoffs.
The MVP is a regular season award but if there is a poor showing in the playoffs, the Utah Jazz season will be long by fans and analysts alike. Donovan Mitchell's MVP-esque season will turn into a season where people begin to question if Donovan Mitchell can be the best player on a championship team.