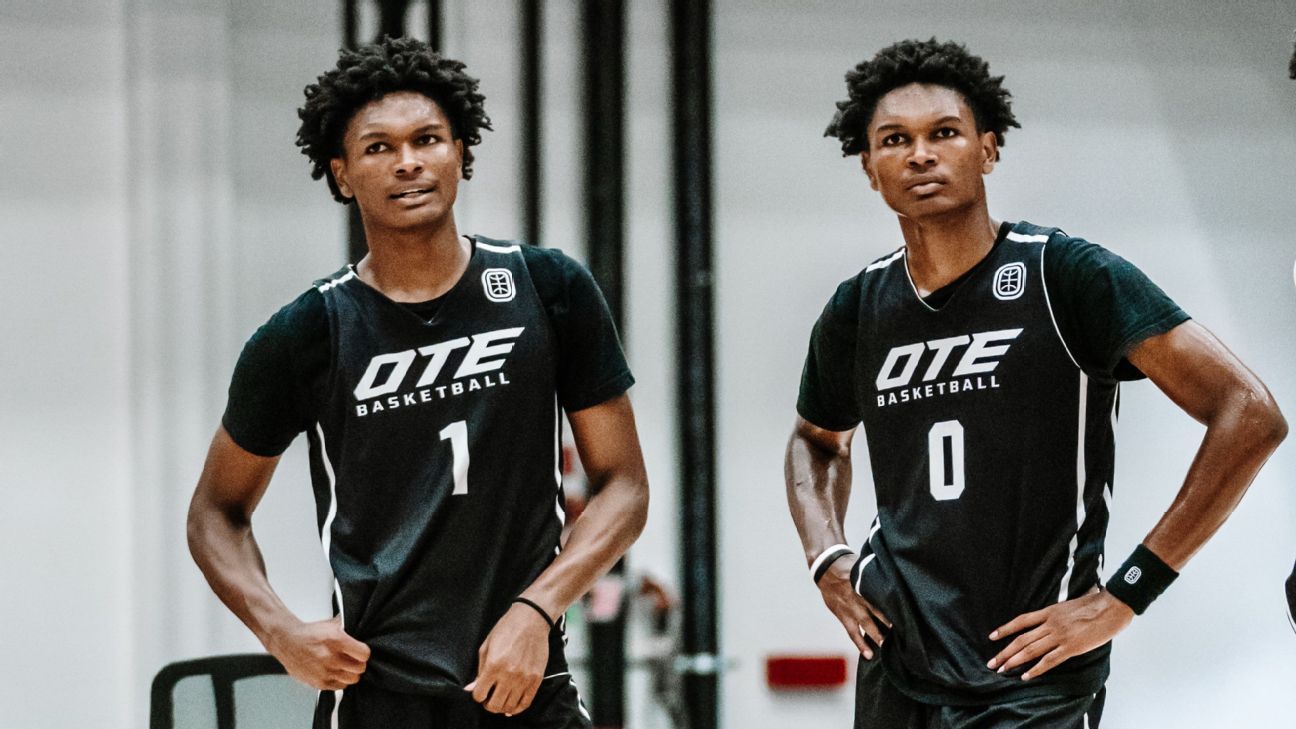 The 2023 NBA draft is the year of Victor Wembanyama. Vic has taken the NBA by storm as one of the best prospects this league has EVER seen. After Victor, Scoot Henderson is clearly second, who is as good of a consolation prize as we have seen.
After the top 2 (who both were ranked in my top 16 prospects ever) the draft opens up, but that doesn't mean that talent dropoff is big as it is most years. This is one of the best drafts in NBA history and teams may be able to find a superstar anywhere in the lottery.
Players like Nick Smith and Cam Whitmore are among the college basketball players who round out the rest of next year's top ten with the only exceptions being the Thompson twins.
Amen and Ausar Thompson are twins who play in the up-start Over Time Elite league. The twins were both top players in their classes who bypassed their senior years and college to play in the new league.
Although Amen and Ausar are both built similarly and play in relatively similar ways, there are some main differences.
Amen/Ausar Similarities
Although Amen and Ausar share many differences, there are more similarities to their games. Amen and Ausar both stand at 6'7 and around 200 lbs. Arguably the best skill for both players is how great of athletes they are. Although I'll talk more about the differences in their athletism, both brothers are 95th percentile athletes that will wow even in the NBA.
Both brothers have good handles, are deadly in transition, and can pierce defenses easily. They both have jump shots that are flat-out bad. Both shots are mechanically wrong from the ground up and I question how fixable they may be.
Again, although there are differences, both Thompsons are good playmakers. This applies to both keeping the ball moving and finding open shooters and cutters while driving. On defense, both players have high floors and incredibly high ceilings.
It is also worth noting that although they are obviously the same age, they will both be 20.39 years old on draft night, which is relatively old compared to other "freshmen". This shouldn't tank their stocks but it could help decide a tiebreaker in their organizations.
Amen/Ausar Differences
Amen is mostly regarded as a better prospect than his brother because of some key differences between the two. Both brothers are great athletes, but Amen Thompson might just be the best athlete I've ever seen from a prospect (Zach LaVine, Jalen Green, and Anthony Edwards included).
The Thompsons can both get to the paint with ease but Amen is the better finisher around the rim partly due to his insane athleticism. At this point, Amen Thompson's playmaking is also better than his brothers, and at 6'7 he provides jumbo initiator potential.
For the reasons listed above reasons, Amen is viewed as a better prospect. However, Ausar is better in some categories as well. Currently, Ausar is the better defender (although I like Amen more long-term as a defender because of his athleticism). Also although both jump shots are extremely rough, I believe in Ausar's jump shot development more and think it may be salvageable.
The biggest difference between the two is the role each will play in the NBA. Amen is a guard-like player who projects to be a lead initiator for a team (think Russell Westbrook). Ausar is more of a wing that should operate as a highly valuable 3 and D player (think Andrew Wiggins or Mikal Bridges).
My Opinion
Both players will be good in the NBA but I think Amen Thompson could be a SUPERSTAR. With that being said, there is a very plausible world where Ausar's jump shot develops and he ends up as the better NBA player. I think both brothers are top ten talents in the 2023 NBA drafts. Currently, I have Amen Thompson #3 on my big board and Ausar Thompson #7.

Must See
We're near the end of the electric NFL free agency that we were blessed...

So it's been about a week since free agency has started and boy, has...

The 2023 NFL Draft is upon is within the next month and it's time...