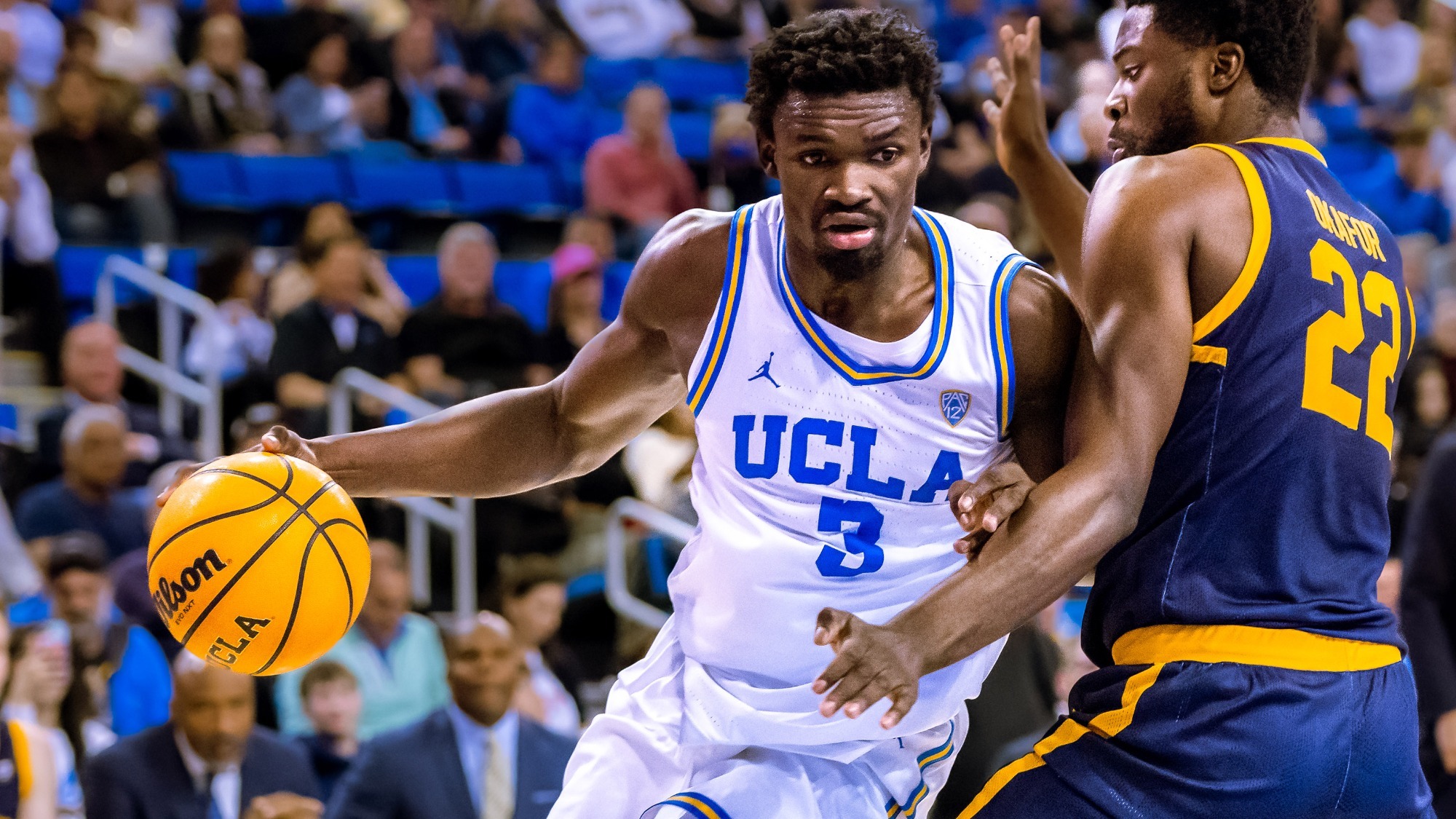 To start this draft cycle, I began compiling a list of names I needed to watch and the list got to 150 names. Now I would love to start making draft boards and mock drafts but I can't until I have a full grasp on the prospects and the class as a whole.
So I figured, as I start watching these guys why not share my thoughts as I go? I am moving down my list relatively in alphabetical order (that is why everyone in this week's edition's last name starts with a B).
If you missed last week's check out Week 1 HERE!
Read until the end to see my running big board that includes the prospects from both last week and this week.
Reece Beekman (Again), Guard, Virginia
I covered Beekman in more length last week so I won't say too much but I watched a little more and have some other thoughts. My main take away is that I need Beekman to be a dominant college guard this season in order for me to view him as a legitimate prospect. College seniors are typically very good so anything short of that would be a red flag for Beekman.
The Shot
Beekman is a talented playmaker and defender so overall scoring (more specifically the shot) will be the big swing skill that determines his NBA future. Beekman shoots a fine 35% from 3 but at 6'2 he will need to get as close to 40% as possible for him to be drafted.
Beekman's 79% from the FT line and his ability to make floaters indicate there may be higher shooting potential but as a senior, he will need to show it now for a team to buy in on his future. The form is fine (a little slow, but good) and he hit some tough shots which is yet another good sign. Indicators say it will come so Beekman will be a much-watched prospect to watch as the season progresses.
Omaha Billiew, Forward, Iowa State
For those who like comps, I see a lot of similarities between Omaha Billiew and Precious Achiuwa in terms of where they were at during this stage and where I think Billiew can get to. Not too many of Billiew's games are public so I only have a small 7 game sample size to make my judgments on so take everything I say with a grain of salt.
The Good
The incoming freshman is a 6'8, high-motor forward who thrives on the defensive end of the floor. During his senior season, Billiew played for a local high school and averaged 22-10-2.5 on 52-39-71 shooting splits. The shot for Billiew will be a slight question and something he will need to prove at Iowa State. He is a great athlete with length and strength which should translate into him being a good finisher at the next level.
The Bad
The weaknesses I can see in the small sample size relate to him being a raw talent. Multiple times Billiew would travel, miss layups, or just have dumb turnovers. It is yet to be seen what role he will play at Iowa State but will the win now roster of Iowa State, I would not be surprised if he gets fewer minutes than people are assuming. Billiew will start the season as a first-round prospect for me but he truly could go either way.
Layden Blocker, Guard, Arkansas
I don't want to be rude but to say it bluntly, I just don't see it with Layden Blocker. Blocker will be a freshman this season but I am not quite sure how he would fit the NBA.
Why it Won't Work
The guard is listed at 6'2.5 but shot a poor 26.8% from 3. Not just that, Blocker shot 64% from the free throw line and didn't have the touch that would lead me to believe it will get better. Although this is just 1 reason, I think it is important enough that I simply would not draft or sign him without big improvement.
At his height. Blocker is a fine point-of-attack defender but he will still be targeted on that side of the ball. There are not very many above-average defenders that are at his height and Blocker does not project to become one of them.
What is Good
Blocker is a good playmaker and that is the reason he was such a highly-rated recruit. He is in the 85th percentile for points per possession including assists, has an 18.5% assist percentage, averaged 2.8 assists per game, and boasts a 1.56 assist-to-turnover ratio.
The Little Rock native is a good athlete and that shows with his finishing around the rim. He finished an impressive 63% at the rim and had 24 dunks in the 29-game sample size. I think Blocker will be a good four-year college player I just don't see the NBA potential and certainly not the one-and-done ability.
Adem Bona, Big, UCLA
Defense
I was a fan of Bona during the last draft cycle and I hope he can take some kind of leap that keeps me on the bandwagon. Bona is undersized at 6'9.25 but plays bigger than his size and has real small ball 5 potential. Defense is Bona's calling card with a high motor and rare ability to switch on the perimeter (yes rare, people overestimate how many people can switch on the perimeter).
Defensively, Bona can play like a chicken with his head cut off sometimes (close out too strong, foul, jump out of play) but I would rather try to scale someone down rather than try to add to their motor. When Bona gets into a real defensive structure he will thrive and can legitimately guard in a switching scheme.
Offense
Bona will need to be a spoon-fed pro offensively and would thrive most paired with a playmaking guard. Last season, Bona finished 72.4% at the rim but yet was in the 46th percentile on post-ups. This means his field goals at the rim are mostly on dump-offs, lobs, or plays that give Bona easy looks. The sophomore is a great athlete with 50 dunks in 33 games as a freshman. It is also worth noting there is no jump shot whatsoever with him attempting 0 three-pointers last season.
It will be fascinating to see the big man rotation this year at UCLA with fellow draft prospect Aday Mara joining the fold in Los Angeles. Can they play together? If the answer is no who gets the minutes over whom and does that hurt the other's draft stock? UCLA will have decisions to make that could affect more than just their wins and losses.
Kylan Boswell, Guard, Arizona
I am all in on Kylan Boswell. Boswell reclassed in 2022 so although he is a sophomore he will only be 19.17 on draft night. The guard is 6'2 which is slightly shorter than my liking but he shows a lot on the floor.
It is weird to look at Boswell's numbers because of the strange relations between those numbers as a result of limited playing time. For example, Boswell has a poor 18.8 TO% but averaged only 0.8 assists per game and still had a good 1.72 AST-TO ratio. This clearly means he has a high percentage of turnovers but a higher percentage of assists but I am curious what those numbers do with more playing time.
Strengths
Boswell has a good handle and seems to be able to control all situations he is in on offense. He is a phenonomenal player ranking in the 94th percentile in points per possession including assists and with an impressive 24.4 Assist %. Boswell is unselfish with great vision. He knows where the other 9 players on the court are at all times and how to leverage defenses against themselves.
Boswell is a good shooter, shooting 39% from 3 albeit on a low volume. Boswell has good touch and shot 795 from the line which makes me believe the shooting numbers will stick. Oddly, Boswell shot 41% from 3 off the dribble (93rd %) and 36% from 3 off the catch (73rd %).
The defense is actually really good despite him being undersized. Boswell has a thick frame that he uses to get physical with player bigger than him. He has good hands and quick feet which helps him be a good on-ball defender.
Weaknesses
18.8 TO% no matter the sample size is alarming from a point guard. The low volume on 3-pointers is slightly alarming but as I pointed out earlier the touch and clip he currently shoots at eases my concerns. My single biggest concern when it comes to Boswell is his ability to get to the hoop. He shoots fine once he gets to the rim but he got to the rim only 18 times in his 35 games he played.
I understand that Boswell was the age of a high school senior and that may improve this season but getting to the rim once every 30 minutes is a low rate that I don't feel great about. Boswell is also a fine, not great athlete who struggled to contain quick twitchy guards.
Maybe this is viewed as bold and could end up being very far off but I really like Kylan Boswell and if I had to find an NBA comparison for him I would go with Fred VanVleet. Hard-nosed defenders that can handle/shoot despite being undersized. That is the 100th percentile outcome for Boswell but think it is in the realm of possibility.
Jaden Bradley, Guard, Arizona
Aesthetically, Bradley looks like a pro and a legitimate prospect but the numbers don't quite back that up yet. He is listed at 6'3 but appears bigger and longer than that on the court. Bradley has holes in his game but with a change in scenery he has a chance at a sophomore leap that pushes him into the draft discussion.
The Good
The Arizona guard has a great handle and start/stop speed that should match up with the NBA. Bradley is a very capable playmaker averaging 6.2 assists per 40 minutes while maintaining a 1.70 AST-TO ratio. Within Alabama's switching scheme, Bradley played very well on the defensive end of the floor. Bradley is able to put himself into the right positioning fairly consistently but he his main defensive problem is his ability to navigate PnR's.
The Bad
Some notable bad number…
30.4% from 3
70% from Free Throw Line
21% TOV Rate
40% at the Rim
Those are all alarming numbers so if Jaden Bradley wants to hear his name called next June he will have to improve upon those numbers and make a big sophomore jump.
Running Big Board
Izan Almansa
Kylan Boswell
Omaha Billiew
Adem Bona
Trey Alexander
Terrance Arceneaux
KJ Adams
Jaden Bradley
Jaden Akins
Max Abmas
Armando Bacot
Reece Beekman
Oumar Ballo
Layden Blocker