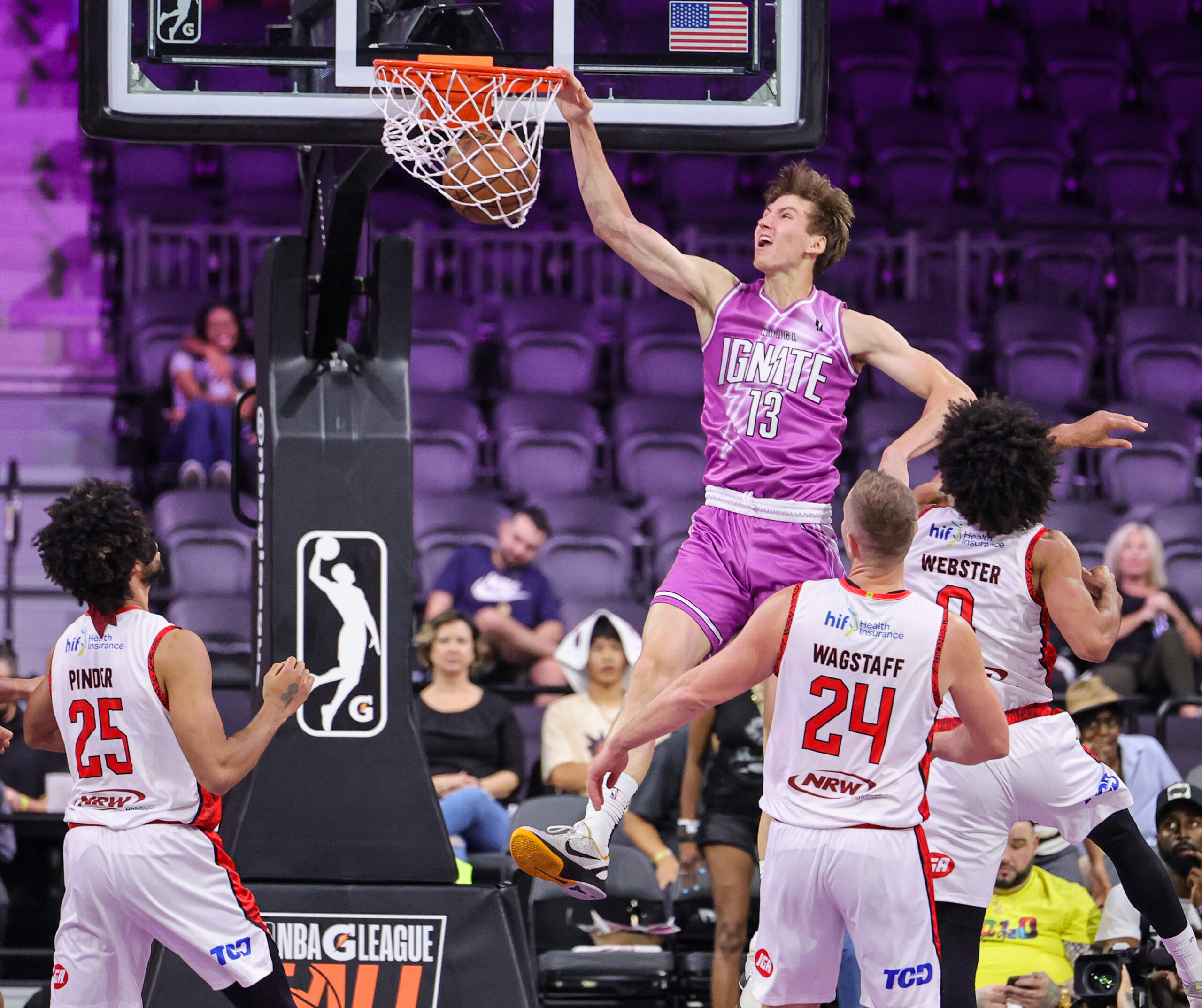 Prospects in the G-League and NBL have started their seasons but we still have a LONGGGGG way to go before the draft. No boards, mocks, or scouting reports ever turn out to be accurate a year out but certain players have a bigger range of outcomes than others.
This draft is especially volatile as there are no certainties with boards ranging heavily at this stage. It seems that everyone in this draft is a wildcard but I took a closer look at the six biggest wild cards in this draft.
Ron Holland
In my opinion, the single biggest wild card of this draft cycle is the odds on favorite for the #1 pick. There is a lot to like with Holland, a great athelete, defender, finisher, and he has shown shooting promise. With that being said he leaves a lot to be desired as a playmaker and still has a lot of work to do as a shooter.
Another reason why Holland is a wild card is because of questions about his overall ceiling. Most agree Holland will be a good player but the debate is if he is true #1 pick quality. Personally, I am still undecided on Holland's overall ceiling but his progress as a playmaker and shooter this season will ultimately determine where he goes.
Donovan Clingan
Last season in limited minutes, Clingan was one of the country's most efficient players and one of the best rim protectors. A starter on the defending national champions, Clingan will be given more minutes and a much bigger offensive role on a team that looks to compete.
At 7'2, 265 lbs, Clingan is an overwhelming force offensively down low. There are rumors that his jump shot is starting to develop but he showed few signs of that last season so he has an uphill battle. The defense is what makes Clingan special. He moves his feet really well at his size while also being an elite rim protector.
Kentucky's Rotation
Justin Edwards, Aaron Bradshaw, DJ Wagner, Rob Dillingham, Adou Thiero, Zvonimir Ivisic, and possibly other upperclassmen all hope to hear their name called next June. With talented upperclassmen like Tre Mitchell and Antonio Reaves on the roster, minutes won't be easy to come by, and the way Coach Calipari handles that will decide the fate of many draft prospects.
Kentucky is always filled with youth but this team might be the most dependent on it in recent memory. Calipari can spotlight some of these guys to get them looks from scouts but he will also need the freshman to contribute to winning with rumors of him being on the hot seat.
Matas Buzelis
At 6'10, Matas Buzelis is incredibly skilled and could even be considered a guard. With that being said he has noticeable flaws that could prevent him from being a top 5 picks. Most importantly, Buzelis is thin framed and seems to shy away from contact around the rim when finishing.
Although he has some guard skills, Buzelis is hardly a guard so it is hard to exactly pinpoint his offensive role. Buzelis is an excellent shooter but he is a wildcard because if he can show a clear offensive and defensive role he has a top-five pick argument but if not he could start falling down boards.
Omaha Billiew
Omaha is a true wildcard as a guy with all the tools but his ability to put it all together will determine where he goes in the draft. Billiew reminds me a lot of Precious Achiuwa but I would not be surprised if he had a Peyton Watson-like season where he struggles to get minutes on a team looking to win now.
Outside of minutes, Billiew needs to prove himself as an offensive player. Billiew is deadly in transition as a great athlete but in the half-court, he can be inconsistent and at times a nonthreat. Out of anyone on this list, Billiew may have the highest range of outcomes from a lottery pick to having to come back for his sophomore year.
Aday Mara
At 7'3, Mara would enter the NBA as one of the best big man playmakers in the NBA. Mara has great touch, passes like Sengun, and is a respectable shot blocker. So what is the problem? Despite his height, Mara is not physically intimidating and can be pushed around more than desired from a center.
Because of his size, I have full confidence in Mara's ability to play in drop coverage but it is the switching schemes that really worry me. Mara's foot speed on the perimeter is slow and he often lets guards drive right by him. Running the court, Mara is a good athlete so if he can make strides laterally then he can be a top ten pick.