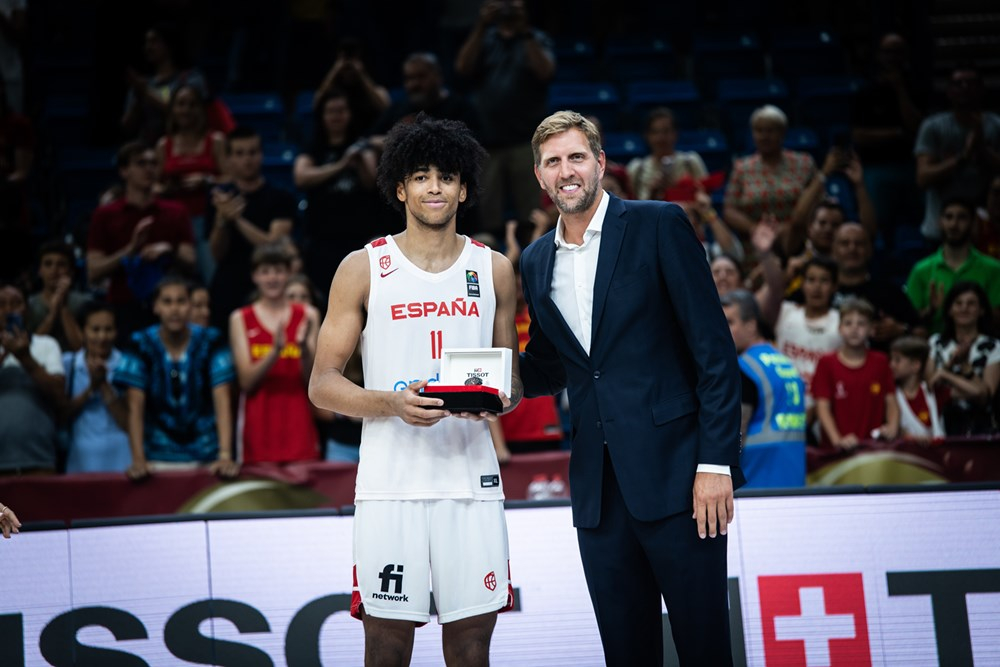 It is about time to fully dive into the 2024 draft class but there are so many guys to watch I am not sure where to start. I began compiling a list of names I needed to watch and the list got to 150 names after doing research and seeing other people's thoughts.
I want to start releasing big boards and mock drafts but that is hard to do until I have watched and broken down all the guys worth ranking.
So in this series every week or so (I hope) I will simply write about and discuss the prospects I have watched that week. I am doing this in a general alphabetical order so all of the guys I have watched so far have last names A-B.
This is not a ranking but instead, just the guys I have watched and my thoughts on them. Some guys I have more to say about than others but read to the end to see my running big board I will update after each edition.
Max Abmas, Guard, Texas
There isn't too much to say here. I wish I liked Abmas more but it is really hard to succeed in the NBA at his height (6'0) without an overwhelmingly elite skill. A capable shooter and good playmaker but the frame makes it hard to see any sort of defensive role for Abmas in the pros. Abmas transferring to Texas gives him a bigger platform to show he can succeed in the pros but I am skeptical at this point.
Abmas has an uphill battle because of his size but guys like Trey Burke and Isaiah Thomas have shown a general blueprint that Abmas hopes to follow. This season I am curious to see if Admas is able to hold his same efficiency and playmaking numbers in a much better conference.
KJ Adams, Big, Kansas
KJ Adams is a fascinating eval for a variety of reasons. Adams is a terrific college big but projects as more of a 4 in the NBA who has some potential to play the five in small-ball lineups. Adams projects as a swiss army knife that can do it all on defense and give an offense an athletic weapon. If Adams reaches his potential he could bring a team similar value to someone like Jarred Vanderbilt.
Strengths
Adams is a superb athlete who has incredible short-step bounce which he shows off really well as the roll man. One specific play sticks out where KJ Adams caught a drop pass 2 feet inside the free throw line, crow hopped around a defender, and finished above the rim. Adams is an ideal transition and PnR player due to his athletiscm but he can also operate as high post initiator in the half court.
Adams averaged nearly 2 assists a game, had a 16.6 assist %, and ranked in the 94th percentile in total points per possession plus assists. He's got great passing from the high post but really sticks out as a short roll passer (in my notes I wrote "hits an open cutting guy like every time").
With all this being said, the defense may just be Adams's bread and butter at the next level. The combination of Adams vertical ability and foot speed makes him able to guard multiple possessions and gives him the potential to operate in a switching scheme.
Weaknesses
KJ Adams will be 23 on draft night and although I try not to hold that against guys too much, Adams is still very raw in a lot of areas. There is little to no semblance of a jump shot paired with 60.7% from the line means in all likelihood it will never come. At the big position, Adams leaves more to be desired on the glass averaging only 6.3 rebounds per 40 minutes and a 9% true rebounding rate. If Adams is going to play the do-everything hustle role, the rebounding will have to get better.
In my opinion, more alarmingly, it seems like Adams is still figuring everything out despite him being 22. Adams has poor hands and although he can be deadly in the PnR that doesn't mean anything if you can't catch the ball. I think Adams has a real chance but he will will need to make big jumps soon and I am not sure how easy that will be with Hunter Dickinson joining the Jayhawks.
Jaden Akins, Wing, Michigan State
I became incredibly intrigued watching Jaden Akins but I slowly lost some interest the more I dug, Akins is a returning junior who is correctly labeled as a sharpshooter. Akins shot 42.2% from 3 last season on nearly 4 shots a game. On top of his hot hand, Akins moves phenomenally off the ball similar to a lot of the NBA's best shooters. I am confident in Akins's shooting ability and think that skill will translate to the next level.
That is the good, let's talk about the bad. Akins is nothing of a playmaker and although that isn't the end of the world I would hope for even just a taste of it from someone who relies on others to create so much. He is also a very poor finisher, last season he shot a poor 41.2% on layups.
Akins is a name I will be watching but I need another skill to pop in order for me to value him as a true NBA draft pick.
Trey Alexander, Guard, Creighton
I try not to be bold for the sake of being bold but also try to not fall into consensus when it comes to my thoughts and evaluations. Throughout watching Trey Alexander I kept thinking to myself, is he that much better than Jaden Akins? I landed on yes but think the exercise helped me get a better gauge of who Alexander is and what he could do at the next level.
Similar to Akins, Alexander is a good shooter, and deadly as an off-ball spot-up. At only 6'4, Alexander is a little bit of a tweener when it comes to his position. Last year, Alexander operated off of Nembhard but with his transfer Alexander will get more on-ball reps and opportunities to showcase playmaking that he lacked last season. Watching it felt that bad things just tended to happen when Alexander dribbled the ball, he will need to tighten up his handle to prove himself as an NBA player.
A 6'10 wingspan will give Alexander a much higher defensive floor than many that are similar sizes but that will need to be a legitimate strength of his to compensate for his lack of primary ball-handler skills. I did grow to like him more the more I watched him and stopped thinking too much about the archetype.
Izan Almansa, Big, G-League Ignite
My favorite player I have watched so far. Almansa would be in consideration and maybe the #1 pick 15-20 years ago. A high-motor international player who finishes extremely well and playmakes for others. I wrote a full scouting report on Almansa for Twitter which you can check out HERE! (I recommend giving my Twitter a follow, I post a lot of draft stuff there).
I think a lot of Pau Gasol when I watch Almansa and I think many would agree. Already a decorated international player, Almansa finished in the 96th percentile at the rim during the FIBA u19 event. He is not an "elite" athlete but he moves very well at 6'10 and can even operate as a ball handler on the perimeter (not to a guard level but some initiation can be explored).
Almansa ranks in the 97th percentile in points per possession plus assists which highlights his ability to use his size to create for others. He has great footwork in the post and I am confident that at worst he will be a post-scoring/creator off the bench at the next level.
Almansa's shot is a work in progress and doesn't yet have the volume or efficiency to suggest it is coming along. Defensively I think Almansa is competent, he is consistently in the right spot but sometimes his technique or defense seems to be lacking. I am very curious to watch Almansa in an organized defense as he will be with the G-League Ignite.
I compare Almansa to Pau Gasol but there is still a basketball philosophy question that comes with that to determine his value in this draft, would Pau (Almansa in this scenario) be as effective as he was in this era? As a nonshooting, nonrim protecting big man, Almansa is pigeon holed into a smaller role that is hard to succeed in. I am confident in his abilities but I need to further investigate what basketball is and the value of a player like him.
Terrance Arceneaux, Wing, Houston
The Defense (The Great)
I really enjoyed deep-diving into Terrance Arceneaux. Arceneaux's defensive skills are special and indicate he could be a special NBA defender. Arceneaux is long, athletic, and has good defensive instincts, which is a very rare combination for a freshman. At Jayson Tatum's player camp, Arceneaux held his own guarding some of the best college players in the country.
Arceneaux ranked in the 97th percentile overall as a defender (as a freshman!!) and can comfortably guard 1-3 currently. In an NBA system, if teams can put weight on Arceneaux's skinny frame it is not crazy to say he will be able to guard 1-4.
The Offense (The Good)
Arceneaux is long and athletic enough to have an offensive impact even if it isn't yet where it needs to be. His touch around the rim is solid (59%) and he is a strong finisher that generates a lot of and ones. I would say his main offensive role currently is as an athletic cutter which makes him a useful offball player when paired with an offensive engine.
The Offense (The Bad)
I speak to how Arceneaux has good touch around the rim but that hardly matters with the low volume he gets to the rim. Last season Arceneaux had a poor 0.5 rim shots a game despite his athleticism. Arceneaux is not yet capable of creating his own shot and his handle is not yet where it needs to be for creation skills.
Arguably the bigger weakness of Arceneaux is his shooting. There are a couple of noticeable flaws in his mechanics (staggered base, dips ball slightly too much) but his upper body release suggests it may be salvageable. With that being said the numbers suggest that he is still a ways away (25% catch and shoot 3's, 32% unguarded 3's, 55% from the line).
Arceneaux is young and the defense is special but I think some are getting a little ahead of themselves because Arceneaux is still a ways away from being able to produce positive value on an NBA court.
Armando Bacot, Big, North Carolina
Armando Bacot seems to be exactly as advertised, a big physical five that doesn't have too much to offer outside of being that. A good finisher and solid post defender, Bacot will be given shots by teams but it will be the other skills (shot, passing, perimeter defense) that will decide if he truly has a place on an NBA roster. I believe in Bacot as a two-way guy (top 100) but need to see more to give him a draftable grade.
Oumar Ballo, Big, Arizona
The jump shot looks as far away as possible and nothing about Ballo's game screams NBA player. I understand that is an oversimplified and short scouting report but size and strength only get you so far in the NBA.
I like the playmaking flashes Ballo has shown but think the defense has a ways to go. The numbers and percentiles look fine but the film shows me that Ballo's game is made for college (but I welcome to be proven wrong).
Reece Beekman, Guard, Virginia
A pesky defender and good playmaker, Reece Beekman has a case to be made for the NBA but to put it bluntly the offense needs to get better. At his height (6'2.5), Beekman must be able to shoot and score while on the court and in his 3rd season Beekman shot 34.2% from 3 but even more dissapointingly 51.3% at the rim. I look forward to seeing a scoring leap by Beekman this season that solidifies him as an NBA prospect.
Running Big Board
Izan Almansa
Trey Alexander
Terrance Arceneaux
KJ Adams
Jaden Akins
Max Abmas
Armando Bacot
Reece Beekman
Oumar Ballo