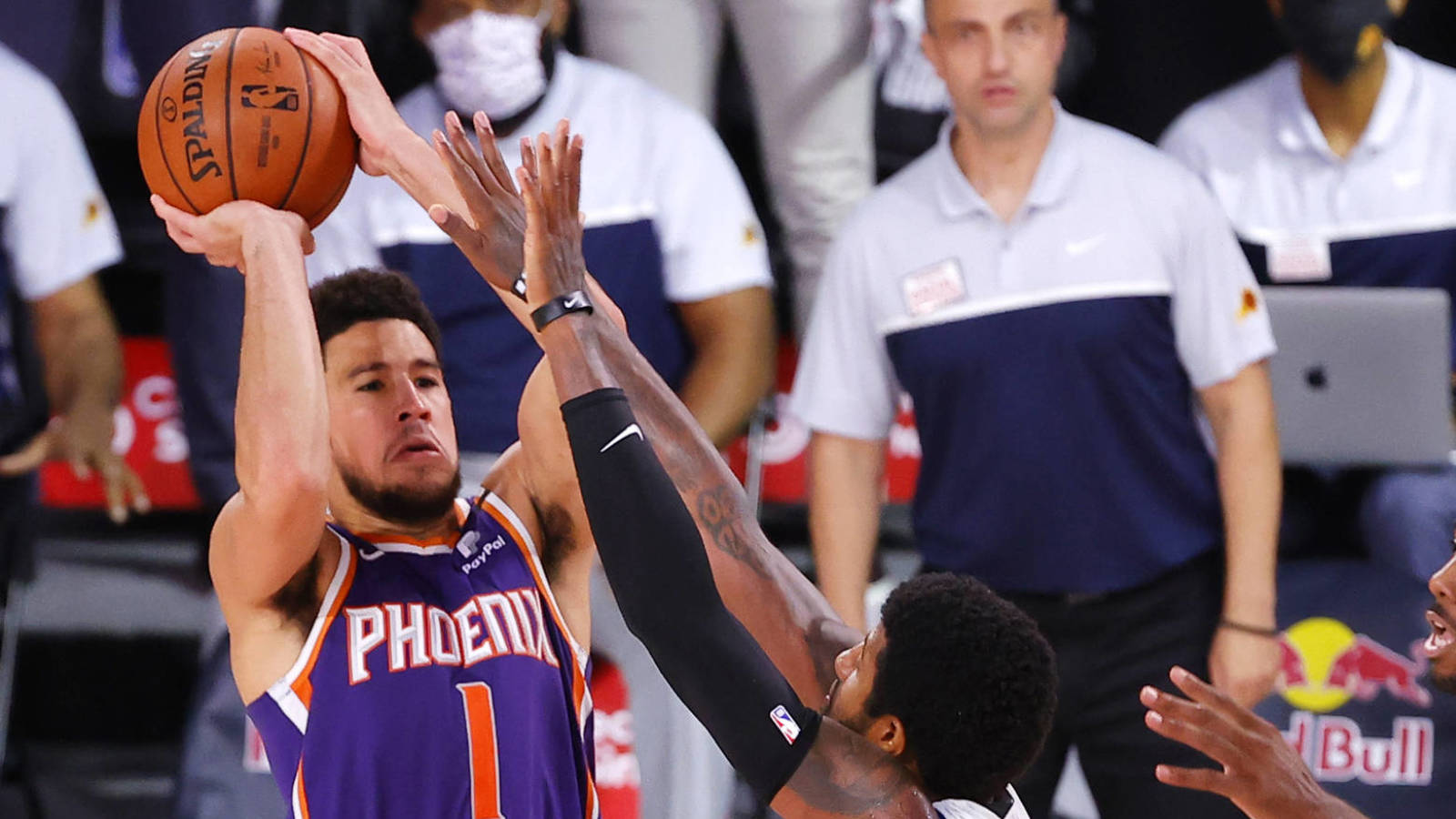 Now that the Western Conference Finals are set up, it's time we get into the predictions. The Suns and Clippers are both talented teams. Sadly, both teams are going to be missing their main star players in CP3 for the Suns and Kawhi Leonard for the Clippers. CP3 will probably end up coming back later in the series, but Kawhi is most likely done for the season.
Let's get to some predictions for the Western Conference Finals now…
1. Devin Booker Averages 33+ PPG in the Series
Only 3 players averaged or is averaging more than 33 PPG in this year's playoffs. Those 3 players are Luka, Dame, and KD. Devin Booker is having a great playoffs as well, averaging a 27.9 PPG, but I think he can take it up a notch. With CP3 possibly missing the first few games of the series, I fully expect Booker to take on a huge offensive load and have big scoring outings in the first few games at least. Devin Booker will have to be the main facilitator and scorer for the Suns to have a chance against the resurging Clippers.
Devin Booker can score from anywhere and is easily one of the best young scorers in the league right now. If he can get into rhythm early in games, he's going to be unstoppable.
2. Paul George & Reggie Jackson average 50+ PPG Together
Paul George is no longer playing like the Paul George fans were making fun of the past few seasons. He's been composed and has played quite efficiently in this year's playoffs. With Kawhi down now, Paul George will be expected to take on a bigger offensive load and will be expected to be the "go to" guy again like he was in Indy. I expect PG to average around 30-35 this series as the #1 option.
Reggie Jackson has been amazing for the Clippers so far, averaging 16.6 PPG in this year's playoffs. If Jackson can give a clean 15-20 PPG like he has, there's no reason why they collectively couldn't average 50+ PPG.
3. Suns Win in 7
This was an extremely hard series to predict and I had to ultimately go with the Suns. I think the Suns suffer early on from not having CP3, but once CP3 is back from COVID protocols, they take care of business. The Phoenix Suns have all the right pieces to win this series with DeAndre Ayton, Mikal Bridges, Cameron Johnson, Cam Payne, Jae Crowder, etc. all being great pieces around CP3 and Devin Booker.
The Clippers role players have been very inconsistent this whole playoffs and unless if they can show up to be consistent for Paul George, this series will not go in their favor. I expect the Suns to take advantage and close this series out in 7 games.

Check out our new podcast episode!
Got Hoops Podcast
A new up and coming basketball podcast by 4 dedicated NBA and basketball fans. It's for fans, by the fans.
Got Hoops Podcast (Ep. 17): Replace CP3 w/ 2017 MVP Westbrook? Trades? NBA DRAFT!
A lot of interesting topics in this week's podcast, starting off with the argument if the Suns would be in Finals if CP3 was replaced by 2017 MVP Westbrook and other takes.
Search Results placeholder
Must See
With days 1 and 2 of Free Agency in the books, it is common...

Time to give out some report card grades for each selection in the draft...

In the offseason, especially the last segment, there are often victims of the hype...