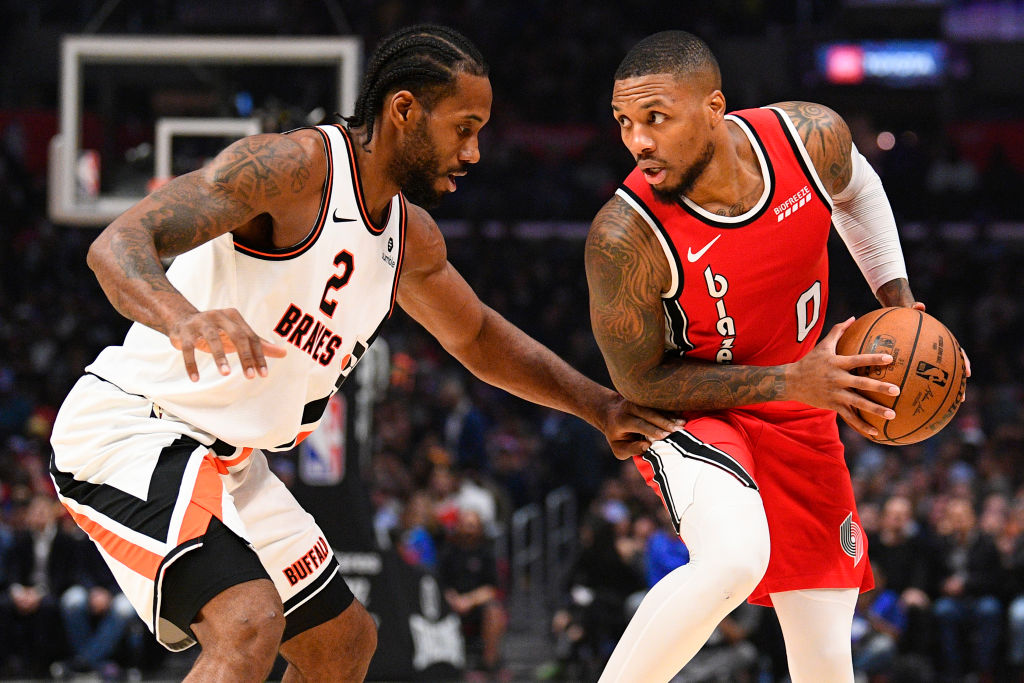 With the first round of the NBA Playoffs coming to a close, several teams' seasons have come to a disappointing end. This may lead to some major offseason changes for certain teams and big decisions for some players. Let's take a look at some potential trade or free agency destinations for some of the NBA's stars. I will include my prediction for each player, assuming they leave.
Kawhi Leonard
The Clippers and Mavericks are locked 3-3 in one of the most entertaining playoff series in recent history. LA has seemed like a failed experiment, as they were eliminated in the playoffs last season earlier than expected. Not to mention, the team has been underperforming against Luka & the Mavericks. While we may never know if Kawhi Leonard feels the same (does he even have feelings?), there are rumors that he may want out of LA in order to achieve more success as he advances in his career. He is set to become a free agent, should he choose to decline his player option this offseason, and his decision could again shift the balance of the NBA.
Destinations:
One of the most interesting potential destinations for Leonard is with the Golden State Warriors. His pairing with Steph Curry and Klay Thompson is honestly frightening. They would form one of the most lethal trios on both ends of the floor.
The New York Knicks have plenty of cap space to make a run at a player like Kawhi should he choose to unite with younger developing stars such as Julius Randle and RJ Barrett. The Knicks success this season would be one of their benefits in a free-agency pitch to Leonard.
My Early Prediction: Golden State Warriors
Damian Lillard
The Portland Trailblazers were knocked out of the playoffs in the first round by the Denver Nuggets, another disappointing exit. While the team has made the playoffs 8 straight years, they have yet to make it past the Conference Finals, and have been eliminated in the first round 5 of those 8 times. Damian Lillard was spectacular in the series against the Nuggets, averaging 34.3 points and 10.2 assists per game. It seems as though Dame can only do so much and the team around him does not perform.
Lillard posted this cryptic Instagram message following his teams elimination. While this post may mean nothing, many fans are speculating that this may be Damian Lillard's way of signaling he is going to ask out of Portland.
Destinations:
While there is some added difficulty in acquiring a player like Lillard, if he is made available, teams should be willing to part with some valuable pieces in return for the perennial All-Star. There are several teams that fit and have the ability to acquire Dame, the Lakers, Celtics, Knicks, and the 76ers. All of these teams have the potential trade pieces for this type of swap. All of these destinations would create lethal duos or trios with the addition of Lillard and instantly catapult that team into the title favorites.
My Early Prediction: Boston Celtics
Bradley Beal
The Washington Wizards have seemed extremely committed to keeping Bradley Beal, and they had an unexpected appearance in the Playoffs this season, which may further cement their idea of keeping Beal. In my opinion, the Wizards need to dive deeper into their rebuild and get a healthy return in a trade for Beal. Many teams in the league would be chomping at the bit to acquire a talent like Beal, and I believe Washington could receive a nice package in return.
Destinations:
The Golden State Warriors may look to create an elite 3-player backcourt of Steph Curry, Klay Thompson, and Bradley Beal. While the fit of this trio may seem off, there is no doubting that they would be absurd on the offensive end, as well as hold their own defensively with the right surrounding staff.
Another team that may look to acquire Beal is the New Orleans Pelicans, if they were willing to part ways with Brandon Ingram, they could certainly make a deal happen. Beal is a much better fit alongside Zion Williamson than Ingram, and would create an impressive scoring tandem.
My Early Prediction: New Orleans Pelicans
Kyle Lowry
It seems that one of the greatest Toronto Raptors players ever is coming to a close. Kyle Lowry helped bring a championship to Toronto but as they move towards a younger roster, it is highly possible that they move on from their star point guard. Lowry is set to become an unrestricted free agent this offseason, but there are rumors that the Raptors will look to maneuver a sign-and-trade deal with another team so as not to let Lowry walk away with nothing in return.
Destinations:
A possible swap exists with the Philadelphia 76ers, if they are unable to achieve their expected success, consisting of Ben Simmons and other pieces. This would pair Lowry with MVP finalist Joel Embiid, and create one of the best pick-and-roll duos in the league. The Toronto Raptors may also look for a swap with the Miami Heat.
If Toronto is unable to work out a sign-and-trade deal for Lowry, his free agency destinations could be in New York with the Knicks, the Dallas Mavericks, or the New Orleans Pelicans.
My Early Prediction: Miami Heat
All stats taken from NBA.com, ESPN.com, or Basketball Reference unless otherwise stated.

Check out our new podcast episode!
Got Hoops Podcast
A new up and coming basketball podcast by 4 dedicated NBA and basketball fans. It's for fans, by the fans.
Got Hoops Podcast (Ep. 15): Nuggets in the Conference Finals? Monty for COTY? CRAZY PLAY-IN GAMES!
This episode talks about the craziness that's about to occur in the playoffs, what a wonderful time to be alive.
Search Results placeholder
Must See
There's been a lot of changes in the coaching departments at some of the...

Don't let Kevin Durant's incredible performance distract you from Mike Budenholzer's terrible coaching display....

The Washington Wizards had an unlikely road to the playoffs. There was a point...