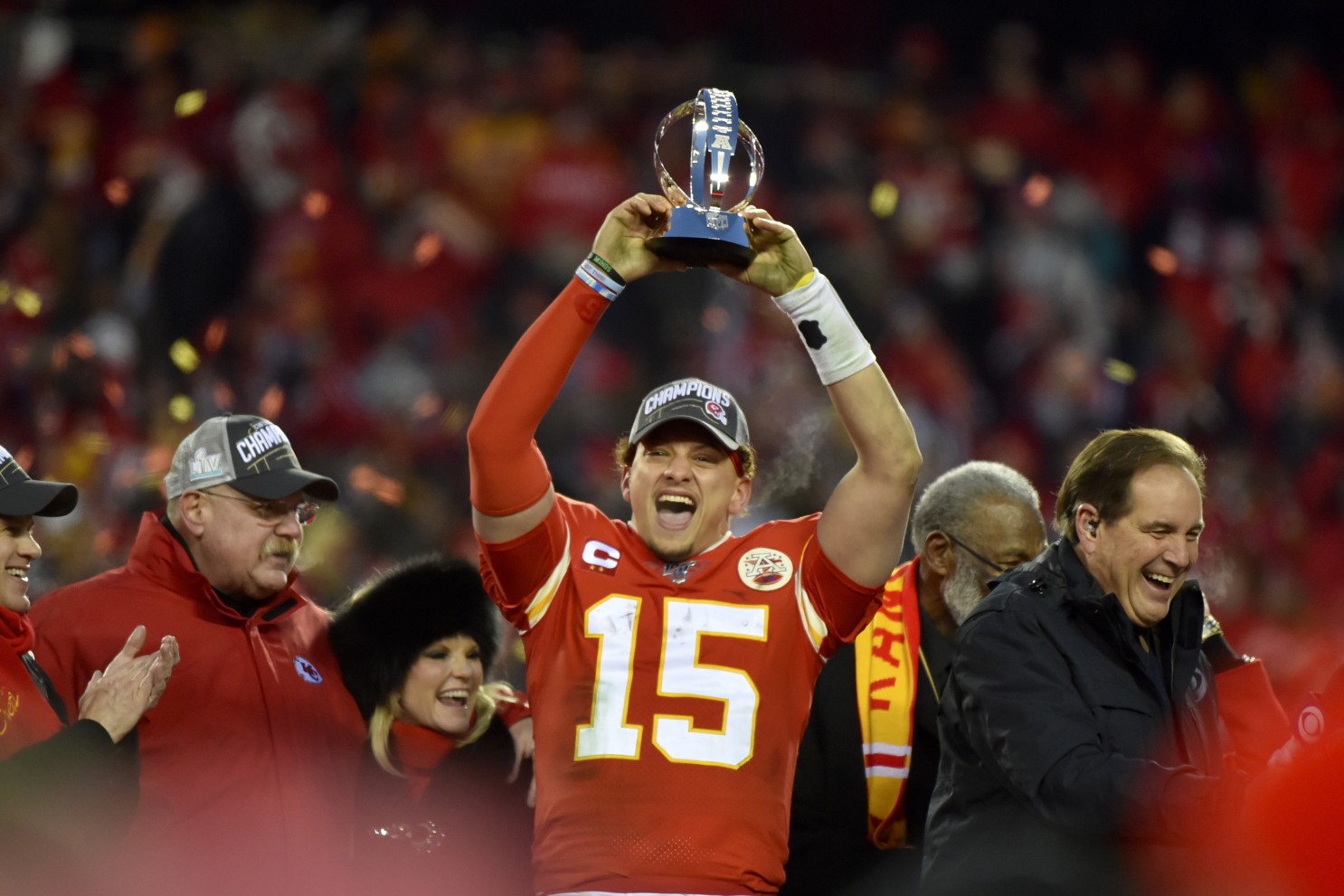 With the NFL Divisional Round of the playoffs on the horizon this weekend, we see an interesting set of teams. It is a good mix of teams we expected and teams we didn't expect and you can really say that for all 14 teams that made the playoffs this year. With that being said, there is no telling what would happen next year and if these same teams will have a chance of making the playoffs. What do you think the percentages are of chances some of these teams return to the playoffs next year? Well let us look into that.
AFC
Kansas City Chiefs #1 Seed
The Chiefs are the Chiefs and the way their team is set up, it does not look like that will change anytime soon. They have Patrick Mahomes along with Tyreek Hill, Travis Kelce and Andy Reid. That says everything that needs to be said. In the AFC West, the Las Vegas Raiders are the closest opposition for the Chiefs and the Raiders may trade their starting quarterback to save cap after going 8-8 this past season. The Chargers can have a bright future with Justin Herbert and the Broncos still don't have their quarterback. It is pretty safe to say the Kansas City Chiefs will be back in the playoffs next year.
2022 Playoff Percentage: 99%
Buffalo Bills #2 Seed
The Buffalo Bills are probably one of the bigger surprises of the season. We knew the Bills were good but we didn't think they would be this good. With the New England Patriots losing Tom Brady and the Dolphins along with the Jets having the seasons they had last year, it was expected that the Bills would probably win the AFC East division. The surprise came with the Bills defeating the Seahawks and Steelers even though both teams were on a cold streak when they played the Bills. Josh Allen has proven that he belongs in this league, especially with a weapon like Stefon Diggs. While we can expect the Dolphins to get better and challenge for the division title, the Bills are an efficient running game away from having a very high powered and dynamic offense.
2022 Playoff Percentage: 95%
Pittsburgh Steelers #3 Seed
What an embarrassing loss huh? And yet they still almost came back after being down 28. With that being said, the Steelers proved that they don't necessarily need Big Ben to be a successful team. In Week 17, with Mason Rudolph as their starting quarterback, the Steelers almost beat the same Cleveland Browns that eliminated them from the playoffs. The Steelers do have some key free agents in JuJu Smith-Shuster, Bud Dupree, and Alejandro Villanueva. These will all be big hits but everyone wants to know if Ben Roethlisberger is going to retire. It will be a significant cap hit for the Steelers if he retires or stays and in a division that is getting tougher by the day, a capable quarterback is a must.
2022 Playoff Percentage: 80% (If Big Ben stays) / 65% (without Big Ben)
Tennessee Titans #4 Seed
The Tennessee Titans have Derrick Henry and until there is a way to stop him (which the Ravens may have created a blueprint for), this makes them dangerous. Ryan Tannehill is basically the perfect quarterback for the way they want to play and Jadaveon Clowney more than likely will not return to an already middle-of-the-pack defense. The Titans are capable of putting up points but that's not their game.
A good strong defense will compliment their style of play but right now, that is not what they have. Lucky for them, the Jaguars are going to be starting a rookie quarterback, the Colts are going to be good but may or may not have a quarterback whether it be Philip Rivers or Jacoby Brissett or someone new, and the Texans are either tanking without Deshaun Watson via trade or will not have the assets to surround him with talent. This means the Titans can probably take this division easily almost regardless of their record and make the playoffs.
2022 Playoff Percentage: 80%
Baltimore Ravens #5 Seed
Lamar Jackson finally got his first playoff win. He has only been to the playoffs two times before this and one of the times he was running an offense that was made for him on the fly as he was filling in for Joe Flacco. The Ravens had an off season compared to their 14-2 season last year. The offense struggled, COVID hit the team hard, and the team struggled against good teams during the regular season. The Ravens being in the AFC North ensures that no season will be easy but the team does hold a slightly upper hand.
They are going into next season with almost the same team regardless of what happens during this playoff run and don't have to worry about too many changes as the Steelers may be down a Hall of Famer Quarterback and the Browns may be missing a 3x Pro Bowler receiver in Odell Beckham Jr. If the Ravens can keep their offense from staggering and possibly add a reliable receiver, there is no reason to believe they won't be back next year.
2022 Playoff Percentage: 85%
Cleveland Browns #6 Seed
The Browns finally made it! They have not made the playoffs since 2002 and haven't won a playoff game since 1994. The Browns very well may be here to stay. Baker Mayfield is taking the next step we all anticipated and clicking. The offense seems to be moving better without Odell Beckham Jr which leaves speculation that he may be traded. The defense has shown that they can compete with explosives offense at times but they are not yet consistent enough in doing so.
They have a two headed monster at running back in Nick Chubb and Kareem Hunt which can at any point take control of a game. Kevin Stefanski has proven to be the coach Cleveland needed for so many years. The Browns still have to go through the Ravens and potentially the Steelers but no matter how this postseason goes, the Browns will be a tough team next year. The Browns are a team where I wouldn't be surprised if they won the division or if they ended the third team in the division but still making the playoffs just like this year.
2022 Playoff Percentage: 70%
Indianapolis Colts #7 Seed
The Colts are in a scary place. Their top two quarterback options in Philip Rivers and Jacoby Brissett are free agents. Along with top wide receiver target T.Y. Hilton. This is scary for this team and if not played correctly, they could lose all three players along with others and start their rebuilding phase face to face. However, if they can keep either quarterback they have a solid run game to take the pressure off with breakout rookie Jonathan Taylor.
The defense is solid and will more than likely improve going into next season. The issue is that it doesn't seem like the Colts will be good enough to threaten the Titans for the division title and may not have a record good enough to take a wild card spot in an AFC that is just getting tougher. Luckily for them, they can beat up on the Jaguars and the Texans which would increase their chances.
2022 Playoff Percentage: 30%
NFC
Green Bay Packers #1 Seed
With Aaron Rodgers, anything is possible for this team. There has been plenty of years where this team was the favorite and they fell short. As long as Aaron Rodgers is playing at a high level, this team controls their own destiny in a weak NFC North right now. The Packers may not be a number one seed next year but we can almost guarantee they will win the division. Lions are going through a coaching change and possibly a quarterback change, the Bears don't know who their quarterback is and the Vikings are expected to bounce back but not to the point where they are challenging the Packers for the division title. It's all up to the Packers if they make the playoffs or not next season. There aren't too many major obstacles in their way.
2022 Playoff Percentage: 95%
New Orleans Saints #2 Seed
The only competition in the division for the Saints is the Buccaneers. The problem is the Buccaneers have Tom Brady and a bunch of weapons. Another potential problem is that it is very possible that the Saints will lose Drew Brees. We saw that the team can win with Taysom Hill but I don't know if we can trust Taysom Hill to lead the team to the playoffs with Tom Brady in his division. There is still Jameis Winston who looked good at times this year but that still may not be enough. With Drew Brees, the Saints' chances are always high but next year could be completely different if he retires. I still expect them to be a good team but they could end up being a team with a .500 or better record and still miss the playoffs.
2022 Playoff Percentage: 85% (If Drew Brees stays and is healthy) / 65% (without Brees)
Seattle Seahawks #3 Seed
What has happened? This team started off hot. In fact, they were one of the hottest teams in the NFL and most of us were under the impression that this was Russell Wilson's year where he finally wins MVP. That didn't happen and the team kind of fell apart. It is hard to say a team that went 12-4 fell apart but it seemed like the offense at times was very inconsistent compared to how it started off the season. What made Seattle so dangerous was their ability to score at will without a run game but in games where they do not score much, they need a running game to help control the game.
This year they did not have that and Rashaad Penny who was a first-round pick in 2018 has not proven to be the answer at running back. The Seahawks will improve dramatically if they are able to control the game with a running threat. Wilson will always provide this team with a fighting chance but the division is only getting tougher. 49ers for sure will bounce back, Cardinals are only getting better and the Rams have shown that they are not a team to be taken lightly after beating the Seahawks wild card weekend.
2022 Playoff Percentage: 75%
Washington Football Team #4 Seed
Alex Smith. Let's give the man his flowers while we can. He has been a winner wherever he goes. This team is actually good. With a decent quarterback, they can compete in almost any game with any team they go up against. Taylor Heinicke played well in a 23 – 21 loss to the Tampa Bay Buccaneers even though he more than likely will not be the quarterback going forward. The NFC East is a rough division but not in a good way. The Washington Football Team may be the most complete team in the division. They are just missing the most important position in football right now.
With the right quarterback, however, I can see this team winning this division. They don't need a superstar quarterback. With that defense and their offensive weapons, they just need someone who can control the game and not turn the ball over. Ron Rivera has done a great job with this team and they are projected to only get better. In a division with the Eagles who can't decide who their quarterback is, Cowboys who may have to start Andy Dalton if they can't keep Dak, and the Giants who have Daniel Jones, this may be Washington Football Team's division to win. But then again, it is the NFC East.
2022 Playoff Percentage: 50%
Tampa Bay Buccaneers #5 Seed
Tom Brady continues to fight off Father Time. The offensive weapons he has are incredible and the defense is pretty stout. Tom Brady's workload is only going to become less going into next season which is a good thing for his age. It will allow him to coast a little more and ramp things up in the playoffs. With a proper off-season, this team will only get better and their biggest rival in their division may lose their Hall of Fame quarterback.
If this team takes the regular season seriously and doesn't have any major slip-ups or injuries, they will be right back in the playoffs next year with eyes on the Lombardi Trophy with maybe only the Packers being the only team in the NFC to stop them from the Super Bowl. Being able to keep key defensive contributors Shaquil Barrett and Lavonte David will help as well.
2022 Playoff Percentage: 90%
Los Angeles Rams #6 Seed
There are quite a few playoff teams that have quarterback questions going into next season and the Rams are continuing the trend. It is unlikely the Rams will bench/trade Jared Goff but it is not impossible. Goff did not play well last week against the Seahawks only completing 47% of his passes but he also didn't go into the game as the team's starting quarterback. This weekend will be a major factor in how the Rams approach next season but I believe it's safe to assume Goff will be the starter.
The defense was 1st in the league this past season and that does not look like they will fall off from being a top defense next year. Cam Akers looks to be their lead back going forward and a solid run game in the past has proven to be a game-changer for this team. If Jared Goff can take care of the ball this team may be in a good position but Goff does leave a lot to be desired at times. Especially in a division as tough as the NFC West. Keep in mind that even though Goff didn't play the last game of the regular season, it still was up to the last day to decide their playoff fate.
2022 Playoff Percentage: 40%
Chicago Bears #7 Seed
The Bears are an interesting team. They have every opportunity to at least be competitive in the game against the New Orleans Saints. Mitch Trubisky and the offense couldn't get it done. They were down some offensive weapons but that probably wouldn't have made much of a difference. Allen Robinson looks like he will leave in free agency and it doesn't look like the Bears will be interested in keeping Trubisky. Even if they do, it more than likely will not help their offensive woes. Nick Foles is not the answer either. This leaves a lot of questions for the Bears and doesn't seem there are many clear answers in the distance. The defense is good enough to keep them in games but without any offensive production outside of David Montgomery, this team can only go so far. It is possible they make the playoffs next year with the Lions going through significant changes and we don't know what is wrong with the Vikings. At the same time with a division like the NFC West, which could produce 3 playoff teams, it is very unlikely there will be room for the Matt Nagy led Bears.
2022 Playoff Percentage: 35%