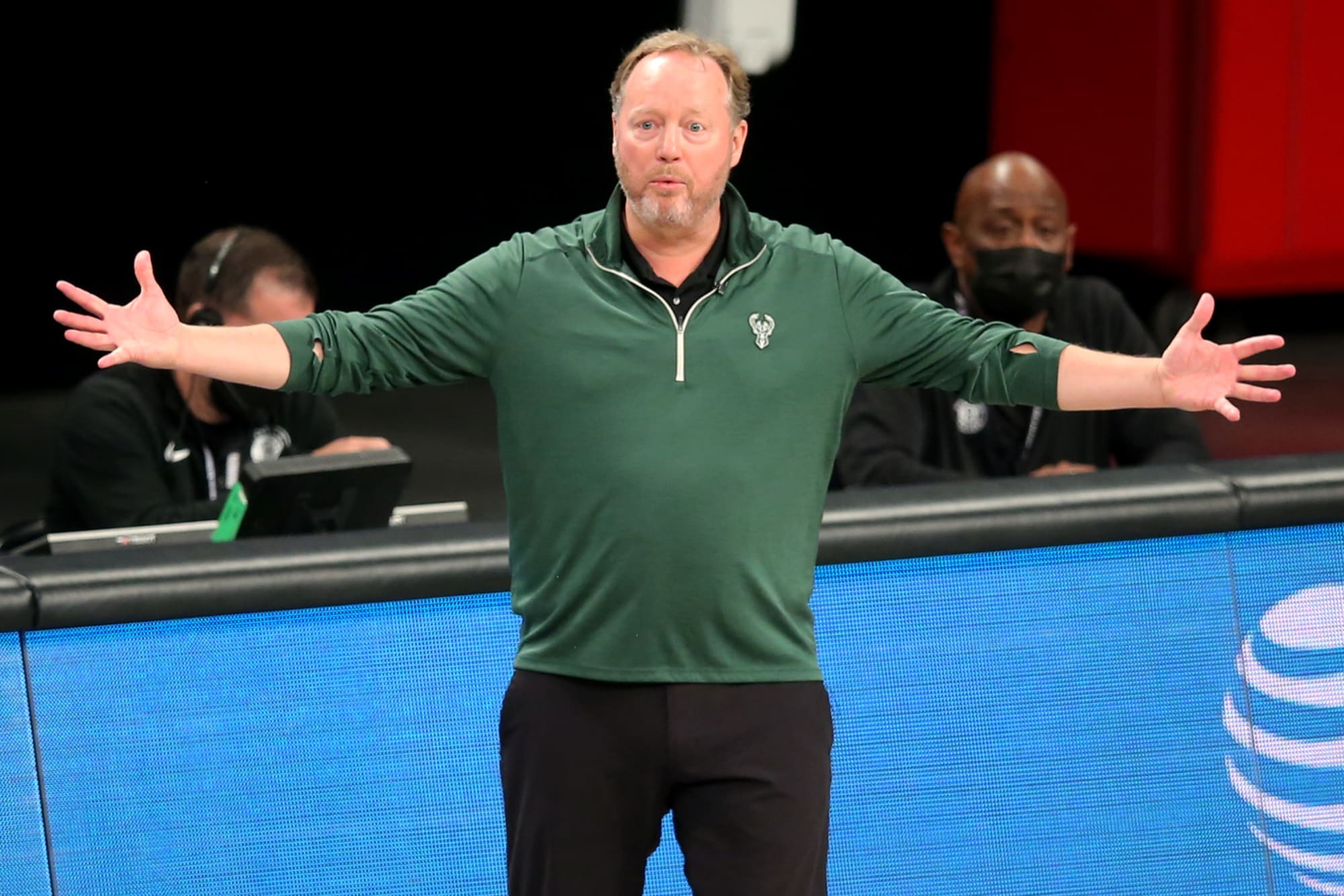 Don't let Kevin Durant's incredible performance distract you from Mike Budenholzer's terrible coaching display. The Bucks were, at one point, ahead by 17 points. Mike Budenholzer's failure to make adjustments and manage the game played a big role in the complete and utter collapse of that lead.
There were so many flaws in the Bucks game plan last night. Failing to attack a visibly limited James Harden. Letting PJ Tucker continue to try and defend KD even though it's clear it wasn't working.
The big issue that I want to talk about lies particularly on the offensive end. Ignoring the fact that they weren't attacking mismatches with Brook Lopez on Jeff Green, ignoring the fact that Giannis was taking fadeaway jumpers on an injured James Harden instead of bullying him to the basket, there's a much larger, more abstract issue that we got to see last night.
Mike Budenholzer has completely failed to integrate an offensive system for the Bucks to fall back on when things aren't working.
At a certain point last night, it was clear that the Jrue Holiday ISOs and Giannis pullup threes weren't working. So what did the Bucks do to try and stem the tide and slow things down?
Well, not really anything.
It continued to follow some sort of sequence like this:
Giannis brings the ball up.
Everyone else clears out to the perimeter.
Giannis spots up against his defender.
Giannis either pulls up for a low percentage mid range or drives to the basket and gets fouled or stripped.
There was no semblance of off-ball movement from the Bucks last night. Everyone just stood around, hoping Giannis or Middleton or Holiday would somehow magically score.
All of this illustrated a severe lack of discipline. That falls on Mike Budenholzer. He went out there last night and allowed his team to play completely random, even while Kevin Durant murdered them in cold blood.
The Bucks should have won that game with ease. When Kevin Durant started heating up, Bud should have made adjustments to stop having his guys go under screens, stop having Lopez switch onto KD, and trap KD to force the ball into Harden's hands.
We saw none of that, and if there aren't adjustments made in Game 6, then we may be watching Mike Budenholzer's last games as the Bucks head coach.

Check out our new podcast episode!
Got Hoops Podcast
A new up and coming basketball podcast by 4 dedicated NBA and basketball fans. It's for fans, by the fans.
Got Hoops Podcast (Ep. 17): Replace CP3 w/ 2017 MVP Westbrook? Trades? NBA DRAFT!
A lot of interesting topics in this week's podcast, starting off with the argument if the Suns would be in Finals if CP3 was replaced by 2017 MVP Westbrook and other takes.
Search Results placeholder
Must See
With days 1 and 2 of Free Agency in the books, it is common...

Time to give out some report card grades for each selection in the draft...

In the offseason, especially the last segment, there are often victims of the hype...