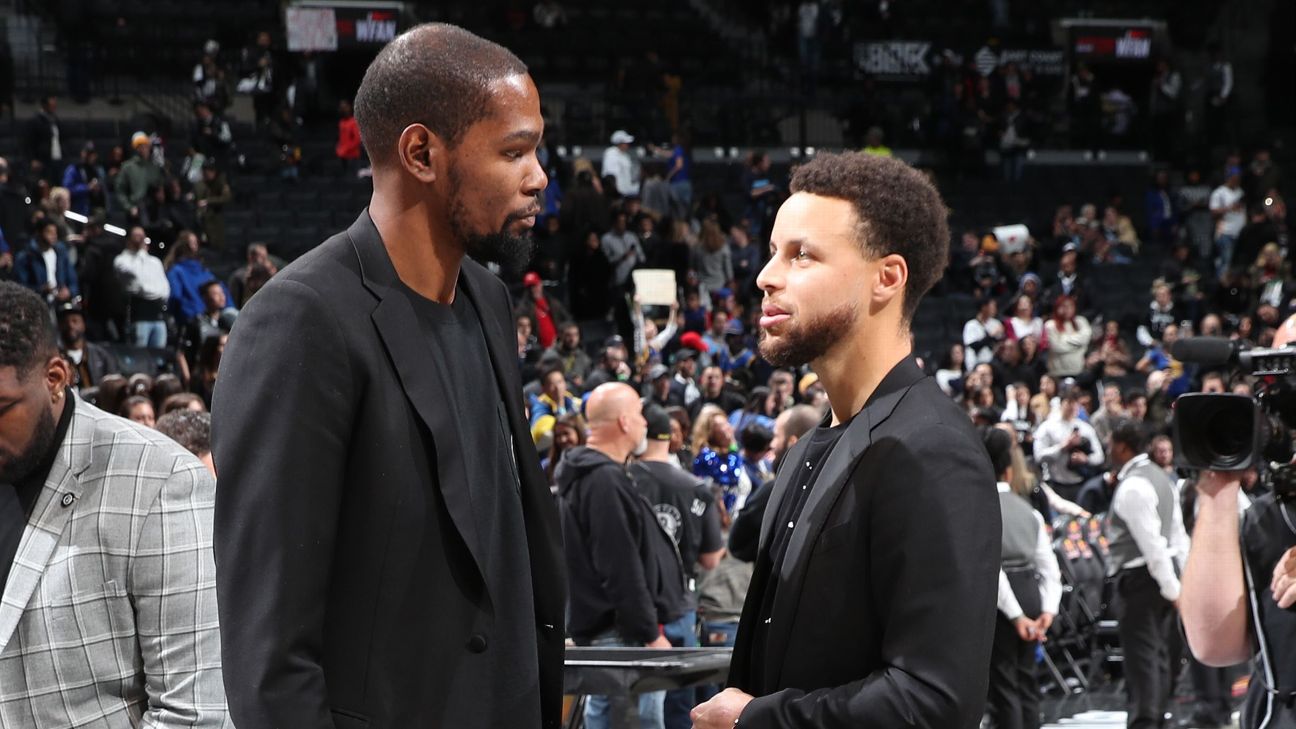 There have been some players that have underperformed this season, but this is a list of the top 5 performers, and early candidates for the MVP award.
1. Stephen Curry
Number 1 in the MVP ranking list, currently leading his team to the best record in the league, is Stephen Curry. The Warriors' record is 11-2, having lost only twice, to the Grizzlies and the Hornets. The Warriors had a win streak of 7 games, and are looking flawless all around. The offense and defense are flowing smoothly, even without Klay Thompson. Curry is currently averaging 28 points, 6 boards, and 6 assists per game. His points average is shooting up lately, coming off of a 50 point game against the Hawks and a 40 point game against the Bulls. Just to add on to his MVP case, Curry has also passed Ray Allen in most 3 pointers made. As players get older, they almost always start to decline. So far, that has not been the case for Stephen Curry.
2. Kevin Durant
Going back and forth between the 1 and 2 spot is Mr. Efficiency, Kevin Durant. He is having easily the best comeback after an Achilles injury, two years later averaging 29 points, 8 rebounds, and 5 dimes per game, on excellent shooting. Currently, Durant is shooting 58% from the field, and 43% from three point range. Durant and the Nets have a nice cushion as the #2 seed, just behind the Wizards. Durant has been the real leader for his team, with Harden coming back from rehab, and Irving obviously out for "other" reasons. Durant has been looking like the most efficient 3 level scorer in quite some time, but now it is even more clear he is the most dominant offensive player in the league, and will remain so for a little while longer.
3. Nikola Jokić
Someone who looks like they are going to be lingering around the top 3 in MVP votes for the season is the reigning MVP, Nikola Jokić. The best big in basketball is currently averaging 25 points, 5 assists, and 14 rebounds per game. For an incredible offensive talent like Jokić, 14 rebounds is beyond amazing. Jokić has been ridiculously dominant in the paint, and coming off of a triple double against the Hawks, he has looked like a two-way machine. These top 3 are starting to create a gap between the votes, and for now the main question is which of these 3 will come out on top.
4. Paul George
A bit farther back, but still showing an amazing performance is Paul George. Not the name many people expected to come up in the MVP conversation, but George is having an amazing start to the season dropping 26 points, 7 rebounds, and 5 assists. Although the Clippers are in the 6th seed, they are tied with the Jazz for the 5th seed. They also just went on a win streak of 6, thanks to PG13. Paul George has been exceeding expectations, and proving everyone wrong. With Kawhi Leonard out for quite a while, we are going to be seeing a lot more of George in Clipper headlines. But now, the main thing is how long George can keep this amazing streak going.
5. DeMar DeRozan
Someone that no one expected to be in the top 5 for MVP is the Bulls' biggest offseason acquisition, DeMar DeRozan. Getting out of the San Antonio area, DeRozan averaged 21 points, 4 rebounds, and 6 assists last year. A pretty drastic improvement, now averaging 26 points, 5 rebounds, and 4 assists on a much better team! DeRozan has looked like a perfect fit for this team, and has been scoring the ball at a very efficient rate. Shooting 36% from 3, and 49% from the field, this is the best shooting he has ever shown. DeRozan's early streak is arguably a top 3 start to the season for his career. Being the biggest leader for a fairly young Bulls team, he is bringing the team to the 3rd seed in the Eastern Conference, which has gained a ton of competition recently. DeRozan is having quite the run with his team, we will see just how long it lasts.



Must See
Around two years ago this time, I posted an article titled "5 players who...

On Monday, June 27th, Kyrie Irving decided to opt into his player option, also...

The draft is over and NBA summer league is about to kick off. Before...