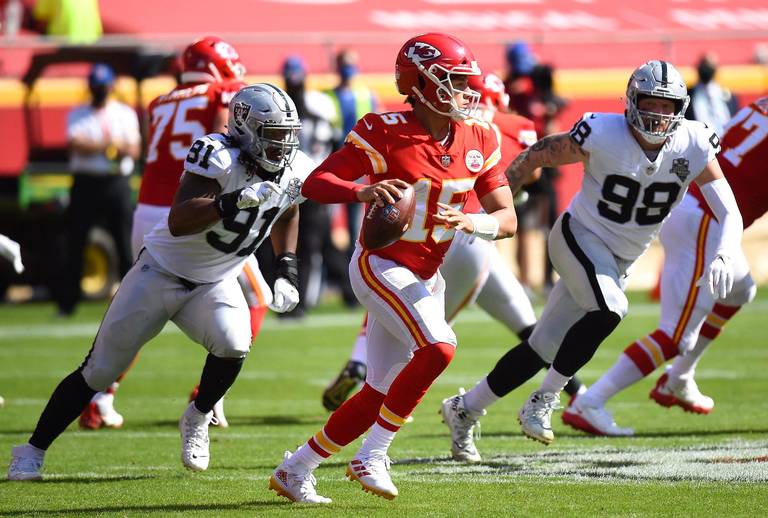 The early game in week five of the NFL season presented a quality divisional matchup. The Kansas City Chiefs took on the Las Vegas Raiders on what was set to be the second divisional game for the Chiefs and the first for the Raiders.
The Chiefs opened up the game as 11 point favorites to a Raiders team that was coming off of two straight losses. Even though the Raiders struck first, the Chiefs unsurprisingly went up 14-3 in what was quickly turning into another Chiefs blowout. The Raiders then answered with a 59 yard strike from Derek Carr to Nelson Agholor. As it already started turning into a back and fourth game, the Chiefs struck again, 2 minutes later to take a 21-10 lead. On the very next Raiders possession, Darren Waller caught a lobbed spiral pass from Carr to make it a 21-17 game. This game then started to get a whole lot more interesting. After the Chiefs were forced to punt, Henry Ruggs caught a spectacular 72 yard touchdown pass just three plays later. The Raiders now had a 3 point lead that would become tied at halftime after Patrick Mahomes worked the 2 minute drill and drove his team down to kick a tying field goal just before halftime. After what we all witnessed the first half, many of us thought it would be another second half shootout, but it was the complete opposite.
The second half was a defensive battle. Nobody thought Patrick Mahomes could be stopped by the Raiders defense. However, this was quickly proven wrong. In the second half, the Raiders forced Patrick Mahomes's first interception of the season, and stopped the Chiefs to only 30 yards until mid way into the fourth quarter. The Raiders dominated the second half, but more importantly dominated Patrick Mahomes. This was the first time all season where Patrick Mahomes was seemingly slowed down by a defense. The Raiders won 40-32, but the Raiders were in complete control for most of the second half. This was the Chiefs first loss of the season as they fall to 4-1. With this win, the Raiders move up to 3-2, and 1-1 in the division. Although the Chiefs will fall to 0-1 in the division, they are still in the drivers seat. This game was a welcome surprise for fans not wishing to see Mahomes have an undefeated season.

Must See
I swear I was writing a fun Kyrie to the Laker trade when the...

With the news that Kyrie Irving is being traded to Dallas, fans are already...

No matter what opinion you have of Aaron Rodgers off the field, on the...