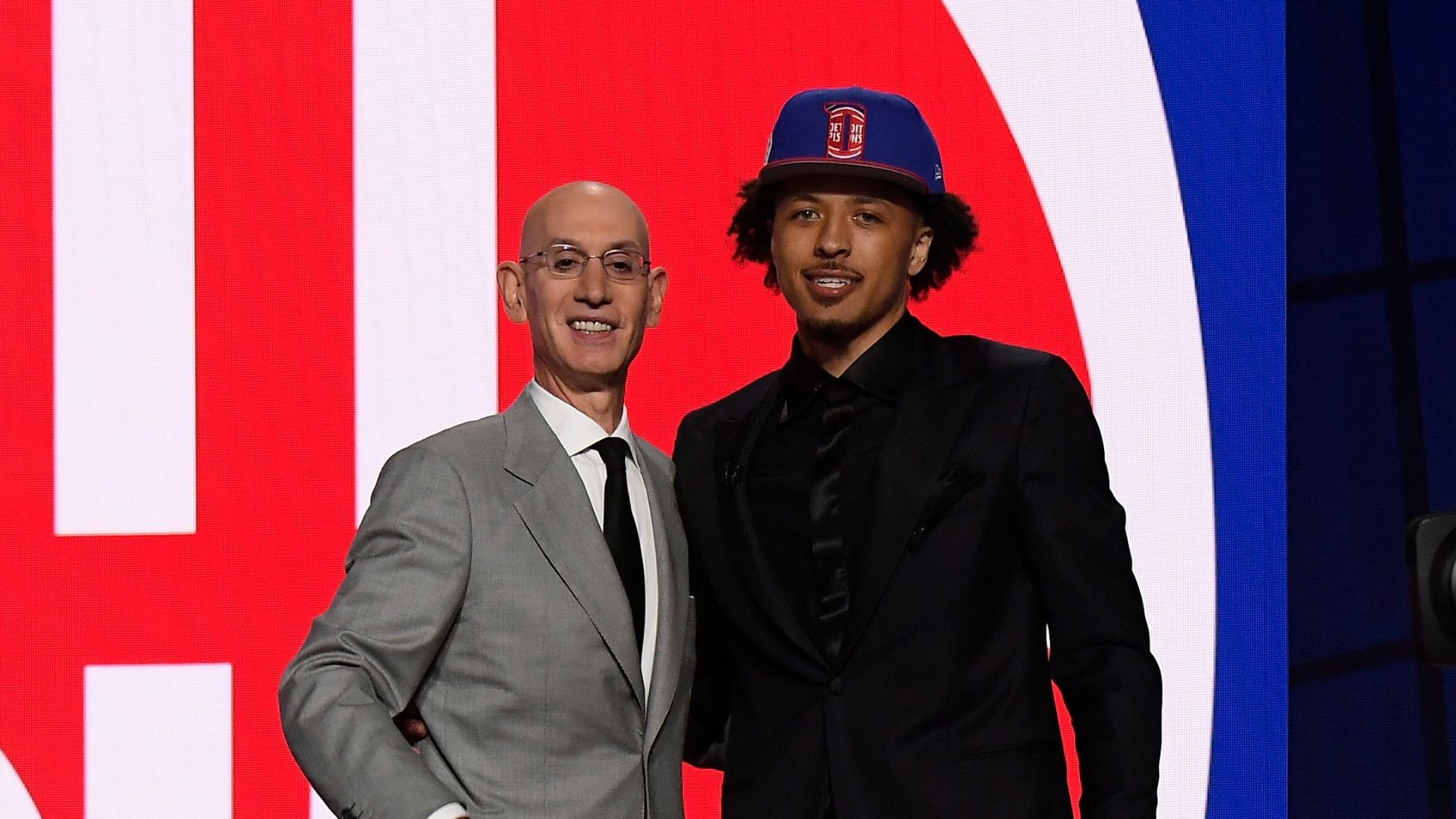 Time to give out some report card grades for each selection in the draft this past Thursday… let's get into it.
1. Detroit Pistons- Cade Cunningham
My Final Big Board Ranking: 1
Grade: A+
This one was easy. Detroit earns an A+ because they drafted the best player in this draft and a future top 20 player. Now Detroit has a direction and hope with Cunningham, Killian Hayes, Saddiq Bey, Isaiah Stewart, and Jerami Grant (although he is older than the first ones). Detroit is the biggest winner of this draft just because they got the best player in the draft which will lead them to future contention.
2. Houston Rockets- Jalen Green
My Final Big Board Ranking: 3
Grade: A
Jalen Green is a great fit in Houston. Jalen is my 3rd ranked player but 2-4 are all really closely-ranked so taking Green is not a mistake. Green has the potential to be an absolute superstar with his high scoring ability and defensive potential. The Rockets roster is bad so expect Jalen Green to put up massive numbers and have a good chance at the Rookie of the Year award.
3. Cleveland Cavaliers- Evan Mobley
My Final Big Board Ranking: 4
Grade: A-
At three the Cavaliers got someone that has star potential. This draft is loaded, there are four potential number one picks in the draft and Mobley is one of them. At 7'0 Evan Mobley is a highly switchable big who has good offensive potential. Switchable bigs are rare in this league and if you have one of them and can make the playoffs (which is a big if for Cleveland) then you have a good chance at competing.
4. Toronto Raptors- Scottie Barnes
My Final Big Board Ranking: 5
Grade: C+
WHAT!! Why pass on Suggs. Why. Scottie Barnes is my 5th ranked prospect so by no means will he be a bust, but passing on Suggs is a massive mistake. I also question Barnes fit in Toronto if Pascal Siakam is on the roster next season. I still can't believe this and although Masai Ujiri is one of the best executives in the league I believe they will regret this selection.
5. Orlando Magic- Jalen Suggs
My Final Big Board Ranking: 2
Grade: A+
Orlando lucks out. Through most of the draft process, Orlando never expected to be able to select Jalen Suggs and yet here they are. I listed Suggs as my 2nd best prospect but it wasn't a huge mistake to take Mobley or Green as they are both are also future stars in their own right. The Scottie Barnes pick is the one that shocked me. I believe Toronto will regret that pick for years and Jalen Suggs is about to usher in a new age in Orlando.
6. Oklahoma City Thunder- Josh Giddey
My Final Big Board Ranking: 16
Grade: D+
I do not think Josh Giddey is a bad prospect by any means and believe that if he can tighten his handle and learn to score the ball he can be a good player. With that being said, the Thunder reached for him with the 6th pick. I assume that someone else in the top ten was planning on taking Giddey or else Oklahoma City would have traded down to select him. Oklahoma is a very smart franchise so maybe they see something I do not but at this point, I do not like the pick.
7. Golden State Warriors- Jonathon Kuminga
My Final Big Board Ranking: 9
Grade: C+
Wow. This is a shocker. Kalinga has a ceiling almost as high as anyone in the draft but I do not know if Golden State is the right fit. The Warriors are trying to win the title next season and adding a project like Jonathon Kuminga will not help. The right selection was Franz Wagner from Michigan who would've added shooting, defense, and a little playmaking. Kuminga has a chance to be a really good player just not on the Warriors timeline.
8. Orlando Magic- Franz Wagner
My Final Big Board Ranking: 8
Grade: A
What a draft for Orlando. After stealing Suggs, the Magic surround him with a very good player in Franz Wagner. As stated in the last selection, Wagner will add shooting, defense, and playmaking to a depleted Magic roster. Between Franz Wagner and Jonathon Isaac, they will make it very difficult for wings to score on them for a long time. If Orlando keeps drafting like this it may not be long before they are competing in the Eastern Conference.
9. Sacramento Kings- Davion Mitchell
My Final Big Board Ranking: 13
Grade: C+
Not a terrible pick but I really question the fit. The Kings now have Fox, Hield, Haliburton, and Davion Mitchell all on the same roster. Buddy Hield may be traded but still, they would have three guards that are not very big. If Davion Mitchell ends up a good player we could see De'Aaron Fox trade rumors start up. This is a bad franchise that will probably struggle to win and use Mitchell in the right way.
10. Memphis Grizzlies- Ziaire Williams
My Final Big Board Ranking: 33
Grade: F-
There were rumors of this but I believed Memphis was smarter than this. Memphis is doing a half reset and admitting they will not compete in the West in the next couple of years. That in itself is not a terrible idea but Ziaire Williams will not help the team in the short term and I do not believe he is a good prospect in the long term. I listed Ziaire Williams as the 33rd best prospect in the draft because every one of his strengths is hypothetical. Ziaire showed nearly nothing in college and to draft him you are just betting on his potential, which I believe is a mistake.
11. Charlotte Hornets- James Bouknight
My Final Big Board Ranking: 6
Grade: A+
Bouknight falls right into Charlotte's hands. LaMelo Ball and James Bouknight will make for an electric duo over the next decade. The offensive creation skills the LaMelo lacks Bouknight more than makes up for. Bouknight is a true three-level scorer and according to scouts, he showed a real improvement from three-point range during workouts. Not only that but Bouknight has shown some defensive potential. Bouknight's selection makes the backcourt a little crowded which means that the Hornets will probably not resign Devonte Graham, and Terry Rozier could be on the trade block.
12. San Antonio Spurs- Joshua Primo
My Final Big Board Ranking: 35
Grade: F
I started laughing out loud. Like actually. The days of the Spurs being the savvy ahead of the curve team seem to be over. Joshua Primo will probably be a decent player and have a longish career but only as a three-point specialist. Primo averaged an unimpressive eight points a game and sometimes had trouble finding playing time. I find it impossible that the Spurs couldn't trade back and make this same selection. The Spurs lack star power and instead of swinging for the fences they took someone that would be lucky to start one day. Come on Popovich.
13. Indiana Pacers- Chris Duarte
My Final Big Board Ranking: 18
Grade: B
This is just a decent selection for the Pacers. The Pacers roster is set up to win now and Duarte fits this mold. At 24 years old, Duarte will be able to fit into a Pacers rotation that already has LeVert, Warren, and possibly Doug McDermott. This is not a sexy or flashy pick but it is a good pick for the Pacers.
14. Golden State Warriors- Moses Moody
My Final Big Board Ranking: 11
Grade: B-
Very interesting draft for the Warriors. Players are hardly ever useful as rookies and I do not believe Moody's defense is good enough to break that mold. Moses Moody projects to one day be a very good three and D player but next year I question what he will do. The Warriors seem to be drafting for the future but the problem is they have Steph. Klay, and Draymond on the roster.
15. Washington Wizards- Corey Kispert
My Final Big Board Ranking: 14
Grade: B+
I had questions about Corey Kispert being a lottery pick but getting him outside the lottery is a good pick. Kispert will give Beal a good shooter and projects to be a hard-nosed defender. Just want to take a moment to say what the Wizards roster is right now: Bradley Beal, Corey Kispert, Rui Hachimura, Davis Bertans, Deni Avdija, Daniel Gafford, Kyle Kuzma, KCP, Montrezl Harrel, and Thomas Bryant. I do not know what to even think about that team.
16. Houston Rockets- Alperen Sengun
My Final Big Board Ranking: 12
Grade: B+
The Rockets are building a really interesting roster now pairing Jalen Green with Alperen Sengun. Sengun is an analytic dream. At 6'10, he has the footwork to score the ball extremely well in the post. There are real questions about his ability to guard the perimeter but he will be on a bad team that will give him chances to try and figure that out.
17. New Orleans Pelicans- Trey Murphy III
My Final Big Board Ranking: 21
Grade: B+
The Pelicans have had a very good few days. The Pelicans shed enough cap space to sign Kyle Lowry, got Jonas Valanciunas, and moved down seven picks. The one negative out of that was moving down seven picks but they still got a very good prospect in Trey Murphy. Murphy is a long 3 and D player that is still a little raw and has the potential to show more. At Murphy's worst he gives Zion another shooter that he can work with.
18. Oklahoma City Thunder- Tre Mann
My Final Big Board Ranking: 15
Grade: A-
This would be an even better selection if they hadn't already taken Josh Giddey. Tre Mann is a bucket, it is that simple. When I watch Tre Mann's game I see a lot of D'Angelo Russell there. Oklahoma City is rebuilding but the only problem is, that they now have Shai Gilgeous-Alexander, Josh Giddey, Tre Mann, and Theo Maledon all playing roughly playing the same position. OKC has time to figure out who should and who shouldn't be in the rotation but I think that Tre Mann is a very good pick.
19. Charlotte Hornets- Kai Jones
My Final Big Board Ranking: 19
Grade: B+
What a draft for Charlotte. The Hornets traded for Mason Plumlee, who could be a low-end starter or high-end bench player. Then they drafted the guy that can compete with Plumlee in Kai Jones. Kai Jones is a very polarizing player because he can move incredibly for his size but lacks big man skills. If Kai Jones figures it out he can become an elite rim runner and his pairing next to LaMelo Ball could be very interesting.
20. Atlanta Hawks- Jalen Johnson
My Final Big Board Ranking: 11
Grade: A
At the 20th pick, there is no reason not to take a flyer on Jalen Johnson. Johnson is a dynamic player in the fast break which could create a cool pairing with Trae Young. The most enticing part of Jalen Johnson's game is his defensive potential. It is possible that Johnson takes a Simmons-level jump on the defensive end. Worst case scenario Johnson is a bust and best-case scenario he could give Atlanta another star.
21. Los Angeles Clippers- Keon Johnson
My Final Big Board Ranking: 7
Grade: A+
What a pick. I have Keon as the seventh-best player in the draft because he is the best perimeter defender in this draft and he has unlocked offensive potential. It seems that next year the Clippers will be without Kawhi Leonard which will mean there is more playing time for guys like Terrance Mann and Keon Johnson. The more playing time their young players get the better they will be when the Clippers are ready to make another playoff run.
22. Indiana Pacers- Isaiah Jackson
My Final Big Board Ranking: 30
Grade: C
Jackson's value at 22 makes sense but his fit in Indiana is questionable. Indiana already has bigs in Domantas Sabonis, Myles Turner, and Goga Bitazde. It has been rumored that the Pacers will trade Myles Turner but if they do not the Pacers frontcourt is more than overflowed. Not only that but the Pacers traded up to make this selection meaning they gave up assets.
23. Houston Rockets- Usman Garuba
My Final Big Board Ranking: 17
Grade: B
This pick is very interesting. Garuba is a high-effort defender that should help change the defensive culture in Houston. Garuba's fit next to Sengun is also extremely interesting. The combo would have a good offensive scorer in Sengun and a defender in Garuba. I wish Garuba went to a team that is competing in the playoffs but Houston may not be a terrible fit especially next to Sengun. Another interesting storyline is now that Sengun and Garuba are on the roster does that make Christian Wood expendable?
24. Houston Rockets- Josh Christopher
My Final Big Board Ranking: 28
Grade: C+
The Rockets have had three good picks so with their 4th pick they just took a flyer on a young player with potential. Christopher is one of the best scorers in this draft and has some decent defensive potential. The Rockets' wings should be very interesting next year with Jalen Green, Kevin Porter Jr., and Josh Christopher all on the roster.
25. New York Knicks- Quentin Grimes
My Final Big Board Ranking: 26
Grade: C-
This pick was a little surprising to me. The Knicks traded out of the 19th pick for 80 cents on the dollar and traded back four spots only for a second-round pick. After all of that, they underwhelmed with selecting Quentin Grimes. The Knicks need a starting point guard and passed on players that could help for Quentin Grimes. Not all is bad with Quentin Grimes as his 3 and D abilities may help the Knicks as soon as next year.
26. Denver Nuggets- Nah'Shon "Bones" Hyland
My Final Big Board Ranking: 29
Grade: B-
With Jamal Murray out until at least after the all-star break, the Nuggets needed to find a scoring guard with this pick. Although I would've preferred Cam Thomas or Jared Butler, Nah'Shon Hyland is certainly a scorer. Hyland may get some serious minutes early in the season in Murray's absence. Hyland could make a good tandem with Monte Morris as they play in very different ways, and together they could help Denver's backcourt.
27. Brooklyn Nets- Cameron Thomas
My Final Big Board Ranking: 20
Grade: A-
Cameron Thomas falls to one of the best positions he could be in. Thomas has glaring areas of improvement on offense but the Nets should help fix that. In Brooklyn, Thomas will not be asked to do too much and will probably just be asked to be a catch and shoot three point shooter. If Thomas went to a bad team he might form bad habits by trying to do too much like he often did in college.
28. Philadelphia 76ers- Jaden Springer
My Final Big Board Ranking: 22
Grade: A
Philadelphia gets a big win by having Springer fall to them at 28. Springer is a good on ball defender and in college he showed offensive potential. Springer could be getting minutes faster than we think if Ben Simmons is traded as it opens up at minutes for point guard. At Springer's worst he could be a deadly defensive weapon for Philadelphia next year.
29. Brooklyn Nets- Day'Ron Sharpe
My Final Big Board Ranking: 37
Grade: B-
With the Nets potentially looking to deal DeAndre Jordan this pick made a lot of sense. Between Claxton and Sharpe the Nets should be able to scrap enough center minutes together. Sharpe is not someone I expect to play in the playoffs next year but he should help the team in the regular season.
30. Memphis Grizzlies- Santi Aldama
My Final Big Board Ranking: NR
Grade: F
This makes no sense to me. Maybe it makes me a poor scout but I do not know much about Aldama and I scouted 50-60 players this year. Utah traded two seconds to move up from 40 to 30 only to select a project draft pick that they probably could have got at 40. All in all the pick does not make much sense.

Check out our new podcast episode!
Got Hoops Podcast
A new up and coming basketball podcast by 4 dedicated NBA and basketball fans. It's for fans, by the fans.
Got Hoops Podcast (Ep. 19): Summer League? Beverley Trade? Westbrook/LeBron/AD Trio?
In this episode we discussed the summer league, the Clippers and Grizzlies trade, and the fit of Westbrook with LeBron and Anthony Davis, and other topics as well.
Search Results placeholder
Must See
The NBA season is coming up very soon and it's time we start talking...

The NBA season is just about a month away, with the regular season set...

The first week of the NFL regular season has concluded and it's time for...