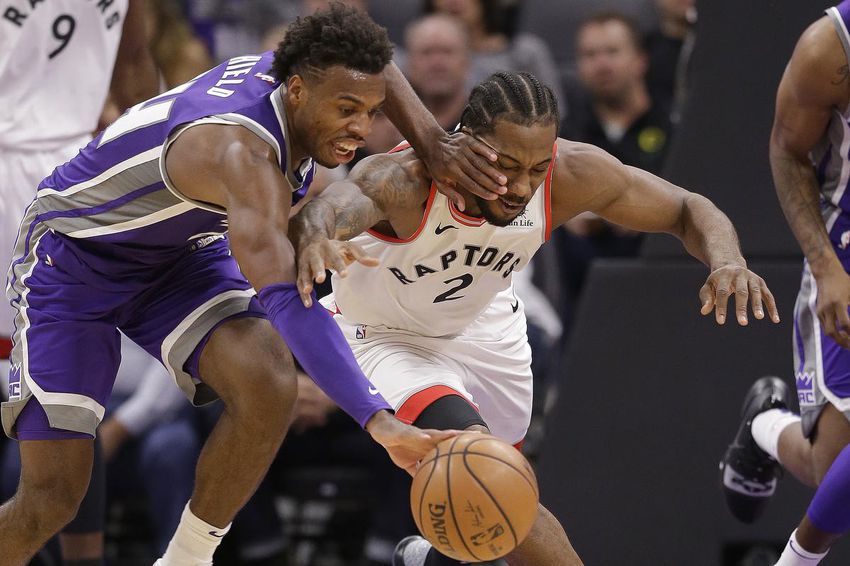 The three weeks after the NBA season ends is arguably the most fun time of the NBA season. Currently rumors are flying around like crazy. I am going to look at some of the latest rumors and give my takes on them.
Kawhi Leonard will remain with the Clippers
Arguably the biggest news lately. Woj reported earlier Sunday that all indications suggest Kawhi Leonard will return to the Clippers in free agency. Most had predicted that Kawhi would return to LA but with Leonard anything is possible. This news is a major win for the Clippers and a loss for teams like Dallas and Miami who thought they had a chance at Kawhi. It sounds like the deal is all but done but if anyone would trick everyone including Woj, it is Kawhi Leonard.
The Rockets are looking to move up with Eric Gordon
Houston is trying to get rid of Eric Gordon and his big contract. The Rockets hope that combining Gordon with their other first round picks (23 and 24) they can move into the late lottery. It was reported that Indiana had discussed trading 13 for 23 and Gordon. This trade would be a major loss for Indiana as they are moving down ten picks and taking a bad contract in Eric Gordon. The situation is still very fluid but it does not seem like Eric Gordon will be in Houston next season.
Five teams are eying Ben Simmons
Bleacher report reported that Cleveland, Indiana, Minnesota, Sacramento, and Toronto have all shown interest in acquiring the Ben Simmons. The report also stated that none of those five teams are willing to include a star in the deal. This news comes after Golden State said they will no longer be pursuing the all star. Unless Cleveland is willing to include the 3rd pick the only team listed that I believe has a chance at Simmons is Toronto. If the Raptors include VanVleet or Siakam in addition to a Lowry sign and trade then they will probably be near the value for Simmons.
Chris Duarte stock is rising
Duarte reportedly has been moving up many teams draft boards. Duarte is a 6'6 3 and D player from Oregon University. The downside of Duarte is that he is already 24 years old and his ceiling is relatively low. It was reported that Golden State is considering Duarte at 14 and New York is considering him at 19 or 21. I have Duarte ranked as my 20th best prospect so I believe Golden State would be a stretch at 14 but if New York takes him with one of their two picks then that makes a lot of sense.
There are six teams with a chance at Kyle Lowry
Along with the Raptors the Sixers, Lakers, Mavericks, Pelicans, and Heat are expected to pursue Kyle Lowry. Lowry's free agency is very interesting because every one of those options seems plausible. Lowry could remain loyal and return to the team he brought a title in Toronto. He could try to elevate a good team into a contender like Miami, New Orleans, or Dallas. Lowry could take a discount and chase another title with LeBron and the Lakers. Finally, and I think most likely he could return to his birthplace and sign with Philadelphia.
OKC is in talks to trade up
The most recent report on this list is that the Thunder are trying to trade up to get Cade Cunningham or Evan Mobley. In order for the Thunder to get one of those two players they will need to trade with Detroit, Houston, or Cleveland. The deal would make sense considering Sam Presti has 17 first round picks over the next couple of years and three picks this season. Presti won't be able to select prospects with all of those picks so at some point he will have to consolidate them. If the Thunder view Cade or Mobley as a superstar prospect then they should consider attaching a couple picks and moving up.
Pelicans and Grizzlies have discussed swapping picks
Reports suggested this morning that Memphis and New Orleans were discussing a deal that would be the 10th pick and Eric Bledsoe for the 17th pick. In this deal Memphis has to take on Eric Bledsoe's contract but is able to move into the top ten of the draft. Unless New Orleans has major free agency plans this deal does not make much sense for them. For Memphis they will then have the capabilities to take a very good talent in this draft and get a quality point guard in Bledsoe.
Kyle Kuzma and KCP have been offered to almost every team
This one is just kind of funny. Woj said on his tv special with Zach Lowe that nearly every team he has talked to said the Lakers offered them KCP and Kuzma in a trade. There was another report that the Lakers were building a trade offer for Buddy Hield built around Kyle Kuzma. I believe that Buddy Hield is very gettable this offseason and if the Lakers can not get a top level talent they should try to acquire him with Kuzma, KCP, and the 22nd pick. It is very likely that neither Kuzma or KCP are on the Lakers next season.
The Knicks are trying to trade up
The Knicks had a very surprising and successful season but they still are not where they need to be. Free agency is fairly bleak this offseason but the Knicks can still add real talent to their roster if they can acquire a lottery pick. The Knicks have the 19th, 21st, 32nd, and 58th pick in this draft. Along with other assets on their roster the Knicks should be able to move into the back of the lottery. A team like the Spurs could take 19, 21, and Kevin Knox in exchange for 12. Another option would be a three team deal that would result in the Knicks getting 14, the Warriors getting a veteran, and a third team getting assets.
Juan Hernangomez wants out of Minnesota
Nah I'm just kidding we don't care.

Check out our new podcast episode!
Got Hoops Podcast
A new up and coming basketball podcast by 4 dedicated NBA and basketball fans. It's for fans, by the fans.
Got Hoops Podcast (Ep. 19): Summer League? Beverley Trade? Westbrook/LeBron/AD Trio?
In this episode we discussed the summer league, the Clippers and Grizzlies trade, and the fit of Westbrook with LeBron and Anthony Davis, and other topics as well.
Search Results placeholder
Must See
The NBA season is coming up very soon and it's time we start talking...

The NBA season is just about a month away, with the regular season set...

The first week of the NFL regular season has concluded and it's time for...