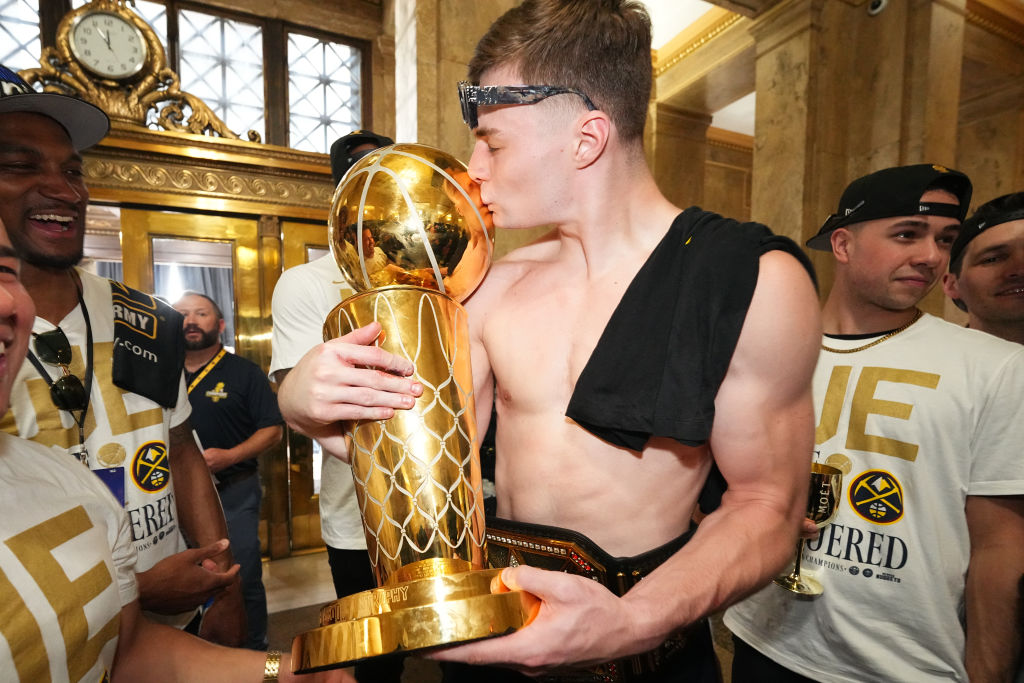 Every season in the NBA, a team will have a player that surprises everyone. This is what people like to call a "secret weapon." Here is a list of every Northwest Division team's "Secret Weapon" coming into the 2023-2024 NBA season.
Utah Jazz: Ömer Yurtseven
Ömer Yurtseven was a young member of the Miami Heat who went undrafted in 2021. When he was in Miami, Yurtseven showed that he could be a good backup center with the limited minutes he got. He would often finish games with double-doubles with points and rebounds, often grabbing more rebounds than points.
However, this past season, Yurtseven didnt see much playing time due to injury, and when he was healthy, he would rarely see the court. Now, Yurtseven finds himself in Utah with a young and hungry Jazz team. The lights are bright and shining on Utah's breakout center, Walker Kessler, so Yurtseven could surprise the fans this upcoming season.
Denver Nuggets: Christian Braun
Christian Braun is no secret to Nuggets fans after the rookie season he had. Last season, it looked like Bones Hyland was going to be a new addition to Denver's offensive arsenal. But, after a dramatic breakup, Christian Braun stepped in and proved that he could fill that hole.
Braun stepped up in a big way for Denver, doing almost everything on the court. Braun can shoot, drive, and defend the best in the league. Now with Bruce Brown gone, Braun has solidified his spot as 6th man. This upcoming season is a big one for Denver, and a target will be on their backs. Especially their big three of Nikola Jokic, Jamal Murray, and Michael Porter Jr. With the lights shining bright on those three, Christian Braun will have the chance to explode off the bench in the Mile High.
Minnesota Timberwolves: Troy Brown Jr.
Troy Brown Jr. was drafted in 2018 by Washington and has been a bit of a journeyman since, playing for the Wizards, Bulls, Lakers, and now the Timberwolves. On every team that he has played for, Brown Jr. has been one of the most solid backup forwards in the league.
The Timberwolves have stars at the guard and center positions in Anthony Edwards and KAT, but they don't have much going on at the small forward spot. This means that Brown Jr. could see more playing time in Minnesota and because he has always been a backup, I think he could end up surprising a lot of people.
Portland Trailblazers: Matisse Thybulle
Matisse Thybulle was a fan favorite in Philadelphia. He was known for his defense, but his offense had flashes of greatness as well. Thybulle never really had to focus on offense in Philly because that was James Harden and Joel Embiid's job, and that could be the case in Portland as well.
Defense is something that Portland needs if they want to get closer to having a successful season, and Thybulle is someone who can provide that.
Oklahoma City Thunder: Davis Bertans
Davis Bertans has been in the league for almost ten years now and has constantly been one of the most underrated shooters around. Bertans has played for the Spurs, Wizards, and, most recently, the Mavericks, and in each jersey, he has been a reliable shooter off the bench.
Bertans now finds himself with the Thunder in OKC. Now on such a talented young team, Bertans can continue to be a reliable offensive player as well as a mentor to some of the younger players on the team.