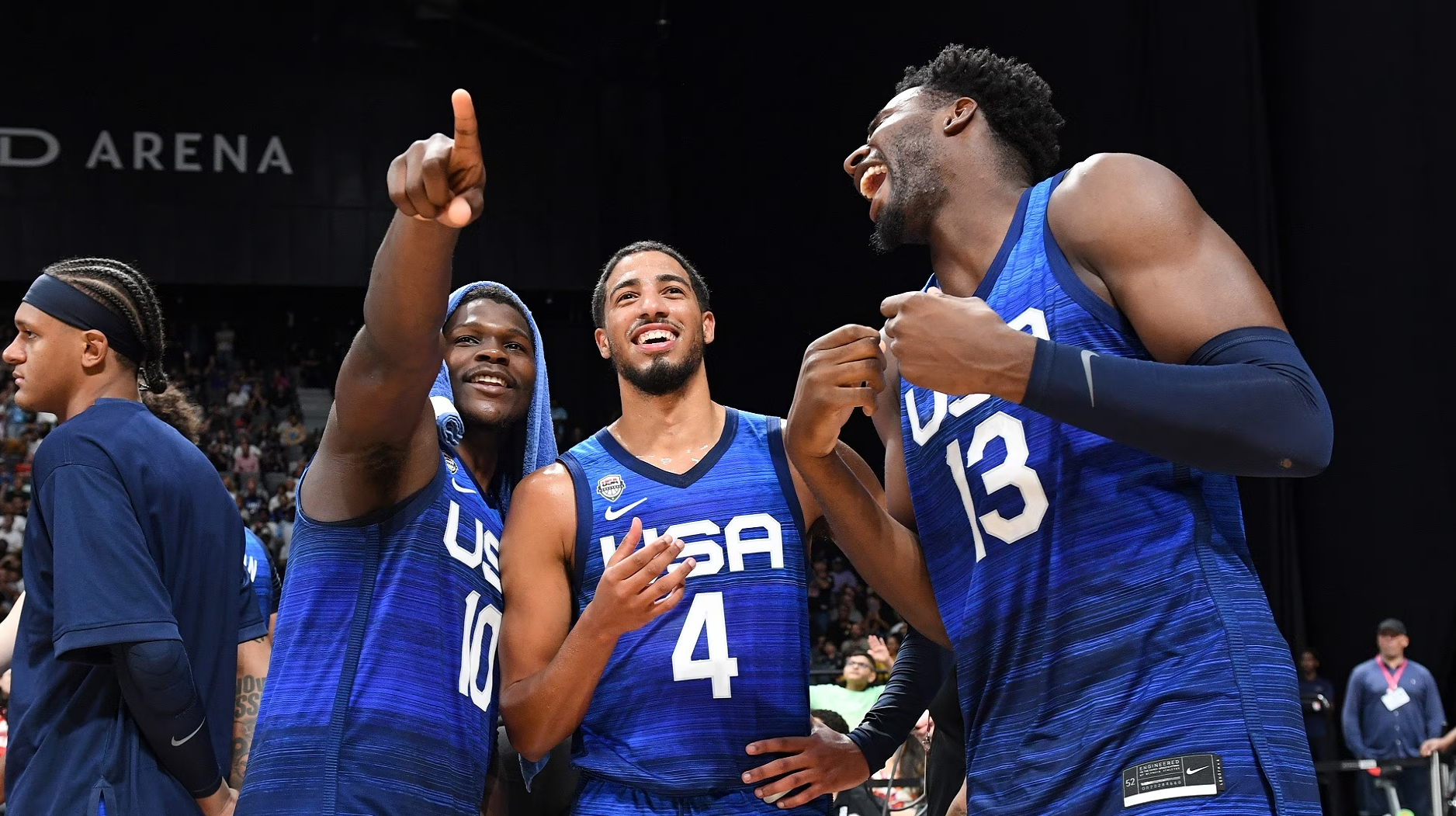 On August 26th, Team USA will officially open play in the 2023 FIBA World Cup against New Zealand. The Americans finished their exhibition schedule with a 5-0 record, which included wins against international powers Spain and Germany.
With a team full of high-level NBA players, Team USA has a target on their back in any international tournament they play in. How does Team USA stack up against the competition? Let's talk about it:
With the World Cup and Olympics now being just one year apart, it appears that Team USA will never quite have their "A" team for the World Cup. In this new world of constant load management, not many vets are going to be excited about spending two summers in a row playing international competition.
So, USA Basketball has seemed to shift its focus to create a team full of young stars who are eager to play for their country. This strategy is not hard to execute considering the level of young talent in today's NBA is higher than it's ever been.
2023 Roster:
| | |
| --- | --- |
| Position | Player |
| G | Tyrese Haliburton (Indiana Pacers/Age: 23) |
| G | Jalen Brunson (New York Knicks/Age: 26) |
| G | Anthony Edwards (Minnesota Timberwolves/Age: 22) |
| G | Austin Reaves (Los Angeles Lakers/Age: 25) |
| G | Josh Hart (New York Knicks/Age: 28) |
| F | Mikal Bridges (Brooklyn Nets/Age: 26) |
| F | Cam Johnson (Brooklyn Nets/Age: 27) |
| F | Brandon Ingram (New Orleans Pelicans/Age: 25) |
| F | Bobby Portis (Milwaukee Bucks/Age: 28) |
| F | Paolo Banchero (Orlando Magic/Age: 20) |
| C | Walker Kessler (Utah Jazz/Age: 22) |
| C | Jaren Jackson Jr. (Memphis Grizzlies/Age: 23) |
The Talent
This team is led by 4 NBA All-Stars, a Defensive Player of the Year, Rookie of the Year, and a slew of guys ready to take their next leap in the NBA. Surrounding the young studs are the two oldest players on the roster, Bobby Portis and Josh Hart. Portis and Hart are the ultimate glue guys who know how to impact winning for any team at any level.
The talent on this roster is undeniable, but figuring out how to piece it together has always been the challenge for Team USA. Nearly every international team in the World Cup has been playing together for a significant amount of time and plays a type of team basketball that might not be as common in the States. Figuring out how to play together under the FIBA rules will be the key to success for this team.
Each World Cup team gets to play a handful of "preparation" games in advance of the World Cup in order to figure out lineups, minutes, and in Team USA's case, play under FIBA rules. The team took the court against Puerto Rico on August 7th with a team full of players who have yet to play for Team USA and a sense of the unknown.
Exhibitions…
They quickly quieted any doubts by steamrolling Puerto Rico by 43 points—an expected, yet welcome sight. The Americans kept the momentum going in consecutive wins over Slovenia, Spain, and Greece. While Slovenia played without Luka Doncic, and Greece without Giannis Antetokounmpo, the U.S. knows their games better than any other player they will face in the tournament.
The final opponent on the preparation schedule was Germany, a team headlined by Orlando Magic sophomore Franz Wagner. Down 16 in the second half, it looked like Team USA might stumble in their final game. Enter Anthony Edwards. The Minnesota Timberwolves star put the team on his back scoring 34 points, with 18 coming in the second half.
The question of who is "the guy" on this team had been asked for weeks, and Edwards answered resoundingly. He carved Germany up from all three levels and showed the potential NBA fans have been talking about for years. Edwards pushed the U.S. across the finish line to complete a perfect exhibition record, and provide the Americans with momentum that no other country could match.
Backcourt is STACKED.
Team USA will undoubtedly enter the tournament with the strongest backcourt of any team. Haliburton, Brunson, Edwards, and Reaves are a lethal guard rotation who each provide something of value to this team. Edwards is the head of the monster and is one of the most unguardable players in the tournament when he gets going.
Brunson is another lethal scorer who can get to his spots and finish against anyone. Haliburton is arguably the best passer in the world right now, and will never let this USA offense fall flat. Reaves is a Swiss Army knife who just keeps getting better and better. I have a hard time believing any country can slow this group down.
The Wings..
The wings have been a bit underwhelming thus far, but are still another strength of this team. Mikal Bridges, Brandon Ingram, and Cam Johnson are capable of being an elite trio on both ends on the court in this tournament. Bridges and Ingram are two of the smoothest scorers in the NBA, but have yet to really find their rhythm this summer.
Ingram was considered by many to be the best player on this team, but hasn't been able to live up to that label so far. Cam Johnson is your prototypical 3&D wing who can play with any lineup. If these guys are hitting shots, it takes this team to another level.
The Front Court..
The frontcourt is probably the part of the team that brings up the most concern. Bobby Portis, Jaren Jackson, Walker Kessler, and Paolo Banchero might be the group of players that defines this team's success. We know what the backcourt and wings are going to bring, but the frontcourt provides some question marks.
Two NBA sophomores, a veteran sixth-man, and a Defensive Player of the Year who has chronic foul trouble can provide a lot of variance in their play. Team USA needs this group to dominate the glass and defend the rim at a high level, two things they are very capable of if playing well.
The Competition
Without question, the U.S. had a good group draw as it contains Greece, Jordan, and New Zealand. A first place finish in the group will likely match them up against either Lithuania or Montenegro.
If the play to the level we expect, Team USA should have no problem getting past these teams. From there the competition stiffens, and USA will start running into some of the best teams in the world. If they play to their ability I have no doubt Team USA can bring home a gold medal, but as we've learned before, these international squads are no slouches and will capitalize on any mistake made.