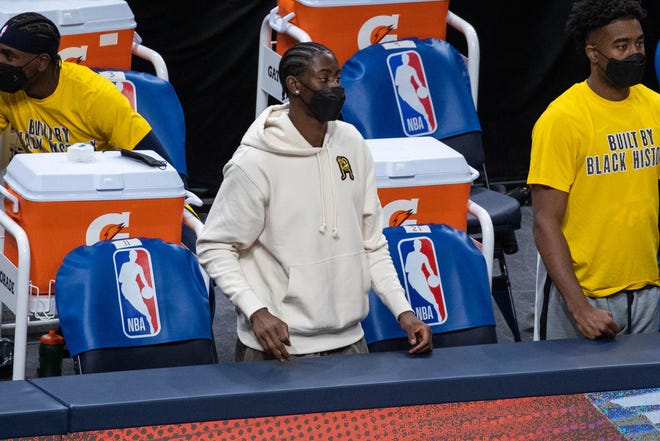 What amazing news this Friday morning, Caris Levert will be returning to action again after going through surgery on his kidney to remove a small cancerous mass.
Levert will return to the NBA courts after missing nearly 2 months of action. He will bring energy and another scorer that the Pacers have desperately needed in the past few months. The Pacers have been 4-6 the past 10 games and could use Levert to bring some energy, edge, and excitement back to the Pacers that they lost a little bit when trading Oladipo. Levert was averaging 18.5 PPG, 4.3 RPG, and 6.0 APG on 43.5% from the field this season. Those are pretty good numbers considering he was coming off the bench.
Expect Levert to take some games to get the rust off, but when he's back to his game… watch out. I fully expect Levert to blossom in Indiana and become the leading scorer they've desperately needed in the downward trend they've gone these past few months.
Nonetheless, it's going to be fun to see Levert back on the court. The Harden trade turned out to save his life and now he's back on the court. You love to see it.

Check out our new podcast episode!
Got Hoops Podcast
A new up and coming basketball podcast by 4 dedicated NBA and basketball fans. It's for fans, by the fans.
Got Hoops Podcast (Ep. 13): KD the Greatest Scorer? Rondo's Impact! Celtics on FIRE!
In this podcast episode, we discuss KD being the greatest scorer in the league right now, Curry potentially being a top 10 player when he retires, Celtics being on fire, Rondo's impact on the Clippers, and more!
Search Results placeholder
Must See
When I say his doubters, I am including myself. I wrote an article months...

According to NBA.com's MVP ladder from April 9th, the top 5 players in order...

Paul George has been on a groove recently with his stellar play as of...