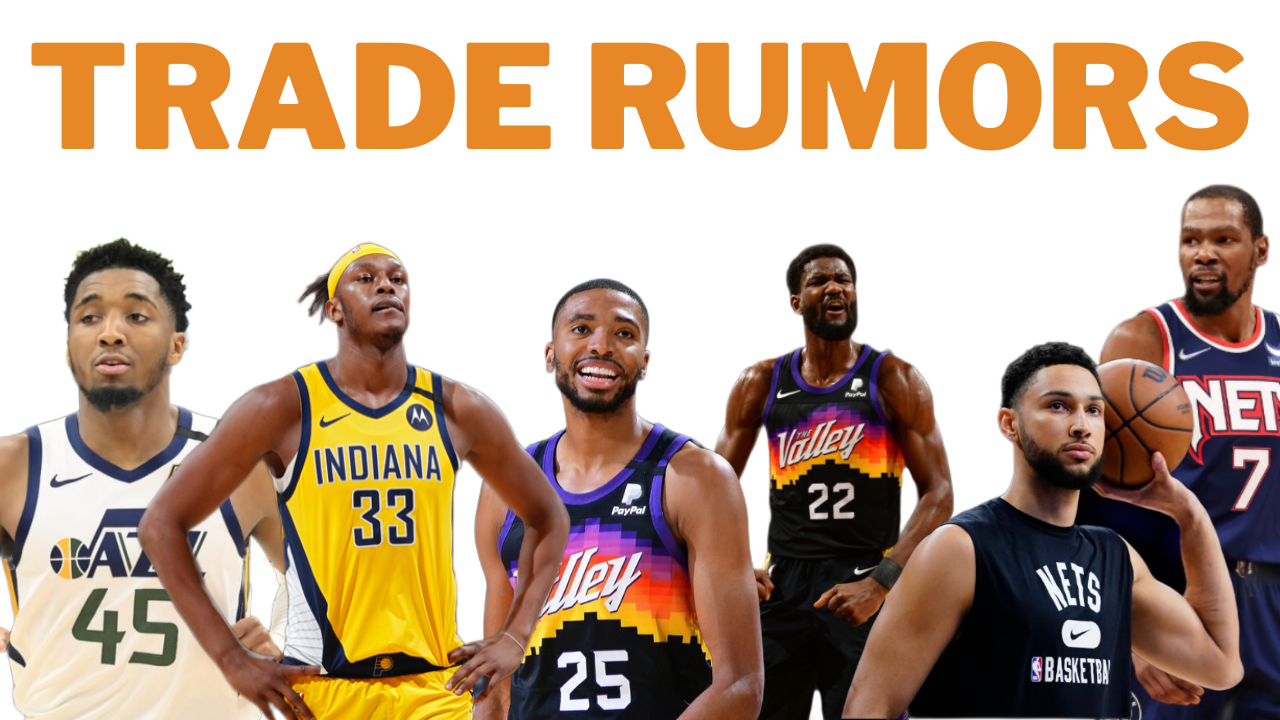 This morning on ESPN, Bobby Marks posted a hypothetical 4-team trade. Including many big-name potential movers including Kevin Durant, Donovan Mitchell and Deandre Ayton.
Here below is what each team received in the deal and then I will breakdown my feelings on what each team acquires.
Brooklyn: Donovan Mitchell, Mikal Bridges, Myles Turner
Phoenix: Kevin Durant
Indiana: Deandre Ayton
Utah: Ben Simmons, Cam Thomas, 5 FRP (4 from PHX, 1 from CLE via IND) and 3 swap rights (from PHX)
Brooklyn-
Trying to find value that matches a player like Kevin Durant is extremely difficult as he is more than likely going to end up as a 1st ballot Hall of Famer. Rarely, will we see a guy of Kevin Durant's ability request a trade so early into a deal. Durant has 4 years left on the deal and has nominated Phoenix and Miami as potential destinations that he would prefer to land in. For Brooklyn, I some what like the deal if it was just for Kevin Durant, you acquire Donovan Mitchell a very good scorer and all-star calibre player, but Ben Simmons needs to move if you want to acquire him due to the rules surrounding Designated Rookie Extensions. You also acquire Mikal Bridges the ideal 3 and D wing in todays game and Myles Turner, a stretch 5 that rim protects on a similar level to a Rudy Gobert. I would love to see a re model of the deal where I see Brooklyn getting 2 FRP from PHX, a Pick Swap and then ideally if I am Brooklyn. I am entertaining this deal as it also gives Brooklyn some much needed draft capital as currently Houston owns most of their draft future.

Phoenix-
For Phoenix, this is almost a dream scenario. You're giving away a lot of draft capital and reminding me of the LA Rams mantra of F them Picks, but I like the move. Chris Paul isn't getting any younger and locking Devin Booker up for another 4/5 years pairing them with Kevin Durant makes them a serious contender in the West. By giving away a lot of draft capital you also lose minimal depth you can keep Cameron Johnson on your roster, and he can be a nice piece in a future deal, and Ayton is already halfway out the door to Indiana. You get Kevin Durant for 4 years, and you're now the favourite in the West. Well done James Jones and co.
Indiana-
There are two ways this goes for Indiana and the way that goes determines my opinion of this trade. If you have the chance to sign Ayton to an offer sheet and you don't. I hate this deal, why throw in assets for a man that wants to play in Indiana. Don't sign and trade the guy. SIGN HIM!!! But knowing who Herb Simon is and that due to their lack of front court depth Phoenix will most likely match the offer sheet on Ayton. A sign and trade for Ayton is helping this Indiana team build a scary group for the future. Ayton is a colossal lob threat paired with a gifted pass-first point guard like Tyrese Haliburton, and you may see lob city in Indiana. A potential starting 5 for the future of Haliburton, Duarte, Mathurin, Smith and Ayton would have other teams quaking in their boots. Myles Turner and a first that will likely land in the 20s is a nice price to pay for a player of Ayton's capability. If the Pacers can get him outright without parting ways with assets they need to. If not, I won't be angry with this Sign and Trade for the former number 1 pick.
Utah-
If I am Utah, I am licking my lips at this deal. I still have Clarkson and Bojan Bogdonavic who both command first draft picks in a trade on my roster. I have begun my rebuild by trading Donovan Mitchell, Rudy Gobert and Royce O'Neal for 10 FRP and 3 Pick Swaps. If your Utah, you join Sam Presti and look like a GM messiah and have a very sound springboard into contention, as well as being bad enough to have a chance to land Victor Wembanyama a guy who is touted to be the best prospect since LeBron. I also acquire Ben Simmons, who may have baggage but in quiet Salt Lake City, there isn't much else to do aside from play basketball and no longer than 18 months ago were we talk about Ben Simmons as a multiple all-star and potentially a DPOY. You also get Cam Thomas from Brooklyn an instant offense guy that scores buckets for fun. I like this deal for Utah even with the changes to the draft picks I spoke about earlier.
So, after my comparison and reflection I have elected to remodel the trade to what I think is the best outcome for all parties.
Brooklyn- Donovan Mitchell, Mikal Bridges, Myles Turner, 2 FRP from PHX, 1 Pick Swap from PHX
Phoenix – Kevin Durant
Indiana- Deandre Ayton
Utah- Ben Simmons, Cam Thomas, 3 FRP (2 from PHX, 1 from CLE via IND) and 2 Pick Swaps from PHX.
Who says no?
You decide.

Must See
The NBA 22-23 season has kicked off with incredible momentum. Even though each team...

Finally the time! The 2023 draft is one of the best in league history...

Every single season there are a few players that crack through and become first...