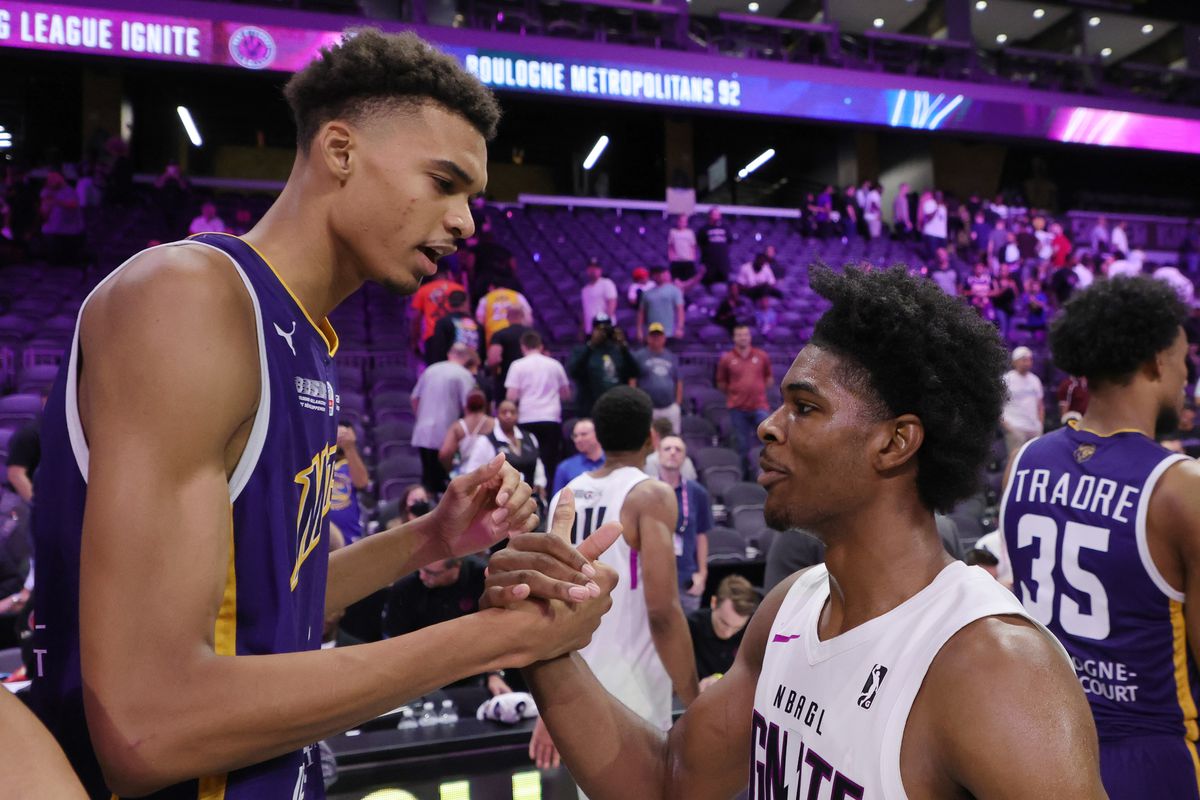 Although the playoffs are currently going on now, not all fanbases get to experience the playoffs like the fans of the teams do. That's where the 2023 NBA draft comes in. Looking forward to getting a top prospect to potentially change the outcome of their respective teams is why the draft is such an interesting experience.
One thing that's underrated for a player being drafted is where they get drafted. Are they a good fit? Sometimes where you land depends whether you become a star or not. Getting the right opportunities and being in a position to succeed is essential.
Let's get into some of the top fits for the best 2023 NBA Draft prospects…
Victor Wembanyama, F/C, Metropolitans 92 (7'4)
Best team fits: San Antonio Spurs, Detroit Pistons, Indiana Pacers, Portland Trail Blazers (tbh, any team)
Why for Spurs: I mean this is probably the easiest question of the day. The Spurs were the worst team in the league in opponent points in the paint, Wembanyama would help a lot of the issues down low. They haven't had a consistent big man since well… Lamarcus Aldridge/Tim Duncan. Wembanyama's length and defensive awareness would immediately boost the Spurs in both areas. Making stops on the defensive ends and allowing for more fast break opportunities.
Why for Pistons: Some might say they already have something going on with James Wiseman and Jalen Duren, but they're not Wembanyama. His ability to score from anywhere and be a beast on the defensive end would only make them much more scarier once Cade is back. A trio of Cade, Ivey, and Wembanyama would arguably be one of the best young trios in the league.
Why for Pacers: The Pacers have Myles Turner who's been great defensively and just had his career best season with his first season with Haliburton. Why would the Pacers want Victor still? Wembanyama is a generational level talent, when you can get a player like that, you get him. Pacers were one of the worst teams in the paint. They also were 2nd in allowing the 2nd most second chance points, having a big-man duo of Turner/Wembanyama would be a nightmare for opposing teams.
Why for Trail Blazers: The most glaring weakness for the Trail Blazers is their interior defense and interior presence. They have zero. Even though Nurkic has been a solid center in the past, he's clearly regressed. He was at least an average defensive center before, but now, he's not even close to that. Very slow to his feet and unable to switch, giving away free buckets. Victor would probably make the biggest impact on the Trail Blazers of all teams. Pairing him with Dame, Simons, and Grant, sheesh. If the Trail Blazers somehow win the lottery, they might have something brewing.
Scoot Henderson, PG, G-League Ignite (6'2)
Best team fits: Houston Rockets, Washington Wizards, Utah Jazz
Why for Rockets: The Rockets are in need of a point guard desperately. Henderson would come in and be the primary ball-handler immediately. Jalen Green and Kevin Porter Jr. can run the offense here and there, but they're not actual playmakers. He'd come in and be the franchise leading guard to pair with Jalen Green. They'd have one of the more explosive guard duos in the league.
Why for Wizards: The Wizards haven't had an actual point guard since Westbrook left. If they can get Henderson, they need to trade away Bradley Beal immediately. Building around Henderson and giving the franchise and their fans some hope would be needed. As it current stands, the Wizards are built to be mediocre, but getting Henderson would change that. His ability to attack the rim, make plays on fastbreaks, and be a weapon always will bring much-needed excitement to the Wizards fanbase. They don't even need to do this for the team, but for the poor fans that have dealt with mediocrity since the Wall, Beal, and Porter Jr. trio days.
Why for Utah Jazz: After watching the Jazz this season, there was one glaring weakness always. They didn't have a true point guard. Mike Conley was cool, but he wasn't the player he once was at all. Getting Henderson to pair with Lauri Markkanen could help them to make some noise in the West.
Brandon Miller, SF/PF, Alabama (6'9)
Best fits: Indiana Pacers, Charlotte Hornets
Why for Pacers: The Pacers have a decent amount of talent and if they were healthy, I'm sure they would've made the playoffs or contended to make it legitimately. One of the more glaring weaknesses I did see from them was the lack of a true primary scorer. Sure, Haliburton can score here and there, or Mathurin can get hot, or Turner can be a weapon sometimes, but they don't have a primary scorer a top team does. Getting Brandon Miller who can score from anywhere and be the primary scorer immediately, he'd be the missing piece for the Pacers to be a perennial playoff team and potentially a contender one day.
Why for Hornets: If Miles Bridges didn't pull the act he did last year, I wouldn't have them on this list. Brandon Miller would come in and be another outlet player for LaMelo Ball. He'd command the ball and be able to take over when needed. Not only can he score from anywhere, he's great at it. He shot over 38% from three from really good volume (7.5/game).
Cason Wallace, PG, Kentucky (6'4)
Best fits: Washington Wizards, Portland Trail Blazers, Detroit Pistons
Why for Wizards: Arguably the biggest weakness for the Wizards is their perimeter defense. Just absolutely horrendous. Getting Wallace, who's arguably the best perimeter defender in the league and has gotten comparisons of Jrue Holiday, would fit in like a glove. Giving the Wizards a future PG prospect that can defend could probably bring them the most impact of all players in the draft (other than Victor of course).
Why for Trail Blazers: I'm not saying Wallace is a Lillard replacement, more of a compliment to Lillard. Bringing a perimeter defender that can take the assignment of the best opposition perimeter player. He'd come in and be very impactful for the Blazers.
Why for Pistons: Getting another ball handler other than Ivey and Cade couldn't hurt and also a defender to pair with the other young perimeter players. Wallace wouldn't need to score a lot of points, but his impact will be making plays, shooting 3s, and being a lockdown defender.
Anthony Black, PG, Arkansas (6'7)
Best fits: Dallas Mavericks, New Orleans Pelicans, Houston Rockets
Why for Mavericks: One of the biggest weaknesses that was noticed after the Kyrie trade was the lack of defense for the Mavericks. Getting rid of one of their primary perimeter defenders in DFS hurt them more than they thought. Black gives the Mavericks insurance in the short term to replace Kyrie as a second ball-handler if he leaves and also as a long-term answer as a defender to pair with Luka. Black can make plays with the ball in his hands but also be a solid all-around defender with his size.
Why for Pelicans: Although I loved the pick of Dyson Daniels last year, I don't think getting another PG prospect to pair with Brandon Ingram and Zion can hurt. Black can make plays for others and also defend at a high level. He won't have to score a lot of points, but more of take the tough assignments and be a consistent 3rd option.
Why for Rockets: Defense, playmaking, and size. Literally the 3 most important things that the Rockets need all in one.