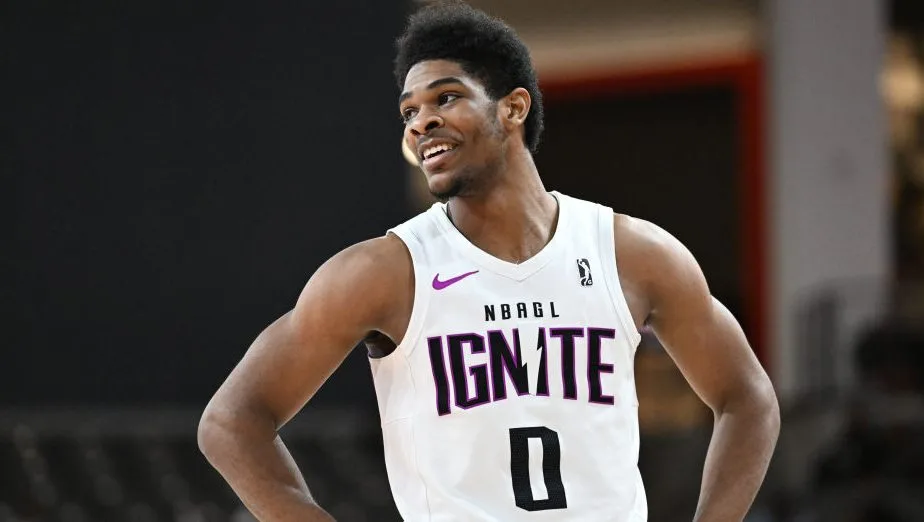 I think every player in the NBA is different and for that reason, I am not a big fan of comps for prospects. With that being said, people love comparisons and although I know it will make me look dumb in the long run, I enjoy doing them.
Comparisons are tough so be sure to read the descriptions and view these comps as a 75% outcome as the odds are more than half of these guys won't reach the level of their comparison.
Anthony Black: Lonzo Ball
Anthony Black has grown on me lately. I still don't see the Anthony Black stardom case but the combination of size, playmaking, and defense reminds me a lot of Lonzo Ball. In his rookie season, Ball was a poor shooter that found ways to impact the game in other ways. I anticipate Anthony Black to be very similar as I do not believe in his jump shot.
Gradey Dick: Kevin Huerter
To be honest, this is my least favorite comparison because I think Gradey Dick can be better than this. Both Huerter and Dick are lights-out shooters that move phenomenally off the ball. That said, Gradey Dick is a great cutter, an underrated athlete, and has a basketball IQ that results in him always being in the right place at the right time. Dick also has some quiet playmaking flashes that under the right system may come to light.
Keyonte George: Donovan Mitchell
I love Keyonte George but I understand this is probably an 80% outcome for George. George is a potent scorer who shows flashes of being an incredible shooter. That description is the same for other great scorers like Cam Thomas or Jaden Hardy but the difference is George has shown he is capable of playmaking and even being a good guard defender. Odds are George never reaches Mitchell territory but he fits a similar mold and play style.
Scoot Henderson: Dwyane Wade
Yes, Wade is 2 inches taller but I like this comparison. Two spectacular athletes that can score at all three levels, are playmakers for others, and are hard-nosed defenders. I actually believe Scoot will be a better playmaker than Wade was but that is necessary considering his 6'2 stature. Scoot has good touch and is great in the mid-range so I do not have many worries about his three-point shot coming around.
Taylor Hendricks: Jaden McDaniels
I love Taylor Hendricks and have little doubt he will be a good NBA player. At 6'9 Hendricks has a good jump shot but his calling card is defense. I like the McDaniels comparison because of the combination of offensive potential and defense. A strictly defensive comparison would be Herbert Jones. Forwards who can protect the rim and switch out onto the perimeter are incredibly important in today's NBA which is why Hendricks will be a lottery pick.
Jett Howard: Khris Middleton
I don't love this comparison but it can be viewed as a higher outcome comparison for Jett Howard. I love the way Jett moves off the ball and believe he will be a knockdown shooter in the NBA. I think the handle is good but am not yet sure if the creation is good enough to warrant a Khris Middleton comparison. Middleton is a tough shot-maker like Jett but a better defender and creator than Howard. If Howard develops and uses his frame as he should, this comparison is not out of reach.
Brandon Miller: Between Brandon Ingram and Paul George
In the last month or two Brandon Miller has gone from a good top-ten prospect to a potential star in my mind. The Paul George comparison for prospects is much overused so I added Brandon Ingram but I do think Paul George is a good comparison. Smooth three-level scorers are hard to come by at that height which is why Miller is looking more and more like a top-five pick lock come next June.
Brice Sensabaugh: Cam Thomas
Well-rounded scorers that struggle as facilitators and on the defensive end. Sensabaugh is one of the most efficient three-point shooters in this class being able to score both on the ball and off the ball. My only hope is that with this comparison, Sensabaugh will not be as streaky or ball-demanding as Cam Thomas has been in the NBA.
Nick Smith: Tyler Herro
I like Nick Smith but don't think I quite get the hype around him being a potential top 6 pick. I love the scoring potential at all three levels but it has not quite materialized yet in college. In high school, Smith showed much more both defensively and as a playmaker. Without those skills, stardom seems far-fetched but being a heat-check player like Tyler Herro is within reach. Smith is someone that teams will for sure keep an eye on in the pre-draft process.
Amen Thompson: Shai Gilgeous-Alexander/Ja Morant
I like the SGA comparison because both SGA and Amen can get into the paint with ease and there is not much you can do to stop them. From an athletic point of view, Ja Morant is a better comparison as Amen will be one of the best athletes in the NBA the first day he gets there. The shot is concerning but between the athleticism, defense, and playmaking I would not hesitate twice to take him in the top four.
Ausar Thompson: Andrew Wiggins
I would say a more accurate description would be, present-day Andrew Wiggins with young Andrew Wiggins athleticism (which is a hell of a player). Ausar's handle is great and his defense is incredible. The shot is still ugly but it looks a lot more fixable than his brother's. I like Amen more as a playmaker but Ausar has all the tools to be a really impactful NBA player.
Jarace Walker: Julius Randle
This is probably more of a frame comparison considering Walker is a better defender and Randle is a better offensive player but I still like it. At 240 lbs, Walker is a pest on defense breaking up passing lanes, guarding pick and rolls, and locking down the post. Offensively, I think Walker is not as far along as others do. Catch-and-shoot 3s could be part of his game early on but don't think he has a lot of creation. If he can turn the "flashes" into legitimate play, he could be Randle but better.
Cason Wallace: Jrue Holiday
I LOVEEE this comparison. I am normally against taking non-sure-fire all-star point guards in the lottery but I think Wallace will have a massive NBA impact. Wallace's screen navigation is incredible and is sure to give NBA guards a headache. Similar to Jrue, Wallace may not be a perennial all-star but he is a guy that could start on a contending team.
Victor Wembanyama: Ralph Sampson
This one is tough but Sampson is the only player in NBA history to combine Vic's size and fluidity. Sampson did not have the modern skill set that Vic has but that is more a result of era as shooting and creating were not what bigs usually did. With Sampson being the only player ever to combine size and fluidity like Vic it becomes scary considering injuries ended Sampson's career. Like Sampson, if Vic does not get hurt he will go down as one of the greatest players to ever play.
Cam Whitmore: Miles Bridges
This is strictly an on-court comparison I hope (yikes). Whitmore is a freight train running on the open floor and has the athleticism to make any player vulnerable for a poster. With a 6'10 wingspan, Whitmore should be a good defender at the next level. I am unsure of what level of creator he will be but he will be a nightmare off the ball.

Must See
We're near the end of the electric NFL free agency that we were blessed...

So it's been about a week since free agency has started and boy, has...

The 2023 NFL Draft is upon is within the next month and it's time...