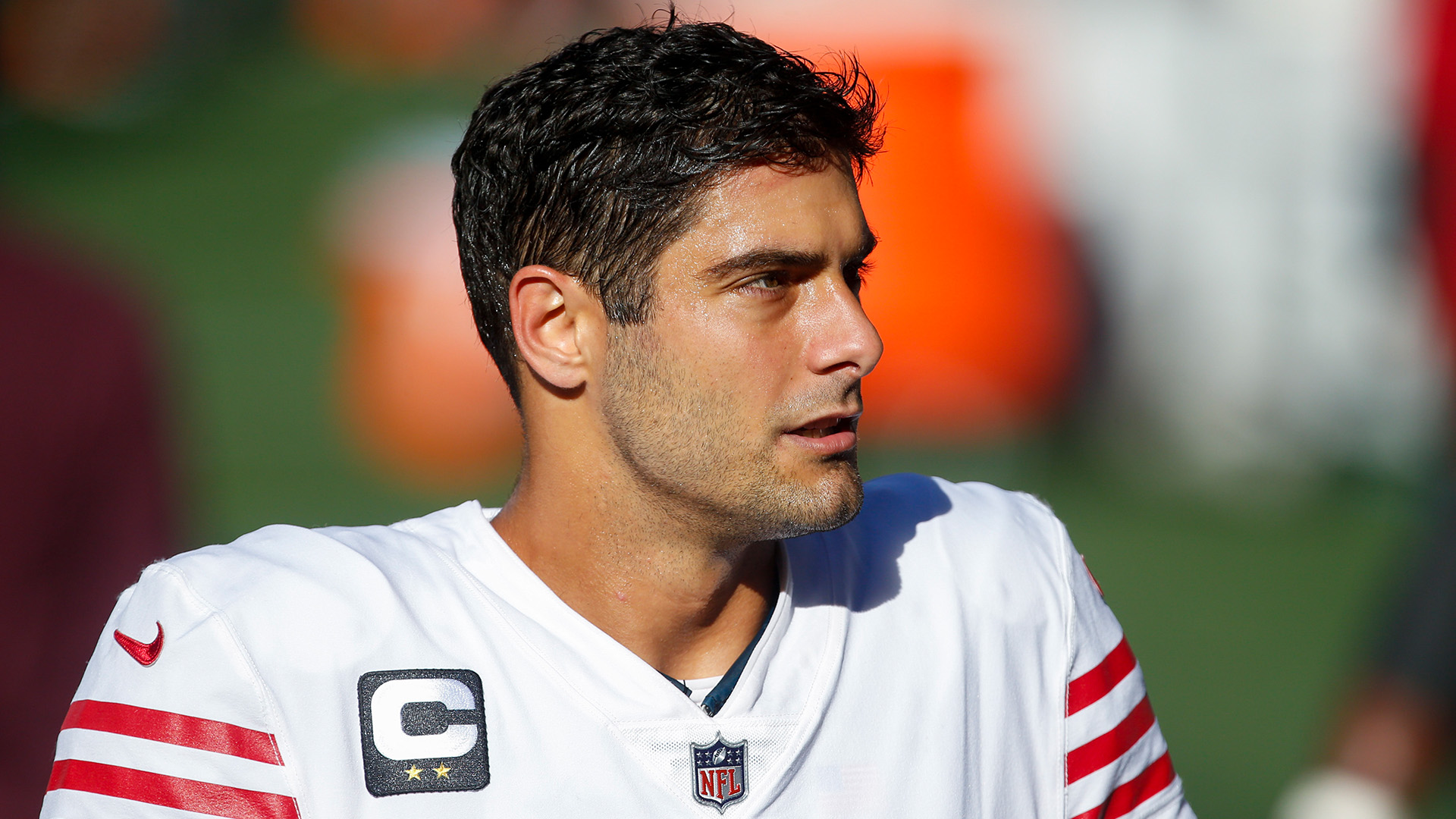 According to reports coming from San Francisco, Trey Lance is looking excellent and getting close to starter reps. The 49ers front office believes that Trey Lance is ready and believe they should move on from Garoppolo this season, which I think is a mistake, but I would be more than happy to be proven wrong.
The 49ers have given Garoppolo permission to seek a trade, but many of the NFL teams already have a starting quarterback penciled in, but Garoppolo is well above average. When healthy in San Francisco, all he has done is win regardless of how ugly it has looked.
Although heavily criticized for his play very frequently for falling short, in his 5 seasons with the 49ers, he has won 65% of his games. The 49ers are 24-9 with him vs 5-23 without, so this notion that he is being carried by his coaches play calling and the talent around him is slightly ridiculous.
In the 2021 season, Joe Burrow had the highest percentage of on-target throws at 82.8%. Guess who's second and not that far behind, Garoppolo with 81.5% (Pro Football Reference).
The 49ers are allegedly in no rush to move Garoppolo, but he is a cap hit of $26.9 million. This is a lot of money to be paying a quarterback. The 49ers probably shouldn't keep him longer than they need to for the locker room and Trey Lance's sake, but they might end up keeping him if the proper package is not offered.
Here are the best destinations for Jimmy Garoppolo if he was bought out or traded:
Tampa Bay Buccaneers
Tampa Bay would be a shot in the dark, since this would only be possible if Jimmy was bought out and cleared waivers. And he would have to be willing to take a back up role to Tom Brady after he indirectly called him a bum in an interview on HBO. But for the Buccaneers it would make total sense. This roster is one of the best in the league with or without Tom Brady. With one of the best offensive lines and best receiver cores in the league, Garoppolo could keep this team more than relevant for years to come.
Miami Dolphins
The Miami Dolphins went all in this off season on making this roster they best they possibly could. This is the make-or-break year for Tua, if he is healthy, he has no excuses for not playing well this season. That being said, Garoppolo would be a great 1 year back up for the Dolphins. The addition of Garoppolo would mainly accomplish 2 things:
Put pressure on Tua
Have a great backup if an injury were to happen
We know Garoppolo is a great in a YAC system based on what we've seen in SF and this team is built to do just that with explosive players like Tyreek Hill and Jaylen Waddle. This has very little downside for the Dolphins as well, if Tua plays well, let Jimmy walk, if Tua plays bad, let Tua walk. On top of all of this, Mike McDaniel and Garoppolo would be more than happy to be reunited with each other.
Pittsburgh Steelers
Trading Garoppolo or signing with them would be an interesting situation. I think this scenario is much more feasible if a trade were to happen, but I do not believe Pittsburgh would be willing to offer him a contract if he was to be bought out. The Steelers just drafted Kenny Pickett and signed Mitchell Trubisky. Garoppolo should easily beat out Trubisky in training camp if bought out, but I don't think that's a QB competition the Steelers or Garoppolo want to take part in.
But if the Steelers were to trade Trubisky plus a mid-round draft pick for Garoppolo, this would be a home run acquisition for both teams. Trubisky and Lance have fairly similar skill set in terms of speed and throwing ability, so if Lance were to ever get injured, Trubisky would be an excellent backup in a very competitive division.
Cleveland Browns
This would be a similar situation to the Dolphins, but for different reasons. Deshaun Watson's future is very unclear at the moment. The contract he signed with the Browns makes things even more interesting since they gave it to him with the expectation he would be suspended and backloaded it to make sure he receives all of it.
If Deshaun Watson were to be suspended for anything less than a season, it would be shocking to say the least. Considering players have been suspended for longer for using Marijuana, Watson should receive a lengthy suspension.
But this roster is ready to be a contender. With the addition of Amari Cooper, this roster finally has the true #1 receiver they have been lacking in recent years. With 2 elite running backs in the backfield, arguably the best O-line, and one of the better receiving groups in the NFL, the Browns would be wasting a year if they did not find a viable replacement for Watson if he gets suspended. They did sign Jacoby Brissett as a safe option, but he has had high expectations everywhere he has gotten starter reps and has fallen short.