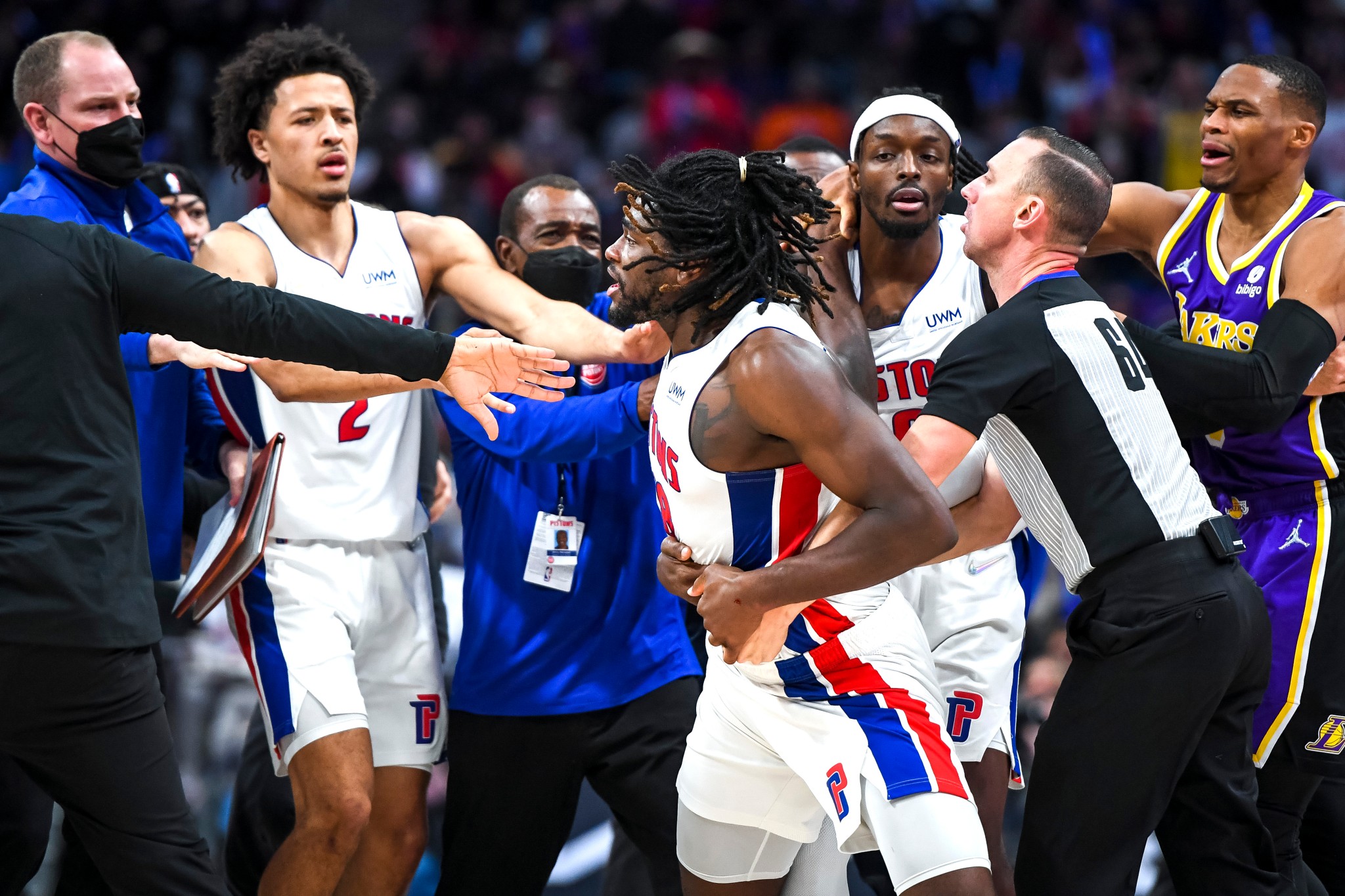 Two nights ago, the Lakers traveled down to Detroit to play the Pistons, and things got a little rough.
The Start of the Scrap
It started in the third quarter, with 9 minutes left, and Jerami Grant was shooting his second free throw, his team being up by 11. Lebron James and Isaiah Stewart were lined up on the left side, and when the shot went up, James went to box out, and his wrist went into Stewarts eye. James immediately went to apologize, but that's when all hell broke loose. Stewart immediately got back up, and ran straight at Lebron! All the players, coaches, and even security stormed onto the court to break the fight up. Stewart would get pushed back, and then run at the Lakers again. It seemed as if he would never cool down, storming past his team. And even when Stewart was escorted to the locker room, the Lakers were warned of the possibility of Stewart running through the stadium's tunnel to the other side of the court, where the Lakers bench was.
What Should Have Happened vs. What Actually Happened
Although Stewart started to bleed bad from his eye, there is no excuse for what he did. As of yesterday, Stewart is only suspended for two games. It does not look like there will be any incoming fine, which seems crazy when watching videos of what happened. And for the first time in his career, James must serve a 1 game suspension. James was ejected and suspended for unnecessary contact. While the aftermath of the hit on Stewart looked real bad, it was clearly not on purpose because James immediately went to apologize. James should not have to take any time being suspended from this accident, but sadly, after 19 years, and 1,318 games played, Lebron has now been suspended for the first time.

Check out our new podcast episode!
Got Hoops Podcast
A new up and coming basketball podcast by 4 dedicated NBA and basketball fans. It's for fans, by the fans.
Got Hoops Podcast (Ep.20): The Return
Search Results placeholder
Must See
The NBA season is in full swing, and teams have already begun to switch...

If I were to tell you that on an NBA team, a player who...

Regardless of our initial expectations, the NBA is always full of surprises. Whether we...