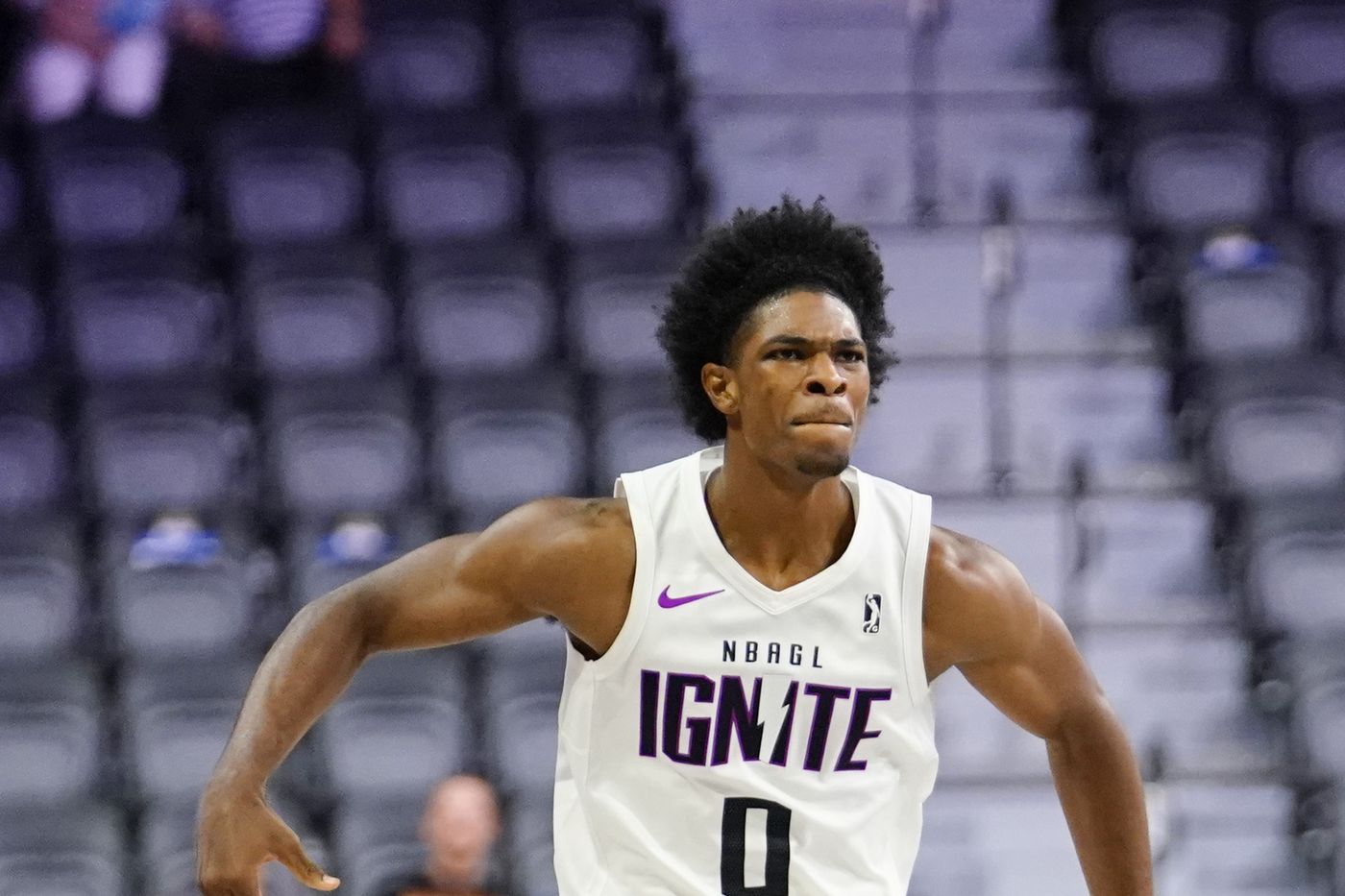 It is Mock Draft Season!!! Last year I refused to do mock drafts until the lottery but my attitude toward them has changed. Because the standings can and will change so much before the final order is set I simmed a version of the lottery (also the standings were as of 12/13).
Don't take who your team takes too personally as it is SOOOO early and players in teams will be in completely different slots once the draft comes.
If you missed my Big Board 1.0, check it out HERE!
1. San Antonio Spurs: Victor Wembanyama, Alien, Metropolitans 92 (France)
Current Big Board Rank: 1
Does this pick really need that much explanation? San Antonio instantly becomes one of the most watchable teams in the NBA pairing Vic with talented young players such as Devin Vassell, Keldon Johnson, and Jeremy Sochan. With the infrastructure already there, I have no doubt San Antonio would be well on its way to contention.
2. Chicago Bulls: Scoot Henderson, Guard, G-league Ignite
Current Big Board Rank: 2
The Bulls owe their pick to Orlando unless it is in the top four, so this is an absolute dream for them. Scoot is the clear #2 overall pick and allows Chicago to move in whatever direction they want. The Bulls can choose to compete by pairing Scoot, LaVine, DeRozan, Vucevic, and the rest of the team, or (and my choice) they can move the veterans I just listed and build around Scoot. There are a lot of exciting possibilities for Scoot but him landing in Chicago just maybe my favorite.
3. Orlando Magic: Amen Thompson, Guard, City Reapers (OTE)
Current Big Board Rank: 3
The size and versatility of the Orlando Magic is already impressive and just gets better with the addition of Amen Thompson. A 6'7 guard who can score, pass, and defend at a high level is very enticing and fits perfectly next to Paolo, Franz, and Suggs. The shooting is a big worry but Amen does nearly everything else on the court at a high level and is a special enough athlete that you can't pass him up. The rim pressure Amen will generate in Orlando will only create more opportunities for the rest of the team.
4. Charlotte Hornets: Cam Whitmore, Wing, Villanova
Current Big Board Rank: 5
Cam Whitmore got a late start to the season only playing 3 games so far after coming back from injury. The Hornets lack any sort of wing creation and Whitmore immediately helps fill the Miles Bridges role. A strong framed 6'7 wing with a good handle and improving jump shot sounds like exactly what Charlotte needs. The Hornets are many pieces away from being good but Whitmore helps kick off what I would expect to be a multiple-year rebuild.
5. Detroit Pistons: Ausar Thompson, Wing, City Reapers (OTE)
Current Big Board Rank: 4
I just LOVE this fit. Nick Smith seemed like a stretch here with a backcourt already featuring Cade, Ivey, and immerging Killian Hayes. Instead, the Pistons go with a wing that fits seamlessly next to the guards and Jalen Duren. Early in his career, Ausar can be a good defender, generate rim pressure, and be fun in transition. With that being said I am much higher on the mechanics and improvements made in Ausar's jump shot than Amen's. If the shot comes around, Ausar could be an Andrew Wiggins-type player for the Pistons.
6. Houston Rockets: Nick Smith Jr., Guard, Arkansas
Current Big Board Rank: 6
If Houston isn't going to get a top 3 pick, this is the dream. The Rockets are full of needs but the biggest one has to be a true point guard. Kevin Porter Jr. is a skilled player and may have a successful career as a 6th man but he is not a franchise point guard. Nick Smith Jr. on the other hand is everything you want from a lead guard. Smith is a sharpshooter, who can pass, and has the measurements to be a good defender. I would like to see Smith get to the rim more but outside of that, he is a great fit in Houston.
7. New Orleans Pelicans (via Lakers): Keyonte George, Guard, Baylor
Current Big Board Rank: 9
New Orleans is emerging as a serious contender to win the title and could have a lottery pick. The Pelicans have a lot of flexibility in what they want to do with this pick (including moving it) as they are already talented and deep. Here I have them taking CJ McCollum's eventual replacement in Keyonte George. George has underwhelmed as a scorer this year (which is his main calling card) but I have been impressed by his passing and defense. The Pelicans would have the luxury of using George when and how they want which is a great position to be in as a young player.
8. Miami Heat: Anthony Black, Guard, Arkansas
Current Big Board Rank: 8
Heat fans are really hoping they aren't in the position when the season actually ends. The Heat don't like total rebuilds so GG Jackson seems too raw for their liking. Not considering him, I have Anthony Black as the best player available. Black is a 6'7 guard with passing ability and defensive versatility. In the Maui Invitational, Black grabbed my attention not only with his skills but the intensity and passion he plays with is impressive and attractive to any team drafting in the lottery.
9. Washington Wizards: Brandon Miller, Wing, Alabama
Current Big Board Rank: 11
If I believed in Washington's developmental staff a bit more I would suggest other prospects but I believe in them maybe the least in the NBA. Brandon Miller started red hot but the consensus on him seems to be cooling off a bit. At 6'9, his fluidity and ball handling are enticing and so far he is shooting 43.7% from 3. With that being said, I am not yet sold on him as he will be 20.58 on draft night and he is shooting 39.5% around the room. Although it sounds funny to hear about someone shooting 43% from 3 on high volume I am not yet sold on his jumper. Miller's shot is stiff and his lower body is flat in terms of elevation and landing.
10. New York Knicks: Dariq Whitehead, Wing, Duke
Current Big Board Rank: 10
I was so high on Whitehead at the start of the season but he has been working his way back from injury and hasn't yet hit his full stride. Whitehead's numbers so far have been flat-out terrible but I fully expect him to turn it around before the end of the season. At this spot the Knicks need to take a swing for a star and can't afford to take more role players. GG Jackson is enticing but I have New York taking the 6'6 shooting guard.
11. Oklahoma City Thunder: GG Jackson, Forward, South Carolina
Current Big Board Rank: 7
The Thunder are selecting lower than expected by most people but still get someone oozing with star potential. With Giddey, SGA, and Chet already on the roster, GG Jackson fits perfectly at the power forward position. The Thunder have one of the best devolopmental teams in the country so I have zero fear in them taking the youngest player in the draft. Honestly anything Sam Presti touches turns to gold so whatever he does I'll support.
12. Utah Jazz (via Timberwolves): Kel'El Ware, Big, Oregon
Current Big Board Rank: 15
The Jazz can go multiple different ways as they have three of the next six picks and already have talent on the roster. Jarred Vanderbilt and Walker Kessler are currently getting the big minutes on the Jazz but neither is the long-term option. Here the Jazz roll the dice with Kel'El Ware who has two-way skills as a shot blocker while also showing shooting potential on offense.
13. Golden State Warriors: Jarace Walker, Forward, Houston
Current Big Board Rank: 12
At this point, if the Warriors miss the playoffs anything is on the table but for the sake of the exercise, I will just take the best player available which tends to be what Golden State does. Walker is a versatile big defender that would benefit tremendously from playing with Draymond Green. I still have major questions about Walker's offense but his motor and defense alone will make him a competent NBA player.
14. Utah Jazz: Cason Wallace, Guard, Kentucky
Current Big Board Rank: 16
Jazz are up again and with the wings on their roster looking solid they need more help at the guard position and Cason Wallace is the obvious choice. From an NBA success certainty point of view, I would say Wallace is a top 10 but his position is so much more replaceable than wings. I am skeptical that Cason Wallace will ever be an all-star but he could be a real contributor to a playoff team.
15. Brooklyn Nets (via 76ers): Jett Howard, Wing, Michigan
Current Big Board Rank: 14
The Nets need shooting and they can get that plus some potential with Jett Howard. At 6'8, Howard is a sharpshooter with good defensive skills. On top of that, Howard has had great flashes of self-creation in an isolation setting which could result in him being a steal for Brooklyn.
16. Toronto Raptors: Maxwell Lewis, Wing, Pepperdine
Current Big Board Rank: 13
How can someone shooting 60-50-80 go outside the lottery? Well, the short answer is he won't if he actually continues that the rest of the season. Lewis is such a well rounded player but I am not yet sure he has an NBA elite skill. I am intrigued how Lewis plays during conference play espcially against Gonzaga and Saint Mary's.
17. Utah Jazz (via Nets): Dillon Mitchell, Wing, Texas
Current Big Board Rank: 25
With this many picks, the Jazz can really take a risk with someone and they do that here with Dillon Mitchell. An athletic wing who defends well is in high demand in the NBA but his unwillingness to shoot any jump shot is both weird and alarming. With a lot of picks in the future, the Jazz have the flexibility to take risks.
18. Atlanta Hawks: Kris Murray, Forward, Iowa
Current Big Board Rank: 19
The Hawks have both existing and young talent at every position so I elected to go with the position with the least amount of future certainty. Kris Murray joining John Collins and Jalen Johnson makes almost zero sense but I'll assume some kind of trade is a part of this. Murray has played almost identically to his twin this season (no surprise) besides maybe the defense. A 6'8, three-level scoring forward is attractive and should lock Murray into the first round.
19. Indiana Pacers: Dereck Lively, Big, Duke
Current Big Board Rank: 17
I'll be honest I am writing these descriptions about 2-3 days after I made the selections and I already think I should have taken Lively earlier. At some point, I have to assume that Myles Turner won't be on the team (as I've assumed for the last two years) so Lively could fill that role. Lively's shot-blocking has been really good lately but I am curious about how the offense develops throughout the season.
20. Chicago Bulls (via Trail Blazers): Kyle Filipowski, Big, Duke
Current Big Board Rank: 24
The Bull's dreams already came true landing Scoot Henderson so now they must find a replacement big which they do pretty smoothly with Kyle Filipowski. My NBA comparison for Filipowski may just be Nikola Vucevic so his long-term succession makes sense. The defense so far has been surprisingly good for Filipowski but I want to see if that holds once ACC play starts.
21. New York Knicks (via Mavericks): Baba Miller, Forward, Florida State
Current Big Board Rank: 22
Again, the Knicks need to go star hunting so Baba Miller is the pick. Miller has not played yet so it is hard to judge him too much but the tools and potential are very enticing.
22. Los Angeles Clippers: Terquavion Smith, Guard, NC State
Current Big Board Rank: 20
The Clippers do not nearly have the offense they thought they would averaging the second least amount of points in the NBA. Terquavion Smith is not the complete answer but he surely will help with his scoring ability from all three levels. Smith has been inconsistent at times this year so ACC play could swing his stock either way.
23. Charlotte Hornets (via Nuggets): Leonard Miller, Wing, G-League Ignite
Current Big Board Rank: 26
I was very against Leonard Miller last draft cycle and now I am starting to come around on him. The ball handling, playmaking, and defense are really good at his size, and the shot and scoring have sneakily been making strides. The Hornets are in a total rebuild and at this point they just need to acquire talent where they can.
24. Sacramento Kings: Rayan Rupert, Wing, Breakers (New Zealand)
Current Big Board Rank: 23
I'm not a total believer in Rayan Rupert but a 6'6 wing with a 7'3 wingspan and shooting potential is quite enticing. Based on those measurements it shouldn't surprise you that Rupert is a great defender but his offensive game still needs work. The wing position will most likely be the target of the offseason for Sacramento so I would expect Rupert, Hendricks, and Phillips would be considered here.
25. Memphis Grizzlies: Taylor Hendricks, Wing, UCF
Current Big Board Rank: 18
Since making this mock draft I am already higher on Hendricks than I was. I am not convinced the self-creation will ever be at an elite level but the 3 and D potential is very high. Memphis is already incredibly deep so adding wing talent should be their goal with draft picks. The Grizzlies are another team that just doesn't get picks wrong so I would support anyone they take here.
26. Indiana Pacers (via Cavaliers): Julian Phillips, Wing, Tennessee
Current Big Board Rank: 28
Similar to Utah, Indiana already has talent on the roster and three picks this draft. With Haliburton, Nembhard, Mathurin, and Duarte already on the roster, the Pacers should prioritize forwards and bigs in the draft. With Lively already being taken, the Pacers elect to go with an upside wing in Julian Phillips.
27. Los Angeles Lakers (via Pelicans): Gradey Dick, Wing, Kansas
Current Big Board Rank: 21
This is a dream scenario for the Lakers this late in the draft. Gradey Dick is an absolute sharpshooter at 6'8 but also is just an incredibly smart offensive player. Off the ball, he is a great cutter and he finishes very well around the hoop. The Lakers desperately need shooting and Dick gives that plus some.
28. Phoenix Suns: Marcus Sasser, Guard, Houston
Current Big Board Rank: 30
Cameron Payne is not a long-term backup and honestly, the Suns have zero long-term guards on their team. I am skeptical of Sasser being anything more than a bench scorer. With that being said the Suns don't even have that so they should target Sasser and figure out the post-Chris Paul point guard later.
29. Houston Rockets (via Bucks): Terrance Arceneaux, Wing, Houston
Current Big Board Rank: 34
Arceneaux is super raw but the Rockets are in a position to take risks already adding Nick Smith this draft. Arceneaux is the prototypical 3 and D prospect although the shooting has been really rough as of recently.
30. Pacers (via Celtics): Arthur Kaluma, Forward, Creighton
Current Big Board Rank: 41
This is a total guess but I just find it hard to believe the Pacers would take another guard or big. Kaluma 30% of the time looks like Paul George but the other 70% he looks like he has no idea what he is doing. Creighton is really struggling currently and Kaluma's play will be a key factor in if they turn their season around.