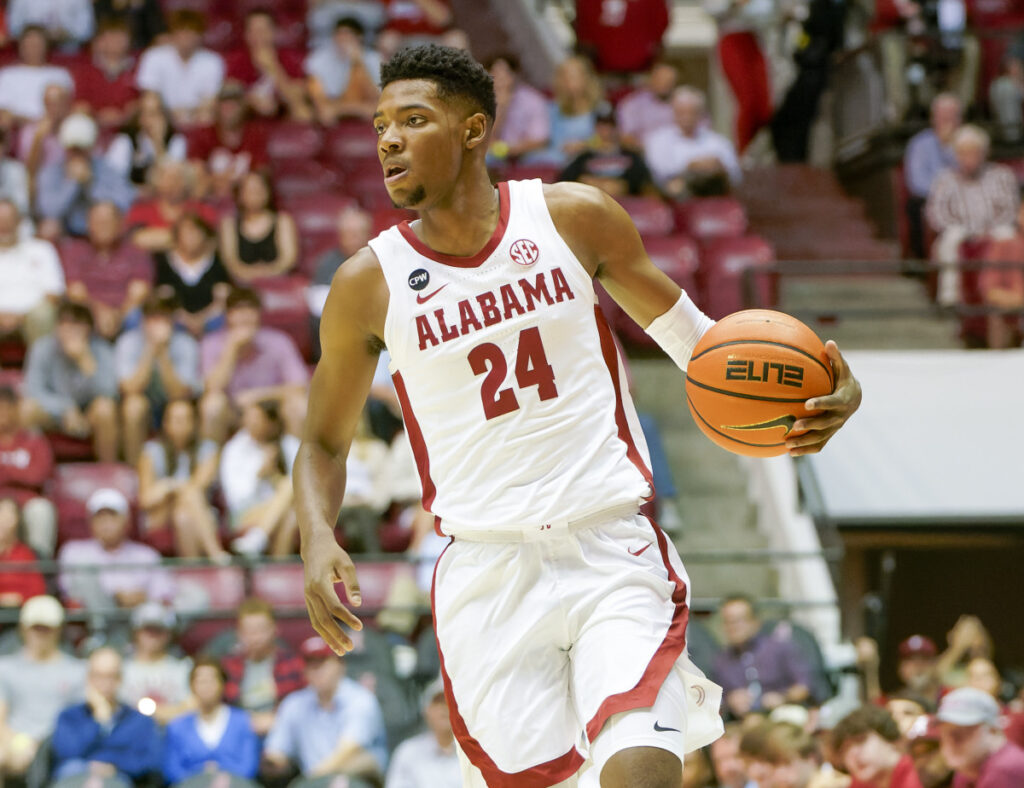 Conference play is starting in college basketball and the sample size is finally big enough we can judge prospects for how they have faired so far.
Although there are a lot of degrees to raising or lowering your draft I took a look at the 10 players that I feel helped or hurt their draft stock the most so far.
It is important to note that it is a long draft cycle and prospects' stock can still go in any direction.
Brandon Miller, Forward, Alabama
Stock Update: Up
Some are still undecided about where they fall on Miller but no matter which way you shake it he has increased his stock this season. Miller is an incredible sharpshooter, shooting 70% from three when left unguarded and 44.7% from three overall. At 6'9 these skills alone get him into the lottery but it is questions about his creation and finishing around the hoop that could keep him from being a top 8 pick.
When guarded, Miller's three-point shooting drops to 36.7%, and at the rim, he finishes in the 22nd percentile. Those paired with a 0.82 AST-TO ratio, some believe he will be more of a high-end role player than a star. Regardless, Miller has helped his stock tremendously and put his name firmly in the top ten discussions.
Dariq Whitehead, Wing, Duke
Stock Update: Down
Maybe this is unfair as Whitehead was hurt and through 10 games he is working to get his feet back under him but if I was selecting him I would feel much less confident than I did two months ago. With his small sample size, there really is not one single impressive stat from him. His efficiency, scoring, playmaking, and finishing have all been poor.
With that being said, similar to AJ Griffin last season, I would not be surprised if he slowly starts playing much better as the season progresses. Any progression will be a great sign for Whitehead but if he lacks progress or has another injury, Whitehead could be out of lottery discussions completely and the team may rely solely on high school pedigree when selecting him.
Jett Howard, Wing, Michigan
Stock Update: Up
At the beginning of the season, it was a question if Jett would be a one-and-done prospect and now it seems certain he will be. Jett is a good wing prospect with a strong defensive frame but similar to Brandon Miller concerns over his "star" potential could be what holds him back from being a lottery pick. Jett's shooting currently looks "good" but if he can raise his three-point shooting closer to 40%, he could see himself sliding into top ten discussions.
Dereck Lively, Big, Duke
Stock Update: Down
At the beginning of the season, it felt like Lively's stock could go either way depending on how he opened the season. So far, Lively has played poorly but more importantly, he hasn't had high-ceiling flashes. Currently, Lively projects to be a help side shot blocker and someone that can finish around the rim on offense. That alone makes it tough to justify taking him with a first-round pick.
For Lively to right the ship, he will have to show perimeter creation, shooting upside, or on-ball defense. It is a long season but based on what I've seen, I am not optimistic that he will show those. In high school, some thought the perimeter shot would come around but he has shot 3 three-pointers through 12 games and is yet to make one.
Maxwell Lewis, Wing, Pepperdine
Stock Update: Up
Lewis is a weird eval because he is scoring at a high clip while shooting an efficient 54-43-85 but outside of two games versus UCLA and Gonzaga, he has not played many good teams. With that being said, against Gonzaga Lewis dropped an efficient 20-5-5. It is early in the season so regression is very possible but if he keeps this production going he should be a top-20 pick lock come June.
Leonard Miller, Wing, G-League Ignite
Stock Update: Up
As someone who was not a fan of Miller in last year's draft cycle, I am surprised to have him here. Miller made a great choice by taking his name out of the 2022 NBA Draft and joining the G-League Ignite. Leonard Miller has guard-like skills in a forward's body. His jump shot is still iffy but he has shown real progression from last year when I thought it looked just broken.
With his frame, Miller can add size and be a really important wing defender. Offensively I am a big fan of Miller's ability to initiate and play make for others. If Miller continues to progress as a scorer in a very good league he should see his name called in the first round in June.
Dillon Mitchell, Wing, Texas
Stock Update: Down
Mitchell is an incredible athlete and versatile defender but his weaknesses are very glaring. As a cutter and lob threat, Mitchell is special but his shooting is not only bad but it is nonexistent. Through 14 games, Dillon Mitchell has shot ZERO 3-pointers. On top of this, he is shooting a bad 50% from the free-throw line and there are few reasons to suspect his shot will get better. Mitchell brings a lot to the table but without the jump shot, there is a ceiling on what he can be.
Gradey Dick, Wing, Kansas
Stock Update: Up
I could not be higher on Gradey Dick. At 6'8, Dick is a SHARPSHOOTER! Through January 6th, Dick is shooting 46.8% from 3 and nearly all of his shots are heavily guarded. Dick isn't just a shooter though, he is an extremely smart player that knows where to be on the court and how to move to create for himself and others. Dick is a sneaky good athlete (sneaky because he is white) who finishes incredibly around the rim.
I wouldn't say Dick is a great passer but he knows how to make quick one-more passes that set up his team well. Cutting is one of my favorite strengths of Dick as he uses the defense's face guarding him against him. As of now, Dick is a relatively atrocious defender but the offense is good enough that it is okay.
Chris Livingston, Wing, Kentucky
Stock Update: Down
There is not all that much to say about Chris Livingston he just has not looked like a pro. I struggle to find a skill or area of his game that makes me think he will be a great pro, instead he hasn't been given all that much opportunity with a struggling Kentucky team. It is hard to impress without touches but Livingston still has a lot of season to show he doesn't have to return to school next year.
Taylor Hendricks, Forward, UCF
Stock Update: Up
This is a simple one no matter what you think of Taylor Hendricks. Before the season, Hendricks was not thought of as a one-and-done and now his name is hovering around first-round discussions. 6'9 3 and D wings are not easy to come by so even with his flaws he is still an attractive prospect.

Must See
I swear I was writing a fun Kyrie to the Laker trade when the...

With the news that Kyrie Irving is being traded to Dallas, fans are already...

No matter what opinion you have of Aaron Rodgers off the field, on the...