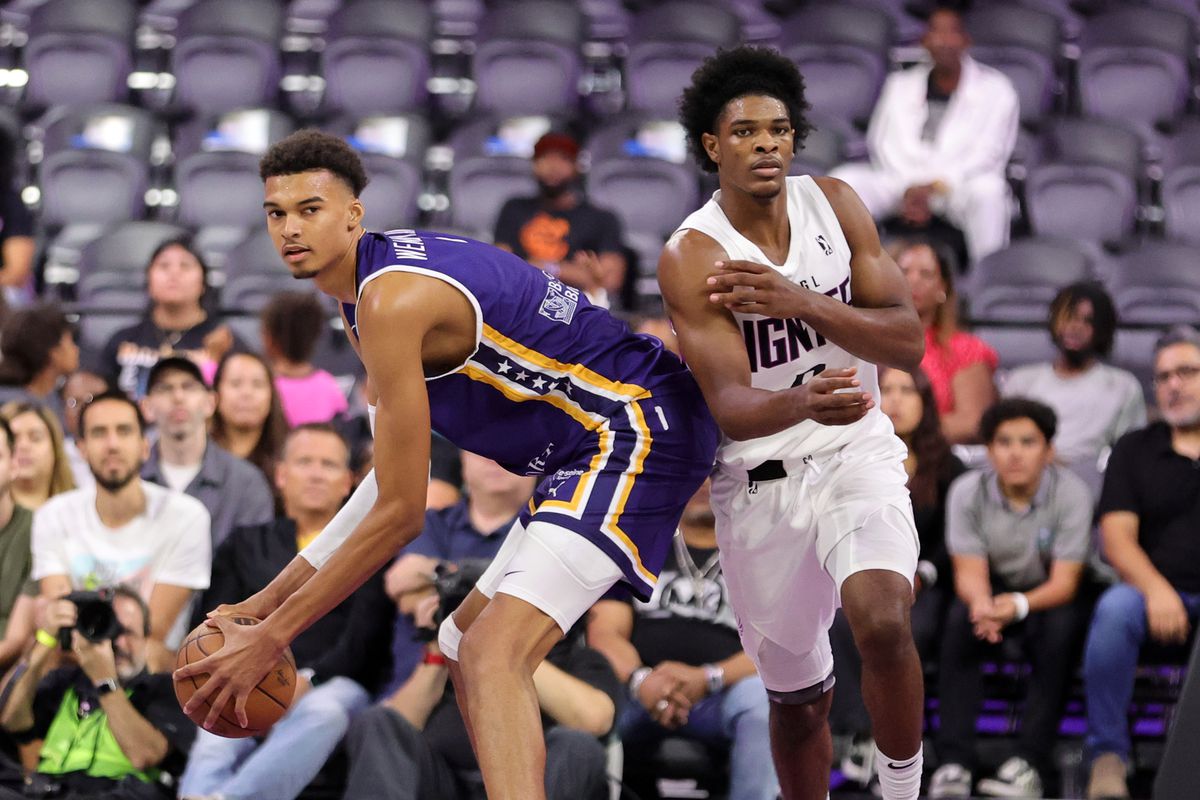 My final mock draft!
The draft is 3 days away, teams are almost ready, and the fans (me) are excited.
In this mock, I will not be doing trades as no one successfully predicts those. This mock I will be doing the full two rounds which almost certainly will be 100% wrong.
This mock IS NOT what I would do if I was a GM but instead what I believe will happen on June 22nd (outside of trades).
To see my personal opinion check out my final big board HERE!
1. San Antonio Spurs: Victor Wembanyama, Alien, Metropolitans 92
No brainer, the Spurs grab their franchise-altering player and one of the greatest prospects in NBA history. The Spurs have a fascinating offseason ahead of them with cap space and a young team. One option is the Spurs could elect to continue down the rebuild and sign younger free agents or take on bad contracts to acquire picks.
The other option is the Spurs could say screw it and try to make the playoffs next year by bringing in vets like Chris Paul or Fred VanVleet. Personally, I would continue down the natural path but I completely understand why a franchise-changing player like Vic would make you want to escalate the timeline.
2. Charlotte Hornets: Scoot Henderson, Guard, G-League Ignite
I understand all the buzz about Charlotte preferring Brandon Miller but I believe there is a good chance that is all smoke and they intend to take Scoot Henderson. Openly saying they will take Scoot would not be in their best interest as they would hope Portland overreacts and trades up or another team offers a massive package to move into #2.
Scoot and LaMelo aren't a perfect fit but they will be just fine as they are talented enough to make the fit work. On the off chance that the combination really doesn't work, Charlotte can elect to deal one of the two next summer.
3. Portland Trail Blazers: Brandon Miller, Forward, Alabama
Portland is in a weird spot but Charlotte taking Scoot at 2 makes their decision a little easier at 3. If Portland elects to keep the pick, Brandon Miller seems to be the route they will go down. Miller can play with Dame and the current Blazers roster but I question if he will be a true win-now player that helps them compete to the level Dame wants them to.
It seems logical to say that one of the 3rd pick or Damian Lillard will be traded but Portland has made questionable moves every offseason so we will just have to wait and see.
4. Houston Rockets: Amen Thompson, Guard, Overtime Elite
James Harden is the big name looming over this pick and Houston's offseason. If Harden is not coming to Houston, Amen Thompson is the logical pick here. 6'7 guard that in Udoka's defensive structure will thrive is enticing and I haven't even mentioned how he will be one of the best (if not the best) athletes in the NBA.
If James Harden does decide to come to Houston and the Rockets know this before the draft they could either deal the pick for a win-now player like OG Anunoby, Khris Middleton, and Zion Williamson (not sure that ones possible) or draft a player that better fits like Cam Whitmore or Jarace Walker. The tough part is that in all likely hood, the Rockets will not know so either way they have to go out on a limb.
5. Detroit Pistons: Cam Whitmore, Wing, Villanova
I know this pick is boring and I had it on Mock Draft 2.0 but it is logical and is what I think will happen. Whitmore adds wing scoring that Detroit lacks outside of Bojan Bogdanovic. Whitmore is not yet a complete player but he has shown the tools to be a very good NBA pro.
Cade Cunningham, Jaden Ivey, and Jalen Duren is a very good young core and it only gets deeper with the addition of Whitmore. Another possibility being rumored is the Pistons trading down in this draft to add more depth and assets. Outside of the players I just listed, the Pistons do not have any real assets going forward, and trading back could help that.
6. Orlando Magic: Anthony Black, Guard, Arkansas
Another pick I had in my other mock that I like too much to change. John Hammond is a fan of length at every position and Anthony Black gives the Magic that at point guard. Anthony Black is a good defender, good ball handler, and good passer, especially considering his size.
Black's self-creation is not bad but Arkansas's lack of spacing made it appear worse than it is. With NBA spacing Black should find more driving lanes which should only improve his passing and rim pressure. Orlando needs shooting but with another lottery pick, they can address that later.
7. Indiana Pacers: Jarace Walker, Forward, Houston
Jarace Walker gives the Pacers a long-term power forward that they haven't had in a while. Walker is a defensive monster that is big enough to guard up and quick enough to guard down. The offense is by no means bad, he is a good finisher, capable passer, and the shot is not far away from being acceptable. The Pacers start to expand their young core past guards and wings and now have a long-term frontcourt player that can play next to Myles Turner (unless they finally trade him).
8. Washington Wizards: Ausar Thompson, Wing, Overtime Elite
The Wizards are starting from scratch so they should simply take whomever they think is the best player available at this pick. Ausar Thompson is full of talent and if the shot ever comes around he easily could be a star.
Defense and transition will be Ausar's calling card early in his career but he has a lot of on-ball skills that should develop especially on a bad team like Washington. There is no "wrong" pick here for Washington because they are starting from scratch so they should take whatever player their scouting department likes the most.
9. Utah Jazz: Bilal Coulibaly, Wing, Metropolitans 92
Coulibaly has exceeded the timeline he was supposed to develop on. Coulibaly was an integral part of a team that went to the French championship game. It feels like Coulibaly has locked himself into the lottery but I believe he will go even higher than people think as he does here at #9.
I am a massive Couliably fan and think this would be a great pick by Utah to find someone to play in the frontcourt with Lauri Markkanen and Walker Kessler. Self-creation seemed like the last thing Coulibaly needed to add and he even showed his ability to do that in the playoffs. Couliably is only 18.90 on draft night and his ceiling is not even known by many.
10. Dallas Mavericks: Taylor Hendricks, Forward, UCF
It would make a lot of sense if Dallas traded this pick but for the sake of this mock Taylor Hendricks has to be the pick. After the Kyrie trade, the biggest weakness of the Mavericks was their defense and rim protection.
Right away, Taylor Hendricks helps that and adds shooting and a lob threat on offense. If the Mavericks can get a real playoff-level starter by dealing #10 they should do it but outside of that, Hendricks is a great choice.
11. Orlando Magic (via Bulls): Gradey Dick, Wing, Kansas
Here the Magic get to address their shooting need by getting the best shooter in the draft. I have written at nausiam how I believe Gradey Dick has more upside than he is being given credit so I won't speak on that now. Orlando has three great advantage creators in Franz Wagner, Paolo Banchero, and newly selected Anthony Black but creating advantages only matters so much if you can't capitalize on the open shots they generate.
Gradey Dick will capitalize on those open shots as he shot 40.3% from 3 last season. The selection of Black and Dick would start the real playoff contention level of play in Orlando and finish a foundation that they can build on.
12. Oklahoma City Thunder: Dereck Lively, Big, Duke
Chet Holmgren was the 2nd pick of the draft last season and is the big man of the future for the Thunder. With that being said, Oklahoma City was weak at the big position last year and it may not be a good idea to put all your eggs in the basket of a skinny big with a major foot injury.
Dereck Lively by no means takes Chet's spot because Chet is more of a true power forward anyway. If anything this gives OKC a twin-tower combo that will make anyone think twice before coming into the lane. I buy into Lively's shooting potential so this gives the Thunder a modern versatile lineup that should evolve together over the next decade.
13. Toronto Raptors: Kobe Bufkin, Guard, Michigan
Jonathon Givony reported that Kobe Bufkin has a good chance at going in the lottery and Toronto is among the teams interested. The Raptors taking Bufkin here makes sense considering one of, if not both of, Fred VanVleet and Gary Trent may be on their way out. There are a lot of different avenues that Bufkin's development could take him and the Raptors are one of the best teams to develop him.
The Raptors have an intriguing offseason ahead of them with big names either entering free agency or entering expiring contracts. With only Scottie Barnes seen as a true keeper on the roster and them owing San Antonio next year's pick, it is important that the Raptors hit with this pick.
14. New Orleans Pelicans: Jordan Hawkins, Wing, UConn
To be fair I am not yet sure what the Pelicans roster will even look like on draft night so it is the safe option to have them take a great 3 and D player with championship pedigree. Jordan Hawkins is a sniper of a shooter and a very capable on-ball guard defender.
There isn't much in between game and to put it bluntly, I don't think there ever will be, but that is okay as the Pelicans are well-rounded in most other categories. If Zion returns healthy and Brandon Ingram is still on this team, Jordan Hawkins could be an important piece on a contender in the West.
15. Atlanta Hawks: Jalen Hood-Schifino, Guard, Indiana
JHS has been a popular name in the rumors lately and the Hawks "steal" him right outside the lottery. The Hawks are well-rounded at nearly every position but I envision the Trae Young-DeJounte Murray backcourt coming to an end within the next year and a half.
JHS gives the Hawks an extra ball handler and someone that can step in the game if Young or Murray is ever hurt (or traded). There are questions about JHS's shot and finishing but his feel for the game and basketball IQ are too high for me to bet against him.
16. Utah Jazz (via Timberwolves): Cason Wallace, Guard, Kentucky
After grabbing Coulibaly, the Jazz's main goal should be addressing the long-term guard play, this is where Cason Wallace comes in. Wallace just has IT and shows it with his effort and motor on every play. Wallace hasn't shown that he can be a true point guard of a team yet but some of that is the circumstances of Kentucky's team last year.
The Jazz have 3 first-round picks this year and if they elect to keep all 3 they should swing for the guy they like at every pick. Wallace has Jrue Holiday-like upside and even if he ends up a backup point guard the risk was worth the reward.
17. Los Angeles Lakers: Keyonte George, Guard, Baylor
It is hard to find year-one impact players outside the lottery so the Lakers should draft for their situation as much as anything. With D'Angelo Russell looking primed to leave, the Lakers have a guard issue outside of Austin Reaves.
Keyonte George can take the ball up the floor, create plays, and hit shots which is what the Lakers need. George may not be in the playoff rotation in year one but he could add value in the regular season and give the Lakers a young piece to develop for when LeBron James inevitably leaves Los Angeles.
18. Miami Heat: Leonard Miller, Forward, G-League Ignite
The Heat love players who know their role and develop as players and I'm not sure you could describe Leonard Miller's last two years any other way. Last year I was not a fan of Miller but he was very impressive this season as a productive player in the G-League.
Even within this season Miller made some huge progress in his shot and had a bigger role in the offense as the season went on. We know how this goes in Miami and Miller won't be getting a lot of minutes year one but long term Miami will make him a valuable player.
19. Golden State Warriors: Jett Howard, Wing, Michigan
It sounds crazy to say but the Warriors needed more shooting last season. Outside of Steph and (sometimes) Klay the Warriors weren't a great shooting team and Jett Howard helps address that need right away.
Jett is 6'8 but shot 39% on catch and shoots last year and 48% on off-the-dribble shots. If those numbers translate year one the Warriors are already returning value on the pick. Jett has more potential than just a shooter but while Golden State tries to preserve the Steph Curry championship window his role might be just that.
20. Houston Rockets (via Clippers): Kris Murray, Forward, Iowa
If James Harden is coming and the Rockets are trying to push for the playoffs next season then they need year-one contributors. Kris Murray isn't perfect but he would play in their rotation right away. With long arms and a good frame, Udoka would love Murray on the defensive end of the floor.
On offense, Murray is a great connector piece and can hit shots. Harden is known for elevating 3 and D players so this pick could be mutually beneficial for the Rockets and Kris Murray.
21. Brooklyn Nets: Brice Sensabaugh, Wing, Ohio State
The Nets have two picks here and not much on the roster outside of Mikal Bridges, they should designate untouchable. Sensabaugh is a pure bucket getter and in Brooklyn, he would be given the offensive flexibility to adjust to the next level and fine-tune his skills so he can produce. The way I see it the Nets have three options this summer:
1 – Package assets for star (i.e. Damian Lillard)
2 – Trade Mikal Bridges
3 – Keep Bridges and assets and build around the edges
To me, it is a no-brainer they should do option 3. Trading for a star makes little sense because the roster left at the end of it wouldn't even be a home-court advantage team. Trading Bridges makes no sense because he is really good. 26 is not old enough that you have to deal him to match timelines and would be a mistake. The Nets should hold steady and draft good players such as Brice Sensabaugh who can develop next to Bridges, Claxton, and Cam Johnson.
22. Brooklyn Nets (via Suns): GG Jackson, Forward, South Carolina
It is kind of funny that I am having the Nets select the two players that by reports are sliding down boards and are threats to fall out of the top 25 or first round all together. With two picks in this part of the draft, the Nets should SWING and swing they do with GG Jackson.
GG Jackson would have been in contention for the #1 pick in the 2024 NBA draft but instead reclassed and struggled at South Carolina. In Brooklyn, Jackson would be playing alongside defensive-minded players that would allow him to work on the offense without being a total liability. Maturity seems to be an issue so maybe New York City isn't the best idea but Brooklyn takes the risk.
23. Portland Trail Blazers (via Knicks): James Nnaji, Big, Barcelona B (Spain)
Brandon Miller and James Nnaji… woohoo, now you have a fun frontcourt. I try very hard not to be too critical of players often but Jusuf Nurkic is not a good basketball player. He grabs some rebounds and scores some points but is a traffic cone on defense.
Nurkic is best suited for a bench role and Portland needs to find the big replacement for the future. I am not saying Nnaji would be the starter in year one but he would immediately be a defensive upgrade over Nurkic even at 18 years old. Nnaji is more of a long-term bet but one they should be excited to make.
24. Sacramento Kings: Sidy Cissoko, Guard, G-League Ignite
Cissoko brings versatility to the Kings as he can play guard or wing early in his career depending on need. Cissoko has his fair share of problems such as shooting consistency and finishing but he is a big framed ball handler that can guard 3/4 positions on defense.
At 24 you can't always find year-one players so grab a guy that can develop in a year or two and still be a big contributor while still on the Fox and Sabonis timeline. The Kings are an interesting team to watch this offseason because now that they have tasted success do they hold steady or get greedy?
25. Memphis Grizzlies: Nick Smith Jr., Guard, Arkansas
The Grizzlies have drafted based on high school film before and if they want to do it again they shouldn't look much further than Nick Smith. Before the season I ranked Nick Smith my #4 player and now he is #26. This year NSJ was inefficient, a terrible defender, and got hurt.
It wasn't all bad, Smith had some scoring outbursts and flashed his playmaking which could be a real NBA skill. Where you rank Nick Smith depends on how much you weigh the college film vs the high school film. There is a real chance NSJ is a big steal at 25.
26. Indiana Pacers (via Cavaliers): Dariq Whitehead, Wing, Duke
They got their forward and now the Pacers add depth to their wing position. Very similar to Nick Smith Jr., Dariq Whitehead was a great high school player but battled injuries all year and didn't show the same scoring pop because of it.
Medical evaluations are going to be a big part of Whitehead's draft position because if he is perfectly healthy we may see him regain athletiscm and be the player we projected him to be a year ago. The Pacers are in a good position to swing with 4 picks in the first 32 picks and elect to take the risk.
27. Charlotte Hornets (via Nuggets): Olivier-Maxence Prosper, Forward, Marquette
One of the big risers throughout the pre-draft process Olivier-Maxence Prosper (OMax) has shown his endless motor, shooting potential, and defensive skills. With the guard position taken care of the Hornets add front-court help next to Miles Bridges.
I have my thoughts on OMax (rim pressure, lack of quick downhill activity) but players with his length and motors are good bets to make, especially when they shoot over 33% from 3. The Hornets pick here is where the draft starts to dry but the value is on the board they will just need to find it.
28. Utah Jazz (via 76ers): Kobe Brown, Forward, Missouri
I understand many reading this will view this as too early but I believe Kobe will go earlier than the common mock projects him to. Kobe is a capable defender but his value is on the offensive end. Kobe is a 6'8 ball handler who can playmaker, shot 44% from 3, and 62% at the rim.
Now the shooting is the question because Kobe was a poor shooter his first three seasons before breaking out under Dennis Gates. The form, touch, and confidence indicate to me that the shot is real and therefore I believe him to be a first-round talent. Being 23 on draft night isn't great but players progress at different speeds at different times, Kobe is a good bet.
29. Indiana Pacers (via Celtics): Maxwell Lewis, Wing, Pepperdine
Again with 4 picks in the top 32, the Pacers should be swinging on everyone (zero chance they keep all 4). Maxwell Lewis is an interesting prospect because he has all the measurables and intangibles you would want but leaves more to be desired.
Lewis is young and already shoots well so although he may be a slight project he is safer than a lot of other "projects" in this draft. The NBA will be much different than the West Coast Conference so I don't anticipate him being incredible in year one but as a long-term bet he has a chance.
30. Los Angeles Clippers (via Bucks): Colby Jones, Wing, Xavier
Chris Paul rumors are running rampant but I have no idea what direction the Clippers are going or their long-term plan. Colby Jones gives them a wing who can initiate offense when the stars are inevitably hurt and potentially is someone who can hit shots when they are healthy.
This pick makes sense to me but LA could go any direction where they are at now. I don't anticipate Kawhi or Paul George being traded but something will have to change at some point if they expect a different result.
2nd Round
Descriptions become much shorter now as half of these teams won't be picking in these spots and projecting any of this is basically guessing.
31. Detroit Pistons: Ben Sheppard, Wing, Belmont
Adding shooting never hurts and on a young team starved of it, Sheppard can help a lot even early in his career. Sheppard may creep into the 1st but if he is here at 31 Detroit should be happy.
32. Indiana Pacers (via Rockets): Rayan Rupert, Forward, New Zealand Breakers (NBL)
Rupert started the season as a first-round pick but without a reliable jump shot, he is simply a great defender. Only 19 and 73% from the free throw line indicate the shot may eventually come.
33. San Antonio Spurs: Brandin Podziemski, Guard, Santa Clara
I really hope the Spurs can get another first-round pick and draft someone to develop alongside Victor. Outside of Tre Jones, there is not a real point guard on the team and Podz is a great playmaker. I am so excited about this San Antonio team and what they could do next season.
34. Charlotte Hornets: Noah Clowney, Big, Alabama
They drafted a guard, they drafted a forward, and now they get a big. Between Mark Williams, Kai Jones, and Noah Clowney one of them has to end up a reliable piece for the Hornets.
35. Boston Celtics (via Trail Blazers): Julian Phillips, Wing, Tennessee
Boston could take anything but a guard here. Phillips was in a weird situation in Tennessee last season but played great defense and although the shot didn't fall, he shot 82% from the line which could mean shooting upside.
36. Orlando Magic: Marcus Sasser, Guard, Houston
They simply need more guard shooting and Sasser brings that to Orlando even if he has to come off the bench. Sasser is an underrated defender too, Magic fans would love him.
37. Denver Nuggets (via Wizards): Julian Strawther, Wing, Gonzaga
If Strawther actually goes to Denver, Jokic would turn him into an incredible player. Strawther is a good and efficient scorer and with a playmaker like Jokic, he would be a deadly shooter.
38. Sacramento Kings (via Pacers): Trayce Jackson-Davis, Big, Indiana
This might just be lazy but TJD gets to learn from someone who he projects to be similar to in Sabonis. The Kings need a backup 5 and with his size, defense, and athleticism he could help immediately.
39. Charlotte Hornets (via Jazz): Andre Jackson Jr., Forward, UConn
A lot of Charlotte is theoretical so let's bring in a guy who we know is a great athlete, great defender, and great passer. Not sure if he is a playoff player yet because of his shooting but Charlotte doesn't have to worry about the playoffs anytime soon.
40. Denver Nuggets (via Mavericks): Tristan Vukcevic, Forward, Partizzan Mozart (Serbia)
If the Nuggets keep the roster together and with Peyton Watson, Christian Braun, and now Julian Strawther this pick most likely would be traded or stashed. Because I am not doing trades in this mock I elect for them to take a raw but talented stash player, Tristan Vukcevic.
41. Charlotte Hornets (via Thunder): Keyontae Johnson, Wing, Kansas State
The Horners aren't keeping 5 top 41 picks for starters. The Hornets now have OMax, Jackson, and Keyontae. Hell one of them has to work.
42. Washington Wizards (via Bulls): Amari Bailey, Guard, UCLA
Amari Bailey has been rumored to go higher but here he slips. With Beal gone, there are a lot of on-ball reps open in Washington. The Wizards get to figure out if Bailey can adapt to the modern game.
43. Portland Trail Blazers (via Hawks): Jaime Jacquez, Forward, UCLA
Finally, the Blazers get a win-now pick with UCLA's star Jaime Jacquez. 3 point shooting will be Jacquez's big swing skill but he has some promise as a pro.
44. San Antonio Spurs (via Raptors): Jordan Walsh, Forward, Arkansas
Now we are talking! Walsh and Sochan around Wembanyama is incredible. Long term, if Walsh wants to be on the Spurs team that inevitably is competing in the West he will have to develop his shot.
45. Memphis Grizzlies (via Timberwolves): Colin Castleton, Big, Florida
I like Castleton, I think he can have a real NBA career. The Grizzlies struggled last season when Adams and Clarke were out so this gives the Grizzlies a little insurance in case that scenario repeats.
46. Atlanta Hawks (via Pelicans): Mouhamed Gueye, Forward, Washington State
The Hawks are deep they might as well throw hail mary's that can sit in their G-League. Gueye is all theoretical but the Hawks aren't hoping for much more.
47. Los Angeles Lakers: Adama Sanogo, Big, UConn
A scoring big to play when Anthony Davis jams his finger, yes please! Sanogo isn't a great defender but he is a big body that can soak up regular season minutes.
48. Los Angeles Clippers: Terquavion Smith, Guard, NC State
The Clippers need self-creation outside their stars and Terq brings that sometimes to a fault. In a minimized role, Terq has a chance at bringing real value as a shooter.
49. Cleveland Cavaliers (via Warriors): Jalen Slawson
The Cavs hoping a 2nd round rookie from a mid-major solves their small forward problem is wishful thinking but Jalen Slawson has game.
50. Oklahoma City Thunder (via Hawks): Ricky Council IV, Wing, Arkansas
With arguably the best shooting coach in the world the Thunder should welcome the challenge of Rick Council. A freak athlete, if they can fix his jumper he could be dangerous.
51. Brooklyn Nets: Emoni Bates, Wing, Eastern Michigan
I am not a big Emoni fan but I actually think this makes some sense. Why not? You have wings so if he fails oh well, but there is a chance he brings real bench scoring.
52. Phoenix Suns: Charles Bediako, Big, Alabama
I have yet to hear this pick was part of the Bradley Beal trade so I will imagine it isn't. Ayton is inconsistent and the Suns need a backup center. Bediako may be getting underrated by draft media and has a chance to prove it in Phoenix (or Washington).
53. Minnesota Timberwolves (via Knicks): Isaiah Wong, Guard, Miami
A steady low mistake guard seems like what Minnesota needs and Wong fits pretty well next to Anthony Edwards. May never be a starting guard but getting a 2nd or 3rd string at 53 is still valuable.
54. Sacramento Kings: D'Moi Hodge, Guard, Missouri
Shooting is so important in today's league and although the Kings have a lot of it, they can always add more. D'Moi is a phenomenal shooter and a hound on point guard on the other side of the floor.
55. Indiana Pacers (via Cavaliers): Nadir Hifi, Guard, Paris (France)
It would actually be really funny if the Pacers used all 6 picks but they won't. They decide to go draft and stash here to preserve roster spots.
56. Memphis Grizzlies: Malcolm Cazalon, Wing, Leuven (France)
Memphis is deep. They simply can't draft anyone else and get Cazalon which may hold some value as a stash in a couple of years,
57. Washington Wizards (via Celtics): Hunter Tyson, Forward, Clemson
It's early in the rebuild, let's get weird and see what happens. Take the big 6'8 white shooter and let him shoot however many times he wants a game.
58. Milwaukee Bucks: Seth Lundy, Wing, Penn State
Seth Lundy actually has real potential so Milwaukee getting him with the last pick in the draft is pretty good.