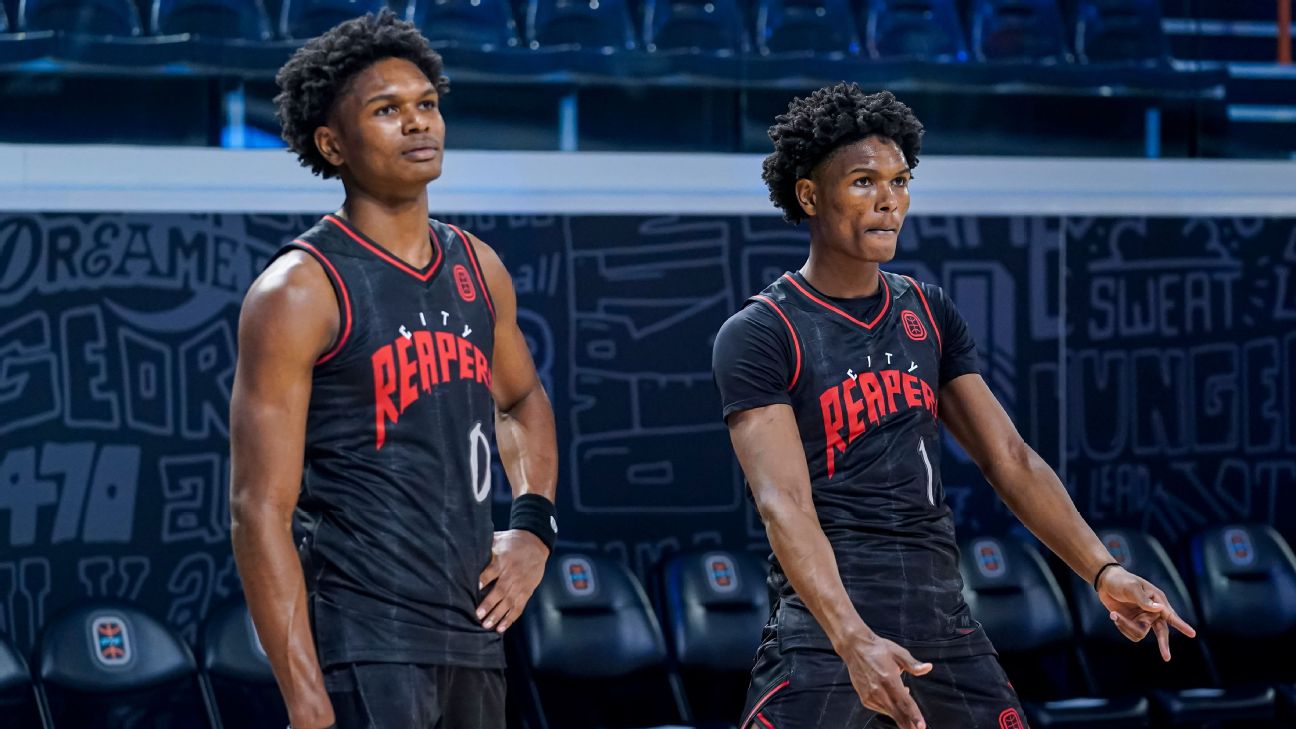 It has been toooo long since I released a big board but here it is. The draft is only 5 days away so these are my final rankings of the 2023 NBA Draft Class.
This is a reminder that these are MY OPINION and not what I think others believe or a mock draft in any way. Before the draft I will be releasing a final mock draft and then finally a draft guide (which technically will be my last ranking).
In this article, I rank my top 60 players in this draft with descriptions on the top 30 players in my rankings.
There should be no surprise who is #1 but let's get it rolling!
1. Victor Wembanyama, Alien, Metropolitans 92 (France)
David Robinson, Tim Duncan, and now Victor Wembanyama, the Spurs have now lucked into potentially three all-time great big men. Vic is the obvious #1 on my big board and I would be beyond shocked if any of the 30 teams in the league had anyone but him #1 on their board. In his first two seasons, I expect Vic to be a defensive monster and a work in progress offensively, especially on the perimeter. But once Vic gets his footing and develops as a scorer, there is no ceiling on how great he can be.
2. Scoot Henderson, Guard, G-League Ignite
In my opinion, Scoot is easily #2 on my board with a decent gap above and below him. Reports out of Charlotte indicate that Scoot may now be 6'4 and that only strengthens his case as the 2nd best prospect in the draft. Point guards are rarely as polished as Scoot is currently with only his perimeter shot being the main area of concern.
I am confident in Scoot's perimeter shot because the form, touch, and progress are on the path to creating a good result. This class is talented and debates will happen but if I was Charlotte I wouldn't think too much about who to take at #2.
3. Amen Thompson, Guard, Overtime Elite (USA)
This might come as a shock to some but I have been on the Amen Thompson bandwagon all season. It is very rare for the best playmaker and athlete in a draft to be the same person and I believe that to be the case with Amen. I understand the shot is a worry but NBA coaches have fixed terrible shots and even if it is never fixed he will be a fantastic player.
I buy Amen's defense being really good with the right coach preaching a defensive mindset and I know that he will be an absolute beast in transition. Amen may be a risky bet but it is a stars league and Amen's potential puts him up there with anybody.
4. Ausar Thompson, Wing, Overtime Elite (USA)
It might seem simplistic to rank twins back to back but I think Ausar shares some of the upside that Amen does. Although Ausar is an excellent athlete he is not quite on Amen's level and he doesn't make some of the high-level playmaking reads that Amen does.
With that being said at this moment Ausar is a better defender and shows some brilliant flashes of half-court creation. On top of that, Ausar's shot looks much more salvageable as he has made strides both in terms of form and efficiency throughout the past two years.
5. Brandon Miller, Forward, Alabama
This may come as a surprise to some but I am still a fan of Miller I promise. Miller is a great perimeter scorer that projects to hold up on defense well and rebounds at a good level. I have some concerns about his finishing around the hoop and his ability to create for others but I think my biggest disagreement is simply if his stardom scales to the NBA.
Miller will be a good pro but I believe it to be more of a complimentary starter rather than a star like he is being advertised. Paul George and Kevin Durant comparisons have been thrown out but I think Khris Middleton is more realistic as a high-end outcome for Miller. I acknowledge the skills Miller has I simply just disagree with how they will translate at the next level.
6. Cam Whitmore, Wing, Villanova
Cam Whitmore had a strange season at Villanova where he was hampered with injuries and honestly just didn't play in a system that uses him in the right way. Whitmore is an athletic freak that shot 63% from 2 in transition.
The defense is inconsistent but I have no doubts it will be really good in the NBA. Although he can be loose or turn the ball over, Whitmore's creativity on the ball can not be taught and should be one of the big selling points for any team considering him. The shot will be the big swing skill for him but form and a 40% catch-and-shoot clip indicates that the shot will come.
7. Bilal Coulibaly, Wing, Metropolitans 92 (France)
He is young and no one expected him to be in this draft but here were are with Bilal Coulibaly. What Bilal did with the U21 team was impressive but it was his ability to keep the production up after he was called up to the top team that will make him a lottery pick.
Metropolitans 92 made the Finals in a good French league and one of the biggest reasons why is because of the play of Coulibaly. In a playoff setting, Coulibaly shot the ball very well and played some incredible perimeter defense. At worst Bilal is a 3 and D player but he showed flashes off the dribble that combined with his athleticism could make him an incredible player.
8. Gradey Dick, Wing, Kansas
Too often we try to put ceilings on players despite high production. That is exactly what I believe is happening here with Gradey Dick. Everyone knows Gradey Dick is a phenomenal shooter and cutter but is there more to unlock with the ball in his hands.
Dick is in the 96 percentile as a pick-and-roll ball handler and that clip jumps to 97% and 98% when you include passes or when the defense commits. Dick is a very smart player that is still only 19 years old, I would bet on the floor being high and the hidden upside that others may be ignoring.
9. Anthony Black, Guard, Arkansas
From a purely statistical point of view, Anthony Black was a good prospect but it is his projection that gets people thinking he could go in the top 6 of the draft. Arkansas had zero spacing last year with a team full of non-shooters on a smaller college court.
In the NBA, spacing will be much better which could open lanes up for Black to be more productive as a driver. Black is a great defender and a good passer, especially at nearly 6'7. Black fits the modern point guard mold and even if his jump shot never comes around he could be a very good player in the modern NBA.
10. Jarace Walker, Forward, Houston
I hate putting Jarace Walker this low because I think he is really good, there are just 9 guys I like a little more. Walker is a tank on the basketball court and brings that on both ends of the floor. Defensively Walker is versatile and able to guard 3-5 confidently with the potential to switch on to guards if needed.
On offense, Walker is great around the hoop and at using his body to create space. At this point, I would say the jump shot is just good but he shows flashes of creativity and playmaking that could make him a steal anywhere outside of the top 8.
11. Keyonte George, Guard, Baylor
I am not an NBA executive but I create these boards as if I am one. If you are a GM and you get picks wrong regardless of if it was consensus or not, you are fired. For that reason sometimes you just need to go with your gut, and that is what I am doing here with Keyonte George.
George showed some red flags this year but my gut says he will be a star. The combination of athleticism, ball handling, shot-making, and fluidity screams star upside and that is what I am betting on. George won't be a year-one star but there is some Jamal Murray/Bradley Beal upside in his game.
12. Taylor Hendricks, Forward, UCF
I am a little lower on Hendricks than consensus but still think he will be a fantastic player. The defense will be his calling card with a 6'9 frame, great shot-blocking tendencies, and quick lateral feet. On offense Hendricks provides a lob threat from the dunker spot and was an impressive 40.9% on catch and shoot 3's as a freshman.
Those categories I do not worry about, instead I worry about the in-between game on offense. Hendricks shot just 33% on dribble jumpers and 43% on layups in the half-court. Hendricks will be a great 3 and D player but I simply do not see the upside that would warrant a top-ten pick.
13. Cason Wallace, Guard, Kentucky
I love Cason Wallace so it pains me to put him "low" at #13. I have absolutely zero doubts Cason will be a top ten pick in re-drafts 10 years from now, it is just that I don't yet know which guys ahead of him won't reach their ceiling. Cason is a stellar on-ball defender able to guard 1-3 because of his frame. The shot is just good at this point but the mechanics suggest it may get better over time.
Wallace is a bit of an in-betweener in terms of position as he has the traditional size of a point guard but found himself playing more off the ball at Kentucky. The shot and true point guard play are Cason's swing skills that decide if he is a good role player or a Jrue Holiday-level player.
14. Brice Sensabaugh, Wing, Ohio State
The defense is meh and the playmaking is only theoretical but I do not care. Brice Sensabaugh can score the ball in every sense of the word. Sensabaugh is a fantastic shooter (1.35 PPP as a spot-up) but is no slouch if he has to put the ball on the floor.
Sensabaugh is crafty and knows how to use his body to create space in the half-court. I have no doubt Sensabaugh will have a long career as a scorer, the question will be is it as a Jordan Clarkson/TJ Warren type player or as a star scorer?
15. Jett Howard, Wing, Michigan
6'8, shoots the ball well, and has high-level passing flashes…hard to put any lower. The defense is a concern but 6'8 athletic wings have a long history of figuring out how to play defense once they are in the NBA.
Jett shot 39% on catch and shoots last year and scored over 1 PPP on all possessions. Betting on Jett is betting on the history of long athletic shotmakers with a playmaking feel, there is not many like him and the ones similar tend to stick around in the NBA.
16. Dereck Lively, Big, Duke
Underrated by many (including me) all season, Lively showcased his elite rim protection skills that go along with his huge 7'1 frame. Currently on offense, Lively doesn't do much more than dunk the ball or finish at the hoop, but his grassroots film suggests there may be some legitimacy to his shooting potential.
It is reported that Lively has impressed teams in workouts by being able to shoot the ball and that could go a long way in making him a top 20 pick. Lively does not have much in-between game on offense but at his size, with his defensive skills that should be okay.
17. Jalen Hood-Schifino, Guard, Indiana
My feelings on Jalen Hood-Schifino have been a roller coaster but I have settled on the fact that his feel for the game is too high for me to put him any lower. JHS is a great passer and a hard-nosed defender but it is the other areas that people have concerns about.
JHS shot only 48% on layups last season and 30% on catch-and-shoot 3s. Those are both numbers to be concerned about but with the skills he has as a 6'6 guard, he should pan out just fine at the next level.
18. Leonard Miller, Forward, G-League Ignite
Leonard Miller is an interesting eval but it is hard not to be interested seeing all the strides he has made in the last year. Miller is still a big work in progress but any team that selects him knows they are getting someone who gives 110% and has the motor to back that.
He is a fantastic rebounder, versatile defender, and has shown real flashes of shooting and playmaking. Miller won't be cracking any playoff rotations in his first 2-3 years but if a team gives him the right resources he could be a great player.
19. Kobe Bufkin, Guard, Michigan
I like Bufkin but I am not sure I like him as much as some rumors suggest NBA teams do. Jonathon Givony of ESPN reported Bufkin will probably not escape the lottery and could go as high as 8 to Washington. Bufkin is a good scorer who has shown his ability to play make and be pesky on the defensive end but there are still real holes in his game. Bufkin has quick hands but his frame could lead to him being a target on the defensive end for other teams.
Also, although he shoots a great 85% from the free throw line, Bufkin only made 35% of his 3s this year (35% on catch and shoots as well). One of these skills has to truly stick for Bufkin to stick and if what Givony said is true, NBA teams believe in him.
20. Jordan Hawkins, Wing, UConn
3 and D. That simple, not much more. Hawkins is a fantastic shooter in every sense of the phrase, off the catch and off movement. With this being said there seems to be a ceiling on what else he can do on the court. Hawkins isn't great with the ball in his hands and lacks great athleticism to burst by players on the perimeter.
A team drafting Hawkins knows exactly what they are getting with him and from late lottery on that may be okay. Hawkins has a winning pedigree as a national champion and skills that should translate to the NBA immediately.
21. Dariq Whitehead, Wing, Duke
It is tough to evaluate someone who has had two real injuries in a matter of 8 months but that is the situation teams are in now with Dariq Whitehead. Before the season started I had Dariq #8 on my board but he was in the same tier as the top players.
This season Dariq was an above-average defender and elite 3-point shooter but he didn't show the same star potential that he did in high school. It is very reasonable to say that this is because of his injuries but the injuries themselves also scare me. I think if you can get Whitehead anywhere after the 20th pick you are getting value but anything before that is a big risk.
22. GG Jackson, Forward, South Carolina
Sometimes reclassifying works and other times it is a terrible idea, only time will tell how GG Jackson's decision will pan out. GG clearly has skills with his jumbo 6'10 frame but inefficiency and immaturity seem to be the major questions surrounding his draft stock.
If Jackson stayed in college one more year he would have been in contention for the #1 pick but now it seems that he will be drafted outside the lottery. I think the tools are worth the risk but picking him is just that, a risk.
23. Kris Murray, Forward, Iowa
There are no sure things in drafts but Kris Murray seems close to it. Murray is already 22 years old but he is great at certain things that should give him a long NBA career. Murray is long and moves very fluidly at his 6'8.75 height.
Murray is a solid defender and a really good rebounder but his swing skill will be his ability to shoot 3s. Last season, Murray only shot 33.5% on catch-and-shoot 3-pointers and that number will have to be higher for him to be a legitimate role player in the NBA.
24. Maxwell Lewis, Wing, Pepperdine
I generally am not a fan of inefficient players in smaller conferences but Maxwell Lewis gives a lot of reasons to be a fan. The defense is really bad and I'll start there but history suggests 6'7 players with 7'0 wingspans tend to work out defensively. Lewis plays bigger than he is and shot a very impressive 44.1% on catch-and-shoot 3s this season. Lewis is great around the rim and although he turns the ball over too much, in a minimized role Lewis may thrive not having to carry the load.
25. Sidy Cissoko, Guard, G-League Ignite
Man Sidy is a lot of fun and even as I am preparing to write about him I am thinking I should've ranked him higher. A defensive monster with a thick, athletic 6'8 frame, Sidy also has a lot of intriguing offensive skills. Sidy is incredible in transition and is a good playmaker with the ball in his hands. Cissoko's shot was streaky throughout the season but he has so many skills at his size that the shot may only be the difference between him being a bench player and a starter.
26. Nick Smith, Guard, Arkansas
From what I watched this season, ranking Nick Smith here is too high but there is only so much you can drop someone you ranked as the preseason #4. Nick Smith is a tough shot-maker but it is not good when all the shots he takes are tough shots. Shooting 35.5% on catch and shoots is highly disappointing especially considering he was touted as a sharpshooter coming into college. Defensively it will be rough for teams to hide him as his small frame will make him the target of many switches. I am usually a big fan of buying into the high school film but I was so not a fan of his college tape that I have ranked him lower than consensus.
27. Rayan Rupert, Wing, New Zealand Breakers
Defensive monster and downhill threat are Rupert's two calling cards as a prospect. I have zero doubts that Rupert will be an incredible defender with broad shoulders, quick feet, and a staggering 7'2 wingspan. The doubt comes on the offensive end as I struggle to find his role within the NBA. The shot is a work in progress and is by no means unfixable but it is far enough away that I won't be banking on it to be there at the next level. Rupert loves to get downhill but in order to do that in the half court he needs to be spoon fed those posesions. Rupert has a great upside but I have my doubts on him truly getting there.
28. James Nnaji, Barcelona, Big
A physical monster, James Nnaji is built like a Greek god and won't be 19 until August. Nnaji is a great defender when he is locked in but does have more defensive lapses than desired (expected from an 18-year-old playing in pro leagues). Offensively Nnaji is a massive lob threat but outside of that, he is a work in progress. Any team that takes him needs to truly believe in their developmental system but with the right guidance I believe he can be a Clint Capela type player.
29. Kobe Brown, Missouri, Wing
I am higher on Kobe Brown than Consensus (I may be biased) but I truly believe he will carve out an NBA role. Kobe Brown is an offensive Swiss army knife that can fit in almost every system. The question with Kobe is are the 3s real but because of a combination of results, free throws, and form I am willing to bet it is the real deal. Defensively Kobe is just eh but as I stated earlier, players with his size and skills tend to be average at worst on the defensive end of the floor. I am buying all the Kobe Brown stock others are selling and am willing to bet he hears his name called earlier than people expect in next week's draft.
30. Brandin Podziemski, Guard, Santa Clara
AirPodz is a great nickname and would be even better if Podziemski was an elite athlete. Podziemski is simply good/great at nearly every category of basketball. As a 6'5 guard, you wish that he was a better athlete but he is efficient in every scoring category there is. He is a good shooter, a good passer, and capable around the rim. NBA teams will have to project how these clips translate to the next level but if he falls to the second round he could be a steal.
2nd Round Grades
I rank 31-60 in this section but do not offer descriptions for these prospects .
31. Julian Phillips, Wing, Tennessee
32. Trayce Jackson-Davis, Big, Indiana
33. Marcus Sasser, Guard, Houston
34. Noah Clowney, Big, Alabama
35. Colby Jones, Wing, Xavier
36. Andre Jackson, Wing, UConn
37. Olivier Maxence-Prosper, Forward, Marquette
38. Julian Strawther, Wing, Gonzaga
39. Ben Sheppard, Wing, Belmont
40. Terquavion Smith, Guard, NC State
41. Amari Bailey, Guard, UCLA
42. Tristan Vukcevic, Forward, Real Madrid B
43. Jordan Walsh, Forward, Arkansas
44. Ricky Council, Wing, Arkansas
45. Keyontae Johnson, Wing, Kansas State
46. Colin Castleton, Big, Florida
47. Azuolas Tubelis, Big, Arizona
48. Jaime Jaquez, Forward, UCLA
49. D'Moi Hodge, Wing, Missouri
50. Emoni Bates, Wing, Eastern Michigan
51. Isaiah Wong, Guard, Miami
52. Mouhamed Gueye, Big, Washington State
53. Charles Bediako, Big, Alabama
54. Adama Sanogo, Big, UConn
55. Jalen Slawson, Wing, Furman
56. Jordan Miller, Wing, Miami
57. Jalen Wilson, Wing, Kansas
58. Jaylen Clark, Wing, UCLA
59. Seth Lundy, Wing, Penn State
60. Mike Miles, Guard, TCU