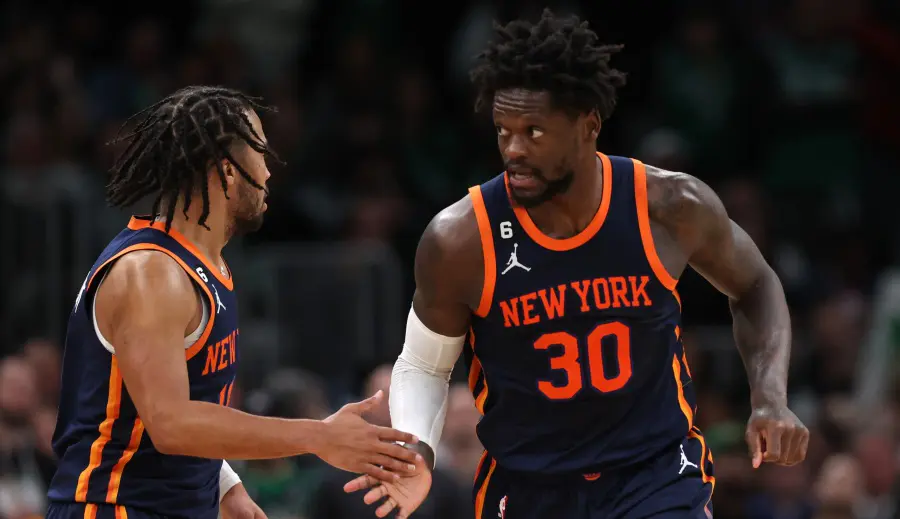 February is a unique month in the league. Despite being the month with the fewer regular season games, the season tends to shift direction at this stage, mainly due to the All-Star break. From now on, no team can afford to lose more games if they want to clinch a top seed in their respective conferences. Which teams made the most of this month? Here are the top three NBA Teams of the Month.
3. Denver Nuggets.
February Record: 8-3
Despite the Western Conference being the most competed, the Nuggets have almost clinched the 1st seed. Having shown gradual improvement since the season started, February was no exception. They won important matches against the same conference teams, which helped to extend the gap between seeds. Unfortunately, they did lose three games against the Grizzlies, Timberwolves, and shockingly, Orlando Magic. However, that does not take away their excellent performance and the absolute authority in the West.
2. New York Knicks.
February Record: 9-2
The Knicks seem like an entirely new team at this stage in the season. After the Bucks, they hold the second-best active winning streak in the NBA, with 7 in a row. Surprisingly, there is no single factor we can pinpoint as the main reason for the Knicks' success, but rather a combination of them. Pieces such as Jalen Brunson, RJ Barrett, and Josh Hart constantly improve as the season progresses, averaging 53.2 Points Per Game. Not to mention, Julius Randle's performances are increasingly more consistent by the minute.
1. Milwaukee Bucks.
February Record: 12-0
Not only have the Bucks had the best win record in February, but their 16-Win streak also extends from the end of January to this day, and it is currently the longest one of the entire 22-23 season. As a result, this team is the only undefeated one in February, allowing them to have the current best record in the NBA, plus dethroning the Boston Celtics' dominance in the East. Will they be able to extend their streak toward the end of the regular season? Everything is possible for Milwaukee at this point.
These three teams are on pace to close their regular season in the best way possible. Their performance in February helped them consolidate their positions within their conference, taking a giant step in terms of playoff preparation and ultimately earning a spot in the NBA Teams of the Month list. How far can they go from here?
Text Source: nba.com, basketball-reference.com