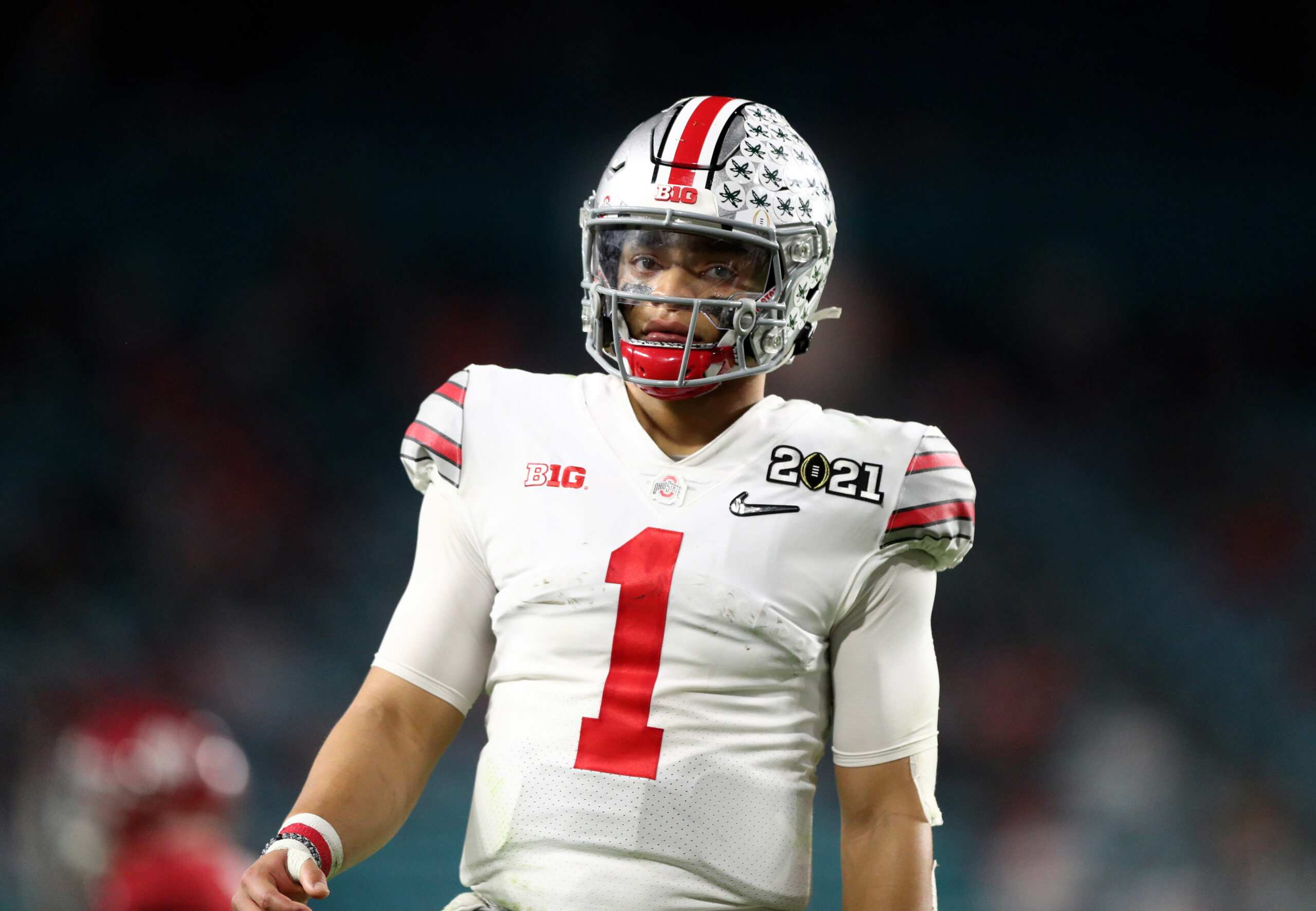 We are about 4 days removed from the end of the 2021 NFL Draft. Like always, there were surprise picks and steals. Some teams did better than others. So who were the winners and losers from the 2021 NFL Draft?
Winners:
Chicago Bears:
In the first round of the 2021 NFL Draft, the Chicago Bears saw Justin Fields falling down the draft board. The Bears instantly made a move and traded up to pick 11 to select the young and talented QB. They then went on to provide some help for the young QB by selecting two offensive lineman, one of them, Teven Jenkins, just slipped out of the first round. Taking Jenkins in the second round was a phenomenal pick. The Bears were not as strong towards the later rounds but when you get one of the best overall players in the draft at pick 11, you are a definite winner.

Miami Dolphins:
Brian Flores and gm Chris Grier had an extremely underrated draft. They had two very big needs, WR and OT. In the first round, they selected speedster Jaylen Waddle out of Alabama to give quarterback Tua Tagovailoa a much needed weapon. They also drafted DE Jaelan Phillips in the first round, who slipped to them as he could have been a top 15 pick. Although an end wasn't a massive need for the Dolphins, they had no choice but to draft Phillips.
They could have selected a running back in round 3, but there was nowhere to go as Denver traded up in front of them to select Javonte Williams out of NC. However, the Dolphins still managed to get really good value in rounds 2 and 3. Jevon Holland S, Liam Eichenberg OT, and Hunter Long TE were all solid picks. Eichenberg is a really good pass blocker and can help protect Tua.
The Dolphins didn't have another pick until the 7th round, so they went after their running back then. They selected big back Gerrid Doaks out of Cincinnati. Doaks scored 7 touchdowns in 9 games and may be able to make the 53 man roster. Overall, it was a very solid draft for the Miami Dolphins.
Cleveland Browns:
When you see the Cleveland Browns 2021 draft class one pick really stands out. First off, presumed top 20 Jeremiah Owusu Koramoah somehow fell all the way down towards the end of the second round and Browns were very smart to scoop him up that late. The Browns also selected safety Richard LeCounte from Georgia in the 5th round. A rough pro day had LeCounte slipping down boards but has great ball instincts and was a former very high 5 star recruit.
The best thing about the Browns draft was that they filled up most of their holes that stood out. They selected two corners, two wide receivers, ILB, and a DT. These positions were all needed depth for the Browns. Very solid draft.
Honorable Mention: Denver Broncos
Losers:
Las Vegas Raiders:
On day one of the NFL Draft, the raiders passed up on Christian Derishaw and selected Alex Leatherwood instead. This is somewhat of a perplexing pick considering there were better linemen on the board than Leatherwood. It's not like Leatherwood is not good, in fact, Leatherwood is an extremely good run blocker and has the power to move defensive lineman off of the line of scrimmage. However, Leatherwood was almost a clear second-round pick and the raiders could have ultimately just traded back from the 17th pick into the late 20's if they were really intrigued by Leatherwood. T
he Raiders did rebound in round 2 selecting playmaker safety Trevon Moehrig out of TCU. The Raiders could have saved their draft here, but in the third round they went the opposite way. With their first pick in the third round, they selected an OLB, which was a need for them, but there were absolutely way better backers on the board.
They then proceeded to draft Divine Deablo to grab their second safety in 4 picks. Although safety was a need, I thought they could have picked up a quality WR here like Dyami Brown, Amari Rodgers, or Nico Collins. All in all, this wasn't a great draft for the Raiders.
Seattle Seahawks:
The Seahawks didn't have a lot of picks so this was a difficult draft to judge. In the second round, they selected D'Wayne Eskridge out of Western Michigan. I actually think Eskridge was a decent pick, but again feel that there were possibly better WRs on the board. They also could have used this pick on an OG.
They could have been Wyatt Davis out of Ohio State or Quinn Meinerz from Wisconsin White Water. The Eskridge pick wasn't bad, but I thought they should have selected some type of pass rusher or guard later in the draft if they were going to go WR in the 2nd. Daiyvion Nixon would have been a solid pick in the 4th. It wasn't a great draft for Seattle, even with limited picks.
Honorable Mention: Pittsburgh Steelers

Check out our new podcast episode!
Got Hoops Podcast
A new up and coming basketball podcast by 4 dedicated NBA and basketball fans. It's for fans, by the fans.
Got Hoops Podcast (Ep. 15): Nuggets in the Conference Finals? Monty for COTY? CRAZY PLAY-IN GAMES!
This episode talks about the craziness that's about to occur in the playoffs, what a wonderful time to be alive.
Search Results placeholder
Must See
There's been a lot of changes in the coaching departments at some of the...

Don't let Kevin Durant's incredible performance distract you from Mike Budenholzer's terrible coaching display....

The Washington Wizards had an unlikely road to the playoffs. There was a point...