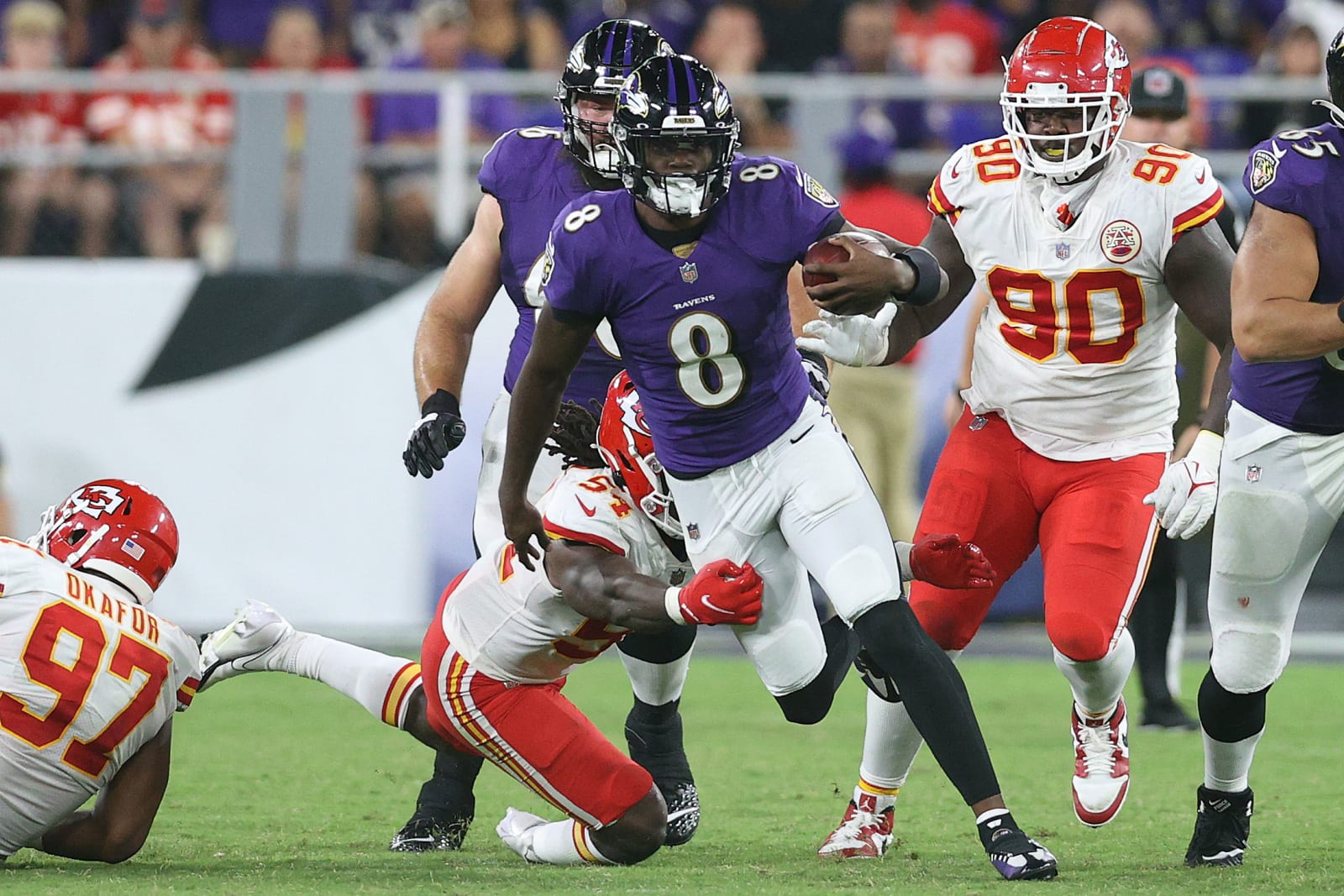 It is time to react to the crazy NFL WEEK 2! These will just be small reactions because how can one person watch all the games? When I get 10 monitors, then maybe I can closely analyze every game. But we had a great week and we look towards many more weeks like this!
Washington Football Team [30] vs New York Giants [29]
The Giants left a lot of points out on the field but that's how the game goes sometimes. They missed out on two touchdowns which really hurt them. But when it's late in the fourth quarter and you get an interception on your opponent's 20-yard line, you have to either run out the clock or get more than just a field goal. Those are the moments where you need a touchdown and we saw that come back to bite them. I personally don't think you put Saquan in that position late-game coming off an injury still especially against a stout defense like Washington. I would say that put Daniel Jones at a disadvantage as well because they only gave him one chance to try to get the first down through the air. I know they were trying to make Washington use their timeouts but outside of Jones, the Giants rushing attack wasn't that effective.
Washington did a good job, however, driving down the field after the Giants got the field goal making it 29-27. Taylor Heinicke showed he is a more than capable quarterback despite his late game interception which I think was a timing issue and will be fixed as he gets more reps. Now for what you were waiting for, there is no way the Giants should have been offsides. Dexter Lawrence is right in front of the ball and still jumps early. That shouldn't happen and ultimately cost the Giants the game. (Dustin Hopkins almost missed that second attempt but if I am a Washington fan, I wouldn't worry too much about that).
New Orleans Saints [7] vs Carolina Panthers [26]
Being from North Carolina, the Panthers are not the team I root for every Sunday but I will always be happy for the home team unless they are playing against my favorite team. The Panthers' defense has been amazing this year and when you look at them on paper, there is no reason to be surprised. Panthers' defensive coordinator Phil Snow had this team firing on all cylinders last year as well and this year they are just even better. The Saints' offense looked horrible in this game and I think I need another game to process this Saints' offense. We know the Packers don't have a great defense and it didn't help that Aaron Rogers last week didn't play well either which made it difficult for the defense since they were always on the field. So I think I need to see the Saints' offense against maybe a decent defense and see how they perform. As for the Panthers offense, I think Sam Darnold has found an offense that works for him and he looks confident and this team has so many weapons and it also helps to have Christain McCaffery doing it all for this young team. 
Houston Texans [21] vs Cleveland Browns [31]
Before Tyrod Taylor got injured it really looked like the Texans could have won this game. David Mills did play well considering he was just thrown in there and came to the team as probably the third string quarterback but it was not enough. Baker Mayfield won the game in Baker Mayfield fashion. Without his top two receivers (Jarvis Landry was taken out this game due to injury), he was able to make something happen and control the game despite having his own injury scare. The Browns look good this year and in the past, this may have been a game they would've lost. 
Los Angeles Rams [27] vs Indianapolis Colts [24]
I really don't like speaking on an injury but Carson Wentz is made of glass. Now I am not watching the Colts closely so Colts fans can maybe speak on his apparent injury better but if this isn't a serious injury if you're the Colts do you want to try to compete with a quarterback that may not be able to finish out most games? Wentz didn't have a bad game but when he came out you knew the Colts' chances of winning diminished. As for the Rams, I love Matthew Stafford on this team. He is putting up the same numbers as before but he has a great defense to back him up and has so many weapons on this offense. The Rams will be the force that everyone thought they could be going into this year. 
Cincinnati Bengals [17] vs Chicago Bears [20]
Another quarterback was injured in Andy Dalton and you hate to see that for him because Bears fans didn't really want him there and he didn't play all that well in Week 1 but in Week 2 he came to play but was taken off the field due to injury. Then came Justin Fields. I don't like when young quarterbacks come in like this because I think they are judged too harshly even though the NFL is next man up but coming in as a young quarterback for a team that has been wishing for a quarterback for so long is probably extremely tough. He was able to hold on to the victory though.
For the Bengals, despite a big Week 1, Week 2 wasn't as kind to them. Joe Burrow looked good but then he just went on to throw so many interceptions but the team managed to still stay in the game. This Bears defense isn't one to be overlooked but without the turnovers, you would assume that the Bengals would win this game. Joe Burrow is somewhat of a rookie still since he missed 6 games last season. So basically he is a rookie coming off a major injury so just give him time. 
Buffalo Bills [35] vs Miami Dolphins [0]
Let's make this quick. Bills still struggled but the Dolphins struggled. Tua Tagovailoa injured his ribs and the Dolphins still do not have a run game which is really hurting them. Jaylen Waddle is looking good however this season and despite allowing 35 points, the defense did put a lot of pressure on the Bills offense but the Dolphins are going to need that offense to catch up to their defense. They have the tools to do so but it hasn't clicked yet. Bills run game was amazing and people should not discount their rushing attack. Josh Allen did not play all that well and was inaccurate for the second game in a row. Maybe needs to settle in but we have seen what he can do and he was paid accordingly. 
New England Patriots [25] vs New York Jets [6]
Another quick one. Bill Belichick does what he always does to young quarterbacks and makes them look awful. Doesn't help that Zach Wilson is very much of a gambling-type QB so it was a match made in heaven for the Patriots at least. Mac Jones looks really impressive and is the type of quarterback this team needs. A game manager. Mac Jones is going to move the ball and make smart decisions. As long as the mastermind head coach is there in New England, that's all they need from the quarterback. The Patriots could take the spot in the AFC that the Dolphins had last year. 
San Francisco 49ers [17] vs Philadelphia Eagles [11]
The Eagles looked nothing like they did in Week 1 against the Falcons but let's not forget how good this 49ers defense is. Both rushing attacks for both teams were great and the quarterbacks were ok but what do you expect in a Jimmy Garoppolo vs Jalen Hurts matchup? A good portion of Hurts yards came from a 91-yard play to Quez Watkins but the rest of the receivers did not do much. Similar to the passing attack for the 49ers. If the 49ers' defense plays like this, however, there won't be that much of a need for the offense to be explosive.
Las Vegas Raiders [26] vs Pittsburgh Steelers [17]
The score is a lot closer than this game felt. At times it seems like the Raiders were moving the ball at will even though they did not have Josh Jacobs. Derek Carr played amazing and the defense really made the Steelers work for every yard. Henry Ruggs has arrived and hopes he starts getting the love he deserves. While most of his yards came from one play, we saw flashes of how dynamic he can be. The Steelers drafted Najee Harris to become the rough team they've always been and to help out Big Ben but this offensive line needs help because the rushing attack was not good at all and Rothlisberger was under pressure too many times. It does seem like it is almost time for him to hang it up but even though it pains me to say this, let's enjoy what is probably his last year in the league. 
Denver Broncos [23] vs Jacksonville Jaguars [13]
Teddy Bridgewater is a good quarterback. I know he has been on a lot of teams, I know he doesn't have many yards or touchdowns but he is a great quarterback for teams who are where the Denver Broncos are. A team that is ready to fight to compete but not quite exactly where they want to be yet. In this game, Teddy aired it out for 328 yards and Courtland Sutton had himself a day. This Broncos team is sneaky and will not be an easy out. A good defense even though Bradley Chubb may be out for a while, but that secondary is dangerous and will feed off inexperienced or struggling quarterbacks.
This brings in Trevor Lawrence. I know Trevor Lawerence will be good but right now he is struggling. Now this team has a decent run game but not one to support a young quarterback. There is also a lack of real playmakers at the wide receiver position and this defense isn't the same defense they helped Blake Bortles get to the AFC Championship. It's going to take time in Jacksonville because there is a lot more that needs to be addressed than just the quarterback (like coaching) but just know it's going to be ugly for a while before it starts looking good. 
Minnesota Vikings [33] vs Arizona Cardinals [34]
This was the definition of a shootout! Great game by everyone, well I guess except the defenses even though the defense came through and made big plays at times. Kirk Cousins threw for 3 touchdowns and Dalvin Cook ran for 131 yards. The Vikings offense was cooking with grease but then came Kyler Murray. Threw for 400 yards and ran for another 31 with a touchdown. With all the scrambling Kyler is forced to do, I would want the rushing attack to be better so that it can take some pressure off Kyler but right now the Cardinals are 2-0 so I guess it's working. It is a shame that this game came down to a missed field goal by Greg Joseph. But what a game and if you saw the Fox Sports call for this game, you were definitely entertained!
Atlanta Falcons [25] vs Tampa Bay Buccaneers [48]
At first, this game looked like it would be similar to the Vikings and Cardinals game but Tom Brady was….well Tom Brady. He looked amazing and was very poised in the pocket as always. Matt Ryan was good as well but struggled at the same time. When the pocket collapsed Matt Ryan just didn't know what to do and it left to just a lot of bad passes. The front 7 for Tampa was amazing. They did everything from pressure, stopping the run game, and even just numerous tips at the line of scrimmage. The Falcons look like they have the team to be competitive but something is holding them back and I actually don't quite know what it is. If you're a Falcons fan, please let me know what you think the issue is. Tampa, there is no need to talk about you too much. A great team that will probably be in the Super Bowl once again. 
Dallas Cowboys [20] vs Los Angeles Chargers [17]
Even though this was not a shootout, it was a great game. You had two quarterbacks dueling, questionable calls and decent defense. Justin Herbert is one of my favorite quarterbacks in this league. He plays like a winner and he is competing every play and you can just tell by how he approaches every snap. Chargers are going to be a tough team and I looked forward to seeing them play next week. The Cowboys played well and ultimately got the win. The run game was out of this world and that's what the Cowboys really want despite being able to throw for 400 yards even though he didn't do it this game. One thing I will point out is that Zeke Elliot isn't performing the way we would like him to. Last year he struggled but I am almost willing to give anyone who struggled last year pass because it was just a  weird time for everyone but so far he is on the same trajectory this year with Tony Pollard really looking like if he got the carries, he could provide the same punch as Zeke in both the run game and the passing game. Either way, it doesn't hurt to have two great running backs for a team to be able to control the game, especially with a questionable defense. 
Tennessee Titans [33] vs Seattle Seahawks [30]
There is nothing to say and a lot to say about this game as well. The Seahawks in typical fashion took their foot off the gas but they have games like this at the start of almost every season. I wouldn't panic but I would be disappointed that they could not finish this game. I feel like I say this a lot but you need the run game to be a little better because your rusher with the most attempts only had 2.4 yards a carry. As for the Titans, kudos to them for sticking to their guns and continuously giving Derrick Henry the ball. A team like that, that's what you need to do to win. Ryan Tannehill played well with throwing for almost 400 yards but like I said, Derrick Henry was the star. It is good also to see Julio Jones bounce back after last week. These are two good teams that we will be talking about late into the season.
Kansas City Chiefs [35] vs Baltimore Ravens [36]
Game of the Week? Possibly Game of The Year? Whatever you want to call it, this was an amazing game. Both teams brought all they had to the table. Ravens offensive line wasn't atrocious, Patrick Mahomes was Patrick Mahomes, Lamar Jackson was Lamar Jackson and the pass defense for Kansas City was great until Lamar threw his two interceptions. After his second interception, Lamar Jackson went into overdrive and could not be stopped. Similar to the Titans, despite the score the Ravens stuck to what they do best and ran for over 250 yards. The rushing attack had the Chiefs gassed and that ultimately is what led to the comeback by the Ravens and while the Ravens defense isn't the defense of old Odafe Oweh made two sensational plays and one of them led to the Clyde-Edwards Helaire fumble which led to Baltimore winning the game.
Also, you got to love the camera catching coach John Harbaugh asking Lamar Jackson if he wanted to go for it. Kansas City really just needs to apply more pressure on the quarterback but that can be dangerous with Lamar Jackson back there at quarterback but sometimes needs to be done to try to neutralize him. The passing game for Kansas City was great as always and if you're the Chiefs you will take the gamble he made that got intercepted because at least 7 times out of 10 he is going to complete that play for a big gain. 
Detroit Lions [17] vs Green Bay Packers [35]
The Detroit Lions didn't ask for this. They didn't ask to play the 49ers or ask to play a Green Bay team that has something to prove after their embarrassing Week 1 loss to the Saints. The Lions still need some type of run game which everyone has been asking for for years at this point. The defense looked ok but I really don't expect much from this team this year as they are trending in the right direction despite their record. There is not much to say about Green Bay either. It's the Packers and we know what the rest of the completion in the NFC North is like. The Bears and Vikings still haven't jumped off the page yet and it is really the Packers division to lose. I expect the Packers to struggle against good teams for the next couple of weeks but they will get on track. Aaron Rogers is going to do what needs to be done but that defense definitely needs help. While Rogers needs weapons, they could really help him if that defense could play better but I will give them credit and say they looked decent this game but not enough to beat the Bucs which if you're the Packers, that is what you are worried about.