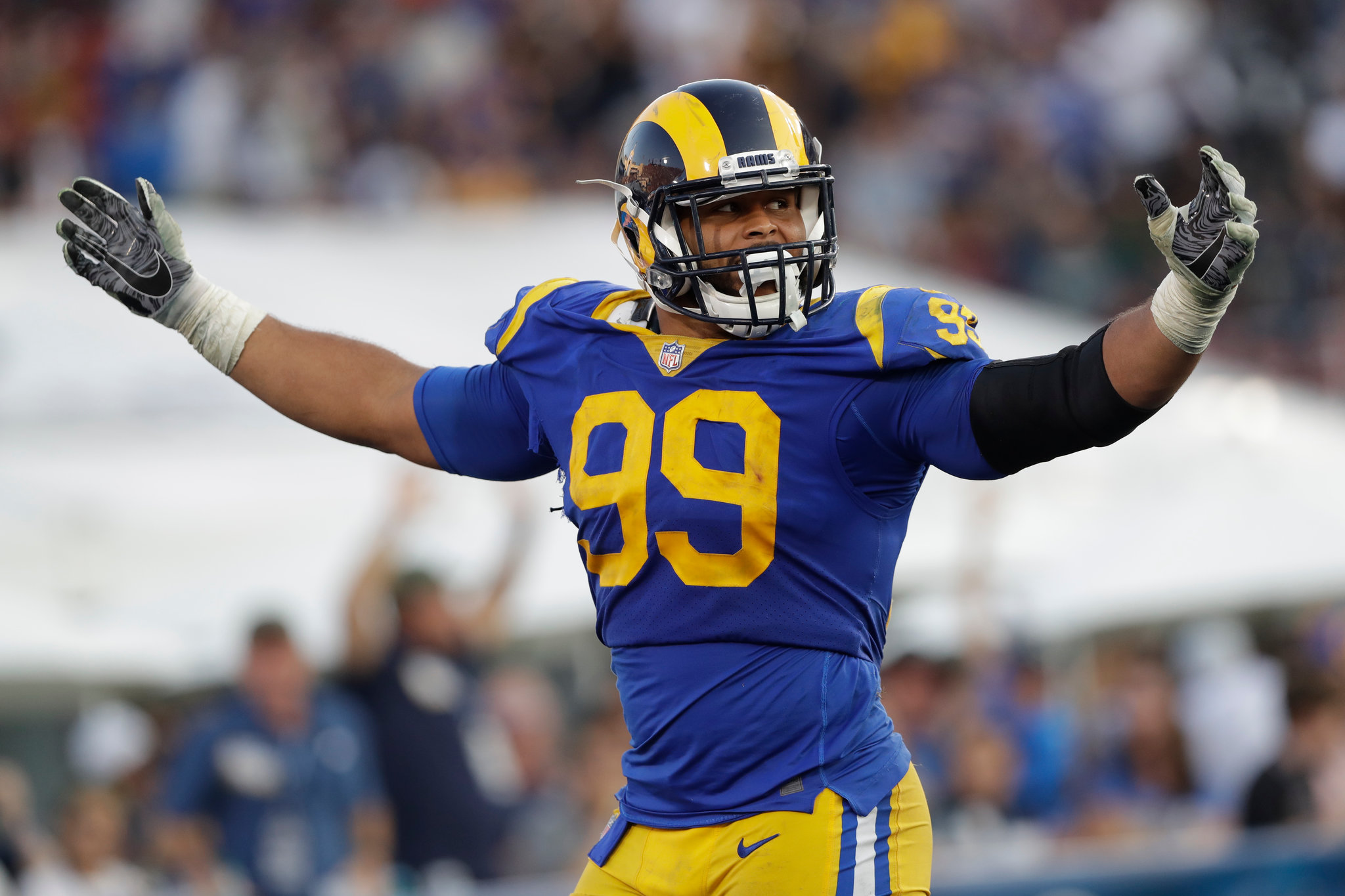 With the NFL season three weeks away from ending, we must talk about the standout defensive players in the league and who might win the DPOY award.
Below I have listed my top 3 candidates for the Defensive Player of the Year award…
1. Aaron Donald, Los Angeles Rams
The former 13th pick from the 2014 draft by the Los Angles Rams is considered by many to be the most dominant interior pass rusher in the NFL in today's game.
As Donald has won the award twice already and has a legitimate chance to tie Lawrence Taylor and J.J. Watt as the only other three-time winners of this award.
This season Donald has 12.5 sacks which is ranked 1st in the league and 4 forced fumbles which is tied for 2nd.
Donald has been doubled team 70.5% of the time this season. This has given more opportunities for his other teammates to pass rush. Most coaches talk about game planning just for him as he can disrupt most offenses with his sheer dominance. The Rams are also the #1 defense in the league for passing yards allowed.
If Donald stays healthy and ends the season with 15+ sacks. I see him winning his 3rd DPOY award. Something else that helps is that the Rams face the Jets this week, who are just a terrible football team. I see the Rams have another 4+ sack game.
2. T.J. Watt. Pittsburgh Steelers
T.J. Watt the brother of J.J. Watt has come into his own in the league. He is one of the most underrated players in the league that doesn't get enough recognition for his performance.
As of the 2020 season, Watt has 12 sacks which is tied 2nd with 1 forced fumble and 1 interception. He is only behind Aaron Donald for sacks by 1/2.
With 3 games left of the season, I can still see T.J. Watt be able to snag his 1st ever DPOY award. He needs to be 1st in sacks in order to be a favorite heading into the postseason.
3. Jalen Ramsey, Los Angeles Rams
Yes, Jalen Ramsey is my 3rd candidate to win DPOY award. In past weeks he has faced some of the best WRs in the league and has been a huge factor to why the Rams have the #1 defense in the league.
Some wide-outs he has faced is D.K. Metcalf (2x), Mike Evans, Chris Godwin, Antonio Brown, DeAndre Hopkins (2x), Terry McLaurin, Stefon Diggs, etc.
Also Ramsey has only given up 2 touchdowns and 1 interception. His stats doesn't stand out because many quaterbacks don't throw his way.
After his standout performance against D.K. Metcalf and shutting him down, he has gotten some noise to win the DPOY award.
If Ramsey can end up with 5 interceptions by the end of the season and not give up anymore touchdowns, I can see him winning the award, as he has been a true shutdown corner this season.

Check out our new podcast episode!
Got Hoops Podcast
A new up and coming basketball podcast by 4 dedicated NBA and basketball fans. It's for fans, by the fans.
Got Hoops Podcast (Ep.20): The Return
Search Results placeholder
Must See
Many going into this season had doubts about the Phoenix Suns and their ability...

It's that time of the football season where we eat turkey and enjoy some...

Two nights ago, the Lakers traveled down to Detroit to play the Pistons, and...