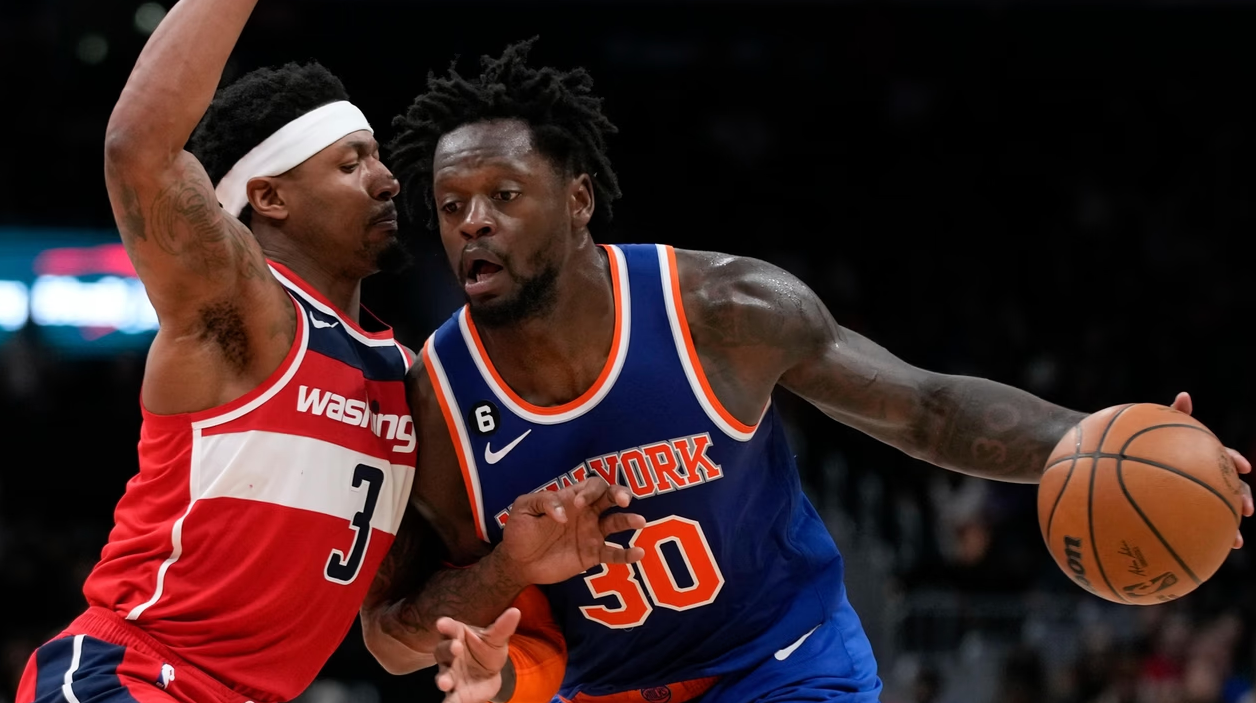 The NBA offseason is always a rollercoaster. Whether it's surprising signings in free agency or huge blockbuster trades. The NBA's entertainment for fans doesn't end. There could be a lot of movement this offseason with teams with superstars needing to contend. Do the Trail Blazers decide to go all out and get Dame some help? Do the Bulls blow it up?
Let's get into some potential trades that we could see happen..
Spurs Build Around Wembanyama
Spurs get: Bradley Beal
Wizards get: Keldon Johnson, Doug McDermott, 2024 1st (Top 5 Protected), 2025 1st (via ATL)
Why for Spurs?
Victor Wembanyama is a generational talent and one way to maximize their talent? Get as much talent you can while they're on their rookie contract. Bradley Beal can come in and immediately be a leader on the team and be a primary scorer. Wembanyama wants to contend as he enters the league, what better way than getting a veteran like Beal who can help.
Why for Wizards?
The Wizards need to do the right thing and end the Wizards Beal era. If they plan on making a change for the best, they need to make decisions that might hurt in the short term. They've hovered around mediocrity for years and its time they start tanking and building around young players like Keldon, Deni Avdija, Kispert, Johnny Davis, and others.
Mavericks get Luka More Help
Mavericks get: OG Anunoby
Raptors get: Tim Hardaway Jr., Josh Green, 2023 1st (10th pick), 2027 1st (Top 5 protected)
Why for Mavs?
Whether the Mavericks resign Kyrie Irving or not, they need to get another star player next to Luka Doncic. Anunoby would come in and immediately be the team's best defender and can consistently be relied upon to be a 3rd option in the offense. Anunoby needs a fresh start and what better way than playing with a top 5 player in Luka.
Why for Raptors?
The Raptors are able to get some return in Anunoby by getting a veteran in Hardaway Jr., Josh Green, and a top 10 pick and another future pick. They can potentially start looking towards the future and building around Scottie Barnes with an addition of Josh Green (who's shown a ton of flashes) and a top 10 pick to potentially get a point guard for the future.
Pacers Go All Out
Pacers get: Mikal Bridges
Nets get: Buddy Hield, Andrew Nembhard, 2023 1st (7th pick), 2023 1st (from BOS) (29th pick), 2023 1st (from CLE) (26th pick), 2024 Unprotected 1st, and 2026 1st (Top 5 protected)
Why for Nets?
This might be a tough trade to sell to the Nets, but if they want to look towards the future, this isn't a bad option for them. Getting Andrew Nembhard, who showed flashes of being able to run an NBA offense as a rookie, a top 7 pick, and 4 other picks… I mean that's a haul to build around.
Why for Pacers?
The Pacers need a wing desperately. Getting Bridges, who's arguably one of the best young wings in the league right now would be an amazing get. The Pacers showed the ability to potentially be a playoff contender early on this year prior to injuries. Adding Bridges to the young core with Tyrese Haliburton, Bennedict Mathurin, and Myles Turner would be a move to propel them into playoff contention.
Massive 3-Team Trade
Trail Blazers get: Bojan Bogdanovic, Julius Randle, 2023 1st (from DET) (5th pick)
Pistons get: Isaiah Hartenstein, Nassir Little, and 2023 1st (3rd pick)
Knicks get: Anfernee Simons, Jusuf Nurkic, and Isaiah Stewart, 2023 1st (from POR, originially Knicks pick) (23rd pick)
Why for Trail Blazers?
They need to decide this offseason, whether to go all-in on trying to win a ring with Dame or going towards the future. In this hypothetical trade scenario, they go all in on getting Dame help to win a ring. Bojan Bogdanovic is one of the more underrated scorers in the league and would be a solid 3rd option. Getting Randle, who can do all the little things, and also be a threat offensively would be a decent 2nd option for a championship run.
Why for Pistons?
The Pistons had terrible luck in the lottery and ended up with the worst possible situation at the #5 pick. With this move, they go and get the 3rd overall pick and have a choice of either Scoot Henderson or Brandon Miller to pair with Cade.
Why for Knicks?
They get a young guard to pair with Brunson and also a decent center in Nurkic when healthy. Simons and Brunson would be an intriguing backcourt of scoring combo guards. Nurkic would bring some kind of consistency on the interior as well. This allows the Knicks to be a more complete team. I love a starting 5 of Brunson/Simons/Barrett/Grimes/Nurkic.