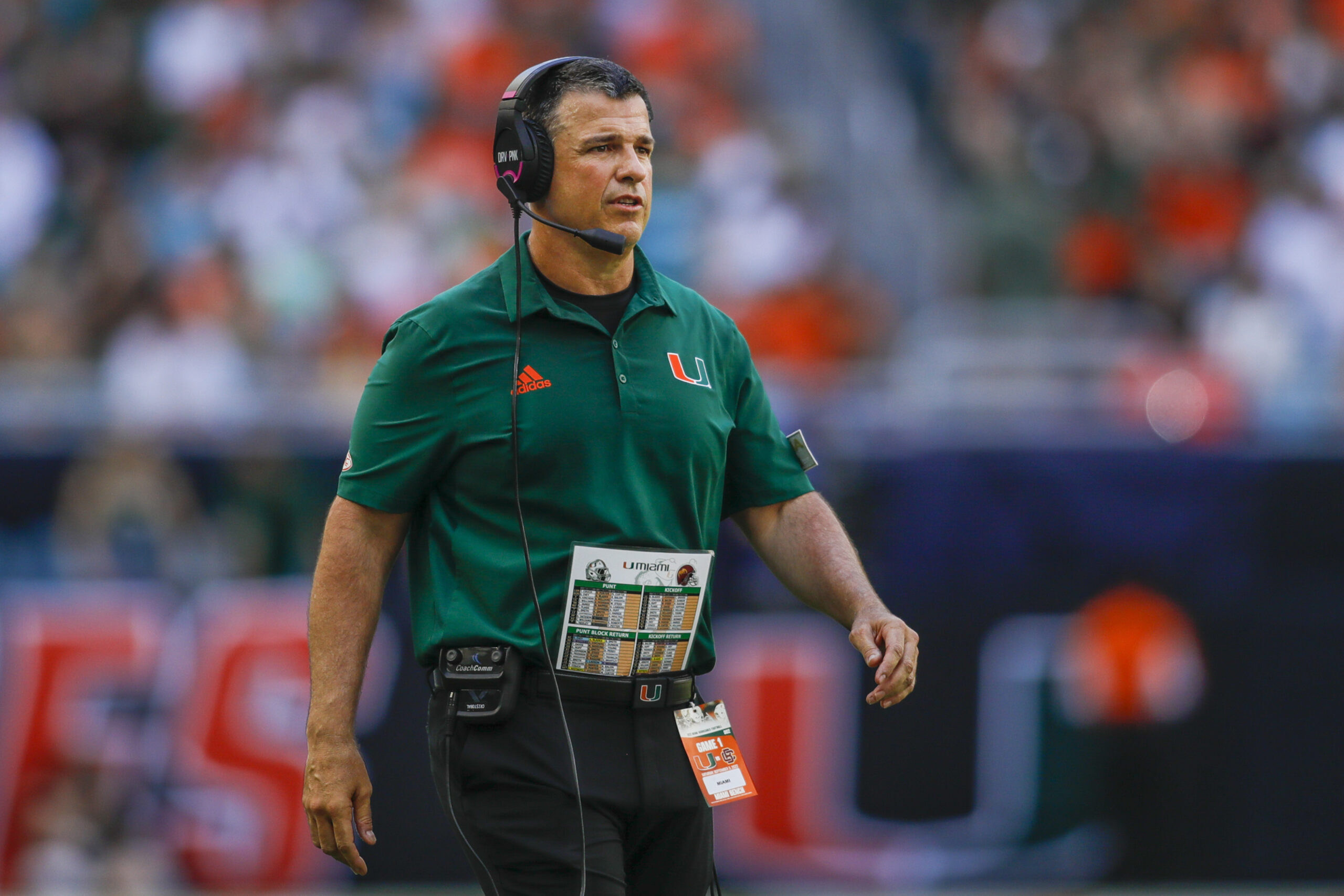 College football is a different animal than most sports in the country. Traditions are held very dear to fans, and expectations are usually insanely high for every program. Especially when the playoffs only consist of four teams (until the expansion to 12 teams in 2024)!
Coming into this new college football season, there are quite a few coaches that are on the verge if not ALREADY on the hot seat. This list will be taking a look at the top 5 coaches (in no particular order) who really need to have success with their teams this year.
1. Mario Cristobal – Miami
When Miami hired Mario Cristobal, they were expecting him to take them back to the upper echelon of the college football world, but that did not happen. Going 5-7 in his first year with the program, Miami fans were left in a state of confusion.
To be fair, injuries did play their part with the Canes last season, but if the squad is fully healthy this season, there will still be a very high expectation for this Miami squad. Following another lackluster season this year, Cristobal will 100% be in the hot seat.
2. Jimbo Fisher – Texas A&M
If there is one word to describe Jimbo's tenure at Texas A&M, it would be "Disappointing". When A&M brought in the former Saban assistant to College Station, they had extremely high expectations. This all peaked when Fisher produced the best rated class in the history of college football back in 2022.
He's gone 39-21 throughout his first five seasons, which is a worse record than Kevin Sumlin, who came before him. The difference between Jimbo and Mario is that unlike Mario, Fisher does NOT have an extra year to get the program back on track. If the Aggies disappoint this year, I would not be surprised A&M started to look at ways to get out of his $95 million fully guaranteed contract.
3. Ryan Day – Ohio State
Ryan Day is living proof that coaching at a school like Ohio State comes with unreal and extreme expectations. What other coach that has lead his team to a 45-6 record in 4 seasons would have to come into this season coaching for his job? The problem? Two of those six losses have come to the Buckeye's arch rival in Michigan.
At Ohio State, there's only one thing that has to happen every season for it to be considered a success. Beat that team up north. With a 1-2 record against Michigan, Ryan Day has failed to put out a team that can consistently beat the Wolverines. That's why coming into the 2023-24 season, Ryan Day will have to coach for his job.
4. Steve Sarkisian – Texas
Though the Longhorns did not have a "bad" season last year by any means, 8-5 isn't quite at the standard that Texas fans hold their beloved team to.
Though they did have some transfer portal success with QB Quinn Ewers, the offense still looked stagnant at times, giving Texas a challenge to address this off season. This will be a big year to see if he can lead his squad to the top of the Big 12 before they pack up and move to the much tougher SEC in 2024.
5. Billy Napier – Florida
Florida is in a rough position this season. They went 6-7 last season even though they had the #4 pick in the draft, QB Anthony Richardson. Going into this season, the Gators named new transfer QB Graham Mertz to helm the offense, but he did not have much success throughout his time at Wisconsin.
It will be interesting to see how he commands this Florida offense, and while Napier might not be in the hot seat yet, another disappointing year from the Gators will certainly make things interesting.