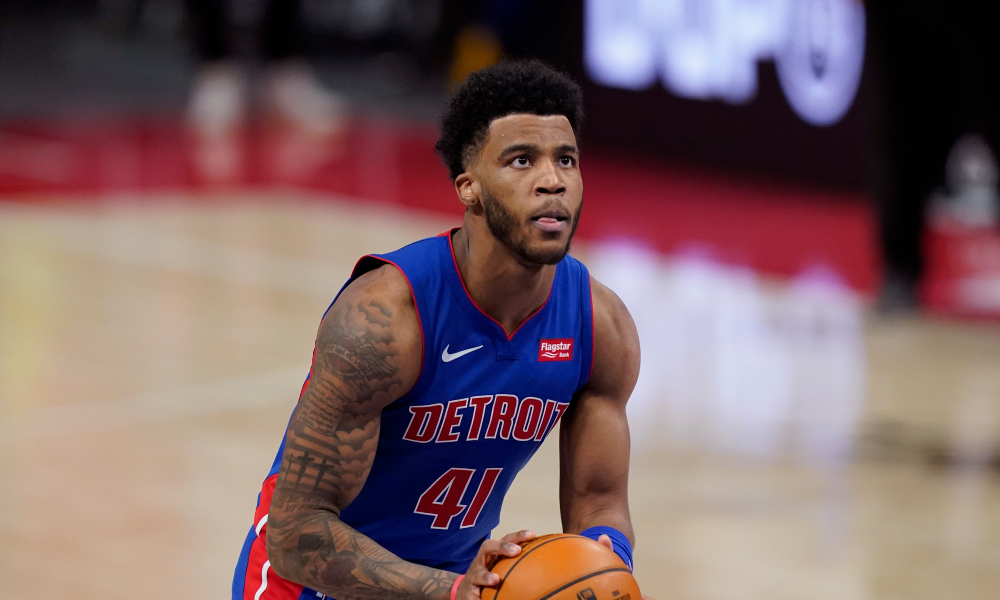 When you think of rookies this season, the first names that pop up are LaMelo Ball and Anthony Edwards. A lot of rookies in this past year's draft were able to crack the rotation for their respective teams this year. Some ended up becoming starters and some reliable players off the bench.
Let's get into some players that had underrated rookie seasons this year…
Saddiq Bey, Detroit Pistons
Saddiq Bey has been exactly what the Pistons drafted him to be, a good 3 & D wing. Bey is averaging 11.9 PPG, 4.6 RPG, and 1.3 APG while shooting 40.7% from the field and an impressive 38.4% from three this season. Although the Pistons haven't been the most entertaining team to watch, it's nice to see young players like Bey show promise on the team. Saddiq Bey can hold down that SF/PF position for the Pistons for years and I expect him to only get better.
Bey has the prototypical 3 & D wing abilities that you need to win a championship. Bey has been on a tear as of recent, averaging 17.0 PPG and 7.3 RPG in the month of May. Even though the season is about to end soon, hopefully Bey will carry on the momentum into next season. Saddiq Bey is one of the key building pieces for the Pistons for sure.
Cole Anthony, Orlando Magic
The Magic have found themselves a cold-blooded killer in Cole Anthony. Cole Anthony has been playing out of his mind as of recent, hitting game winners left and right. After the All-Star break, Cole Anthony has been averaging an impressive 14 PPG, 4.8 RPG, and 4.8 APG while shooting 41.2% from the field and 33.3% from three. Anthony has given the Magic fans something to definitely be excited about.
Although the Magic need to figure out their young guard core with Fultz and RJ Hampton in the mix as well, Cole Anthony should be the player they build around. Anthony brings playmaking and the ability to score in various ways for the Magic. I fully expect Cole to build from his rookie season and be a cornerstone for the Magic for years to come.
Jae'Sean Tate, Houston Rockets
When I first was watching Tate, I thought he was like a 6'6 power forward, to find out this man is a 6'4 230 pound shooting guard. Tate has been impressive for the Rockets averaging 11.2 PPG, 5.4 RPG, and 2.5 APG while shooting an elite 50.6% from the field and 29.3% from three. He's quietly explosive and it's shown various times throughout the season with putbacks and monstrous dunks.
He's a bulky shooting guard that has some athleticism to him. He's not the best 3 point shooter, but what he will give you is points around the rim and inside the perimeter. The Rockets have a nice young core lowkey with Kevin Porter Jr., Jae'Sean Tate, Kenyon Martin Jr., and Christian Wood obviously. Tate should be their shooting guard/small forward of the future. If he can improve his shot, expect him to have a good season next year.

Check out our new podcast episode!
Got Hoops Podcast
A new up and coming basketball podcast by 4 dedicated NBA and basketball fans. It's for fans, by the fans.
Got Hoops Podcast (Ep. 19): Summer League? Beverley Trade? Westbrook/LeBron/AD Trio?
In this episode we discussed the summer league, the Clippers and Grizzlies trade, and the fit of Westbrook with LeBron and Anthony Davis, and other topics as well.
Search Results placeholder
Must See
The NBA season is coming up very soon and it's time we start talking...

The NBA season is just about a month away, with the regular season set...

The first week of the NFL regular season has concluded and it's time for...